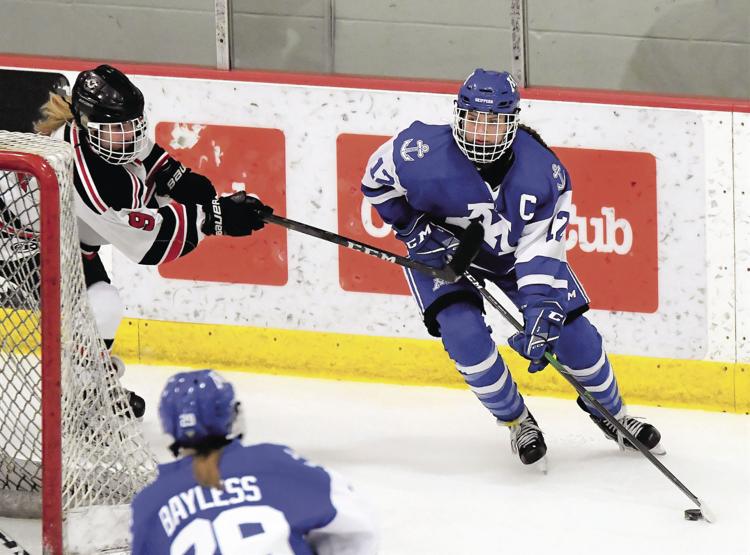 Minnetonka High's girls hockey team was outshot 36-24 Dec. 17 at Eden Prairie, but at the end of the night the scoreboard read Skippers 4, Eagles 0.
Opportunistic junior defenseman Rory Guilday had a big night for the Skippers. After assisting on goals by teammates Olivia Meredith, Maggie Nicholson and Lacey Martin, Guilday iced the game with a goal of her own on a breakaway in the third period.
"We got off to a slow start in all three periods," said Minnetonka head coach Tracy Cassano, whose team improved to 8-2-0 overall with the win. "Our defensemen were very active on offense and we were able to use our speed."
Good goaltending by Brynn Dulac helped Minnetonka keep Eden Prairie's All-State forward, Sydney Langseth off the board.
"Langseth is one of the top players in the country in her age group," Cassano observed. "We kept a close watch on her and played stick-to-stick. Our forwards came back and we played good team defense."
Edina is leading the pack in the Lake Conference standings with a 4-0-0 record, and Minnetonka is now is sole possession of second place. The Skippers' only conference loss was 4-1 to Edina in a well-played game. The score was 2-1 at the end of two periods before Edina increased its margin in the third.
Minnetonka might have the best group of defensemen in the state with Guilday and Nicholson - both members of 18U Team USA - plus Hanna Baskin, Lisa LaRoche, Olivia LaRoche and Anna Sorenson.
The Skippers will be short-handed when Guilday and Nicholson take a break to play in the 18U World Championships in Slovakia next month. But in their absence, the other Tonka defensemen will have an opportunity for more ice time.
Poise with the puck is Minnetonka's goal, along with good team defense, and so far the coaching transition from Eric Johnson to Cassano has been smooth. In Johnson's final season last winter, the Skippers came on strong late and finished third in the State Class AA Tournament at Xcel Energy Center.
Follow the Sun sports writers on Twitter @MNSunSports and on Facebook at facebook.com/SunSportsStaff.