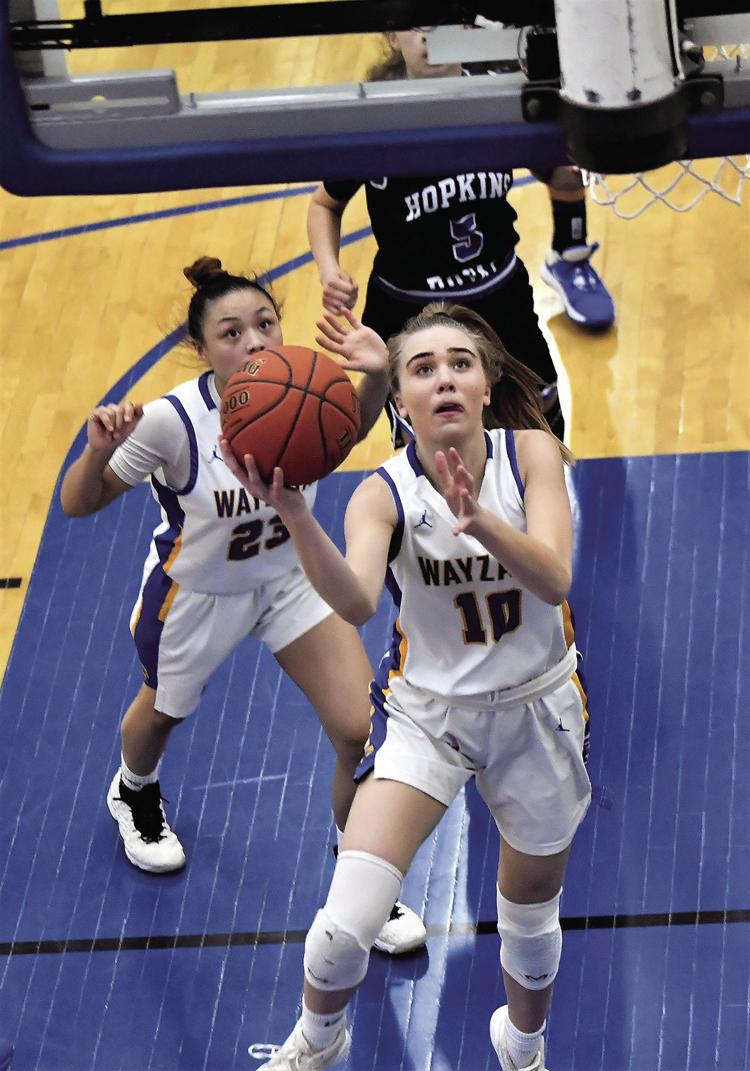 The last two weeks have been hard on Wayzata High sophomore Mara Braun, who would normally be playing AAU basketball and competing on the Trojan girls track and field team this time of year.
With the corona virus pandemic shutting down all forms of sport in Minnesota, Braun has stayed busy by shooting baskets and working out on her treadmill. On the plus side, she has had a chance to wind down after the high school basketball season, but at the same time she misses the routine of rushing from track practice to the gym for basketball practice.
"I am just hoping for the best," the 6-foot guard said, referring to the potential for re-start on the AAU basketball season. Spring and summer tournaments offer top prospects such as Braun the opportunity to be scouted by major college programs. Already on the radar of University of Minnesota head coach Lindsay Whalen, Braun is also on the radar of a number of other Big Ten and Big Twelve Conference universities.
"Honestly, it is very humbling to be recruited by Division I schools," Braun said. "It is something I have looked forward to my whole life. Until I commit to a school, I am just planning to enjoy it."
Braun enjoyed Wayzata's 24-5 basketball season this winter, when three of the Trojans' five losses were against Hopkins, a team currently riding a 62-game winning streak. Playing against Hopkins three times gave Braun the opportunity to compete against Paige Bueckers, Hopkins' 6-foot senior McDonalds All-American.
"At this point in her career, Mara has played six games against Hopkins," Wayzata head coach Mike Schumacher noted. "And in all six games, she has played great. We ask Mara to do a lot - she scores, rebounds, passes and defends."
In the last of the three Hopkins-Wayzata games this season, March 5 at Hopkins Lindbergh Center, more than 3,500 fans packed the facility, and a sign outside the gym read: Sold Out!
Although Wayzata lost the game 86-76, it was closer than that most of the way. Braun and her teammate, senior forward Annika Stewart, each scored 27 points, while Bueckers led Hopkins with 31.
Braun talked about the challenge of playing against Bueckers, who has a scholarship to play at the University of Connecticut next season.
"The atmosphere in the gym was something I had never seen before," Braun said. "Give credit to Paige [for the fan interest]. Playing against her the last two years has made me a better player."
Of the ten-point loss in the section finals, Braun said, "We had a chance."
Braun averaged 17 points per game against Lake Conference opponents this season, and her assists went up from the total she posted in her ninth-grade season.
The Trojans would have had a much better chance to upset Hopkins if their star forward, 6-2 junior Jenna Johnson, would have been able to play in the game. She suffered a season-ending knee injury against Minnetonka that kept her out for half the season.
With Johnson sidelined and her 21.5 point-per-game average gone, Braun and Stewart had to step up, along with everyone else on the team.
"We had contributions from a lot of girls," Braun said. "Annika put in the work day and night. She is the hardest worker I have seen."
Stewart scored inside and outside, taking advantage of good passes from Braun and senior guards Alivia Arnebeck and Jasmine Smiley. Ninth-grade forward Abby Krzewinski provided rebounding and tough defense, and ninth-grade guard Brynn Senden came on late in the season to play her best basketball in the section finals against Hopkins.
"The younger girls came up big," Braun said. "We needed Abby and Brynn against Hopkins. Abby has a killer mindset and never backs down. I keep telling Brynn what a good player she is."
Braun said coach Schumacher played a big role in making this another successful year for Wayzata, which was ranked second or third in the state for much of the season.
"He is a very experienced coach," Braun said of Schumacher. "He never lost confidence after Jenna went down with the injury, and he is there for us on and off the court."
If the 2019-20 season had one main theme, Braun said it could be summed up in two words: Trojan Pride.
"We wanted to represent the school in the best way possible," Braun said. "Seeing all the people at our games, we wanted to be a good example to other students."
That "good example" also included exemplary behavior during the school day and hard work on academics.
While Braun is among the best basketball players in the state, she is also a superstar in track and field. New to the sport last year, she placed third in the triple jump in the State Class AA Meet at Hamline University.
"Track was something new, something fun" Braun said. "I decided that running would be too much in addition to AAU basketball, so I started jumping."
She long-jumped first and then branched out to the triple jump. "My dad was a triple-jumper in high school and encouraged me to try it," she said. "At first I was hesitant, but I was fortunate enough to get third at state. I still need a lot of work on it."
Braun's activities outside of sports and the classroom, where she is an 'A' student, include weekly church activities and volunteer work with special-needs athletes.
"My dad had an uncle with special needs," Braun said. "That is one reason I got involved."
Braun's parents, Chris and Ramona, both played sports growing up. Chris is originally from Meadowlands, Minnesota, which is up north. Ramona graduated from Minnetonka High and went on to play volleyball for Bemidji State University.
Now they're excited to watch their daughter excel as a Wayzata Trojan.
Follow the Sun sports writers on Twitter @MNSunSports and on Facebook at facebook.com/SunSportsStaff.