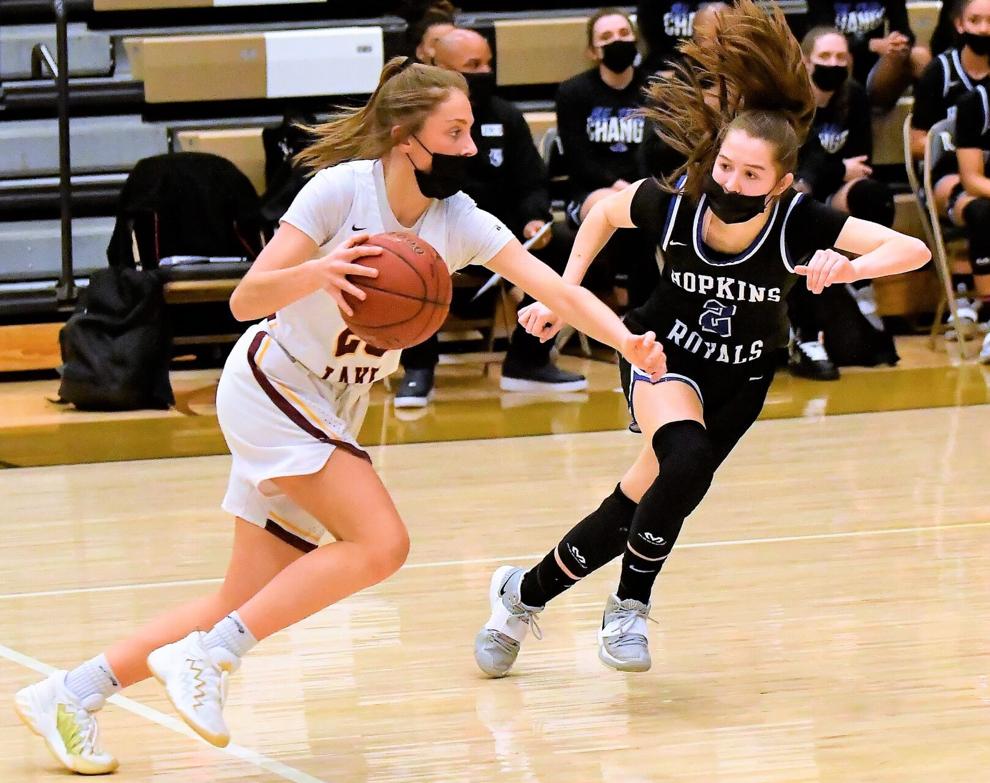 Hopkins High's girls basketball team tied Fosston's all-time record for consecutive wins with a 76-44 victory over Forest Lake in the first round of the State Class AAAA Tournament March 30 at East Ridge High School.
Going into a state semifinal against Chaska at 7 p.m. Wednesday, April 7, at Target Center, Hopkins has a three-year winning streak of 78 games. Fosston won 78 games between 1999 and 2002. The Royals are 16-0 this season. Chaska is also undefeated this year. In the other semifinal game Wednesday, Rosemount plays Centennial at 9 p.m., also at Target Center. The finals are set for 8 p.m. Friday, April 9, at Target Center.
The game between Hopkins and Forest Lake was close in the early stages, but the Royals caught fire with consecutive three-point baskets by Kelly Boyle, Liv McGill and Selam Maher that pushed the lead to 36-13. Then Nu Nu Agara made an old-school, three-point play for a 39-17 lead. Forest Lake never closed the lead to under 20 points after that. In fact, in the second half Hopkins would boost the lead to 71-31 on a basket by McGill.
Forest Lake's tallest starter, 5-10 center Olivia Pekron, was no match for Hopkins' front liners 6-4 Maya Nnaji, 6-1 Nu Nu Agara and 6-1 Taylor Woodson. Woodson led the Royals with 15 points, Nnaji added 14 and guards McGill and Amaya Battle scored 10 each. Agara followed with nine and assist-minded point guard Alayna Contreras scored eight. Boyle and Maher had three each and Jazmine Johnson rounded out Hopkins' scoring with two points.
Logan Anderson and Greta Krieger led Forest Lake with 12 points each. Josey Kehl was on target for 10 points, no other Ranger scored more than three.
"Looking at Forest Lake, I knew we would have an advantage inside and on the glass," Hopkins head coach Tara Starks said. "We were able to get out and run the floor. I though Forest Lake would play zone, and we were prepared. When our girls knocked down those three straight threes, we pushed Forest Lake to the brink."
While the Royals are taller than Forest Lake, they also proved to be quicker than a Forest Lake club that is known for its quickness. The Rangers came into the game with a 17-3 record.
"Defensively, we used full-court pressure," Starks said. Boyle, McGill, Contreras and Battle took turns hawking the Ranger guards. And eventually, Forest Lake had center Pekron bring the ball up against Nnaji.
Turning her attention to Chaska, coach Starks said, "We were supposed to play them during the season, but the game was canceled due to a COVID situation. I have watched a ton of film on them. The main thing for us is to stay true to who we are. We'll are ready to play."