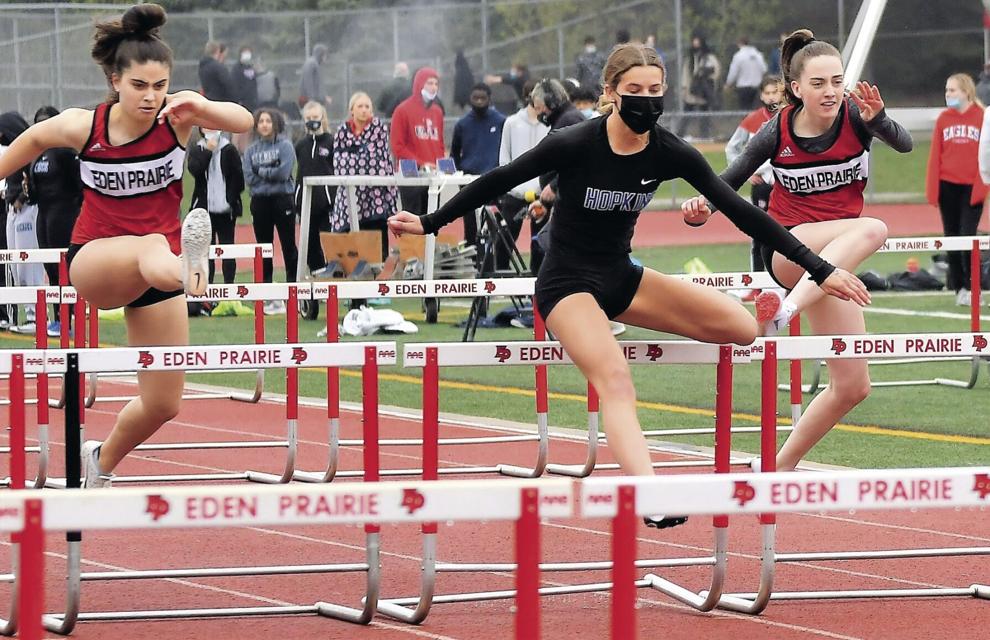 Field events made the difference April 23 as the Eden Prairie girls track and field team outscored Hopkins 81-64 at Hopkins High Stadium.
Eden Prairie's "field day" was keyed by a five-girl sweep in the high jump and 1-2-3 finishes in the pole vault, the discus and the shot put.
The Sweep in the high jump was led by sophomore Evelyn Skattum, who cleared 5-2 for the win. EP's other places came from Vanessa Jordan, Cassie Max, Lexi Little and Madisyn Brettin.
Ninth-grader Madeline Kaufman won the pole vault with a best of 10 feet, 6 inches. Second and third places went to teammates Carolyn Tarpey and Katie Ose.
In the discus, Julia Matthews, Favour Nache and Courtney Fussy made the sweep with fourth place going to Hopkins' Emma Coen-Pesch.
Matthews added a win in the shot put with a best of 30 feet, 8 inches. Nache and Fussy were second and third and Kayla Schiel of the Eagles took fourth place.
Adisa Preston won the long jump for the Eagles with a best of 14 feet, 8.25 inches. Lily Wanzek of Hopkins took second and Lucia Eldridge of Eden Prairie placed third.
Tarpey won the triple jump for EP with a best of 32 feet, 6 inches. EP's Kennedy Houston took second and Ushuu Namarra of Hopkins was third.
Moving to the running events, Hopkins had a slight advantage on that side of the ledger.
The Royals were 1- in the 100-meter dash with Greta Mielke and Jahzarah Hall running 14.04 and 14.16. Third place went to Emma Martin of Eden Prairie and Hopkins' Camryn McNeal placed fourth.
Hall won the 200 in 29.11. Eden Prairie's Houston took second and Lauren Hoffman and Mya Burgess of Hopkins placed third and fourth.
Hopkins was 1-2 in the 400 with Anika Firehammer running first in 56.70 and Marguerite Giese taking second. Ellie Gilbert of EP was third.
Eden Prairie's Miriam Sandeen won the 800 in 2:31.84. Livia Hernke of Hopkins placed second and EP's Eleanor Thomas ran third.
One of the top performances of the day came from Hopkins eighth-grader Sydney Drevlow, who ran the 1600 in 5:03.52. Royal teammate Laci Provenzano took second, while EP's Ella Bakken and Hopkins' Daphne Grobstein were third and fourth.
Elsa Bergman of Hopkins won the 3200 in 11:50.65. Second and third went to Eden Prairie runners Berit Berggren and Jennifer Fang.
Macee Redman of Hopkins won the 100-meter hurdles in 17.39, while teammate Yasmin Nachmias was a close second in 17.50. EP took third and fourth with Ose and Michelle Nelson.
In the 300 hurdles, EP landed the top two places with Ose and Nelson. Ose ran 5042 and Nelson ran 50.81.
The teams split in relays, each winning two races.