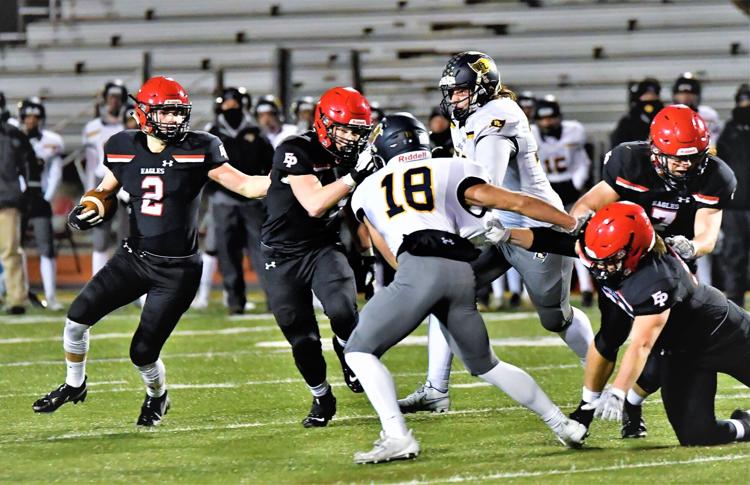 Eden Prairie's prayer for the perfect season was answered Friday, Nov. 20, at EP's Aerie Stadium.
In a hard-fought battle, the Eagles turned back Prior Lake 21-7. It was the second meeting between the teams this fall, and in an earlier match-up Eden Prairie had beaten Prior Lake on its home field 35-7.
Although there is no state Class 6A Tournament this year due to the COVID-19 pandemic, Eden Prairie head coach Mike Grant is sure his team would have taken the state title..
"We're the best - there's no doubt in my mind," Grant told his Eagles in the postgame meeting. "We're not going to do a virtual banquet. I want to celebrate the right way, even if it is next spring."
When the seniors on this year's team were freshmen and sophomores, Grant saw them as a class that might go undefeated as seniors. That was the goal from the beginning of the season - to make the most of the opportunity and finish with a perfect record. That record turned out to be 7-0 with six regular-season wins and the victory over Prior Lake in the only playoff game. After the Eagles finished Friday night's game, they were awarded a section championship trophy.
In another game played the same night, undefeated Lakeville South scored its winning points with 21 seconds left in the fourth quarter to beat St. Michael-Albertville 14-13.
There will be some debate over which team deserves the No. 1 state ranking, and since Eden Prairie and Lakeville South didn't play head-to-head, there can always be speculation.
Eden Prairie's 6-7, 300-pound offensive tackle Forrest Scheel knows how he would vote.
"This was a special night for everyone on our team," he said. "I wanted to win so bad for my teammates."
The Eden Prairie-Prior Lake contest was tied 0-0 at halftime.
"We lost two fumbles in the first half and dropped a touchdown pass," Grant said. "You can afford to turn the ball over like that."
The Eagles regrouped at halftime and scored on their first drive to take a 7-0 lead. Johnny Hartle, the All-State candidate at halfback, scored on a 6-yard run and Connor Reynolds booted the extra points.
Prior Lake fired back, scoring with 2:17 to go in the third quarter on a 13-yard pass play.
On their next possession, the Eagles revved up the ground game. They started at their own 35 yard line after Prior Lake's kick-off went out of bounds. The 65-yard touchdown drive took eight plays, that included two penalty plays. The most important play was an 8-yard pass from quarterback David Warren-Mitchell to wide receiver Cade Kramer on fourth-and-seven from the Prior Lake 15 yard line. Dan Knudsen's 6-yard run and the extra point by Reynolds made the score 14-7 EP.
After the Eagles stopped a Prior Lake drive, they again took control with their ground game, and Hartle was able to finish the scoring drive with a 4-yard run. Reynolds, who is perfect on extra points this season, tacked on his third of the game for a 21-7 lead. Under 4 minutes remained.
Prior Lake advanced the ball past midfield, but the Lakers failed to convert on fourth down and turned the ball over on the Eagles' 36 yard line. After a 20-yard run by Hartle for a first down, the Eagles were able to let the clock run out.
There was some celebrating, but mostly the mood was "Mission Accomplished."
"Prior Lake is a good football team," Grant said. "And I give them credit for keeping it close. We had some people out tonight, so we needed a team effort."
One of those missing was starting fullback Javon Palmer-Pruitt, who sat out due to sickness. Hartle, despite having his usual solid game, was slowed by a hamstring injury., which meant he couldn't carry the ball as much as he usually would in a championship game.
No problem for the Eagles. That meant some of the defensive backfield starters and linebackers had a chance to move to the offensive side and get some carries. Leif Benson, Tyler George and Knudsen all had carries for first downs, and, of course, Knudsen scored what turned out to be the game-winning touchdown. Warren-Mitchell didn't score on championship night, but made some key runs on the scoring drives. His ball handling and quickness kept the Lakers' defense off-balance.
"This is a sad time for me," Grant said. "Because this is the last chance I will have to coach this group."
In addition to what happened on the field this year, Grant was able to point to the importance of the things that happened off the field relative to COVID-19.
After each win this season, the coach emphasized the importance of staying away from social events - in particular parties. The players took the message to heart and at the end of the season raised their championship trophy.