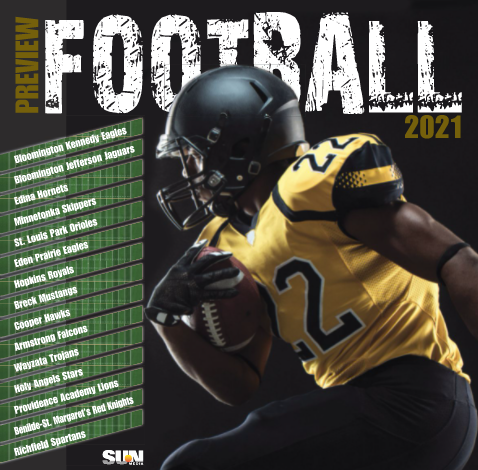 Click here to check out this special section.
High school football, perhaps more than any other prep sport, captures so much of what drives excitement about high school sports. It is the kick-off to a new school year and a new sports season. Because football is a team sport that requires massive numbers, it also creates a following among family, friends and long-time fans.
This football preview, featuring Bloomington Kennedy, Bloomington Jefferson, Edina, Minnetonka, St. Louis Park, Eden Prairie, Hopkins, Breck, Cooper, Armstrong, Wayzata, Holy Angels, Providence Academy, Benilde-St. Margaret's and Richfield, provides a first glimpse of what is to come this season.
This new football keepsake, created by Sun Newspapers sports editors John Sherman, Jason Olson and Anthony Iozzo, who bring a combined 65+ years of experience covering Twin Cities high school football teams, is designed to highlight football's unique excitement. It gives fans a first look at the upcoming season and many of the key players from 15 different teams who are expected to play a big role in their team's success. 
It's time for football, Minnesota. It's time for some fun.