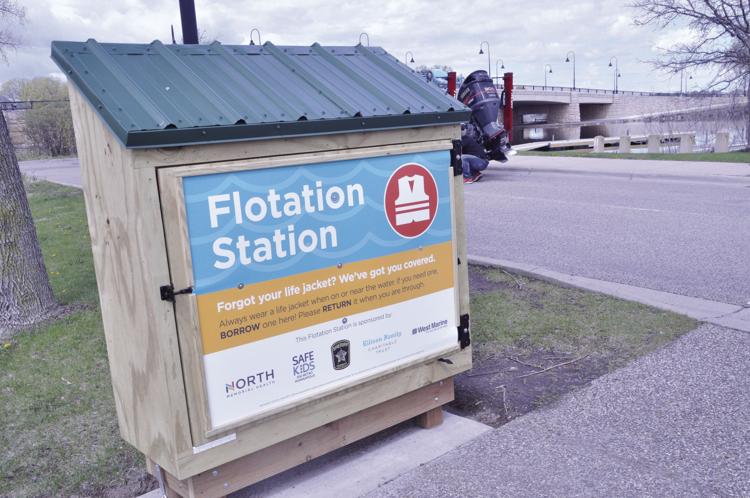 "Flotation stations" are fully stocked with life jackets at Lake Minnetonka (Gray's Bay, North Arm and Spring Park Bay), Medicine Lake, Lake Independence and Bryant Lake. Each station contains 17 life jackets, varying in size from infant to adult, for boaters to borrow and return at no cost.
State law requires a readily-accessible, wearable life jacket for each person on board and requires children ages 10 and younger wear a properly-fitted life jacket when boating.
The loaner life jackets are used daily at all landings, according to Lt. Shane Magnuson with the Hennepin County Sheriff's Office Water Patrol.
The life jackets are borrowed and returned using the honor system.
"It's goodwill. We're hoping people just borrow them and put them back, and the majority of them do," Magnuson said. "It's definitely worth it."
The program, formerly called "kids don't float," has been around for about a decade, but the stations were recently renamed and replaced, just in time for the fishing opener and Memorial Day weekend.
The life jackets are for all ages, as adult males are the most frequent boating-related drowning victims, according to the Minnesota Department of Natural Resources.
So far, there have been no drownings this year in Hennepin County. There was one watercraft death in the county last year.
Statewide, there were 14 fatal boating accidents last year. "All of those fatalities were male. There was only one wearing a life jacket," said Lisa Dugan, spokesperson with the DNR.
None of the patients treated at North Memorial Health Hospital for drowning in the past five years were wearing life jackets, according to Dr. Basem Marcos, trauma surgeon at the hospital.
The boxes were made possible by the Hennepin County Sheriff's Office in partnership with North Memorial Health Hospital. Sponsors include Bean's Greenwood Marina, Minnesota Inboard Water Sports, West Marine, Ellison Family Charitable Trust, Three Rivers Park District and Scheels.