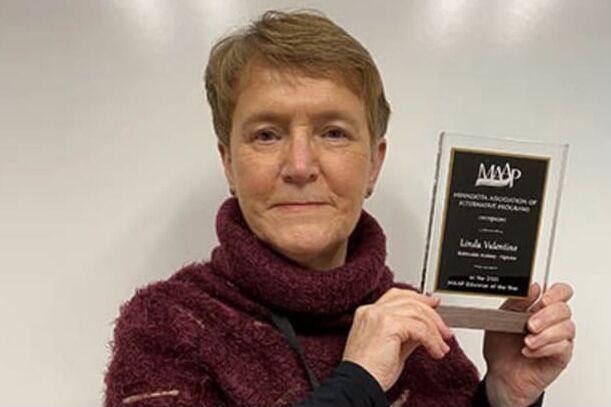 Linda Valentine, a graphics instructor at Robbinsdale Academy-Highview in Golden Valley since 2006, was recently named staff person of the year by the Minnesota Association of Alternative Programs. The award honors teachers who support the mission to lead and support innovative learning experiences for students while volunteering with the organization.
Valentine said she is happy to be acknowledged for her effort, but said she has mixed feelings about being singled out because there are so many people who work hard. She feels recognized when she hears from past students or when she teaches a student something new and they thank her.
"You know they mean it," Valentine said.
Toni Boyden, principal at Highview, said Valentine is the heart of the school. She dedicates her skills and time to the program, fostering its mission to support innovative learning experiences for students attending alternative programs, she added.
"Linda has given her soul to teaching, and maintains high standards and integrity in her work with our students," Boyden said.
Because Highview is an alternative school, Valentine teaches students from ninth-grade to "super seniors" who should have already graduated.
Some of her course material is very directed and students have to do specific things. There are also assignments where students get to be creative. One of the things she likes to see most is how students solve problems, think on their own and show creativity.
"I like that they get to have some creative outlets in the class," Valentine said.
The COVID-19 pandemic has brought new challenges. Courses are very limited and had to be restructured when the school went online, she said. In school, she teaches students the Adobe Suite such as Photoshop and Illustrator, a basic computer applications course and a creative concepts course.
Valentine teaches the computer applications and creative concepts courses in an online format. She can't teach the Adobe Suite because students don't have access to the software, she said.
It's been difficult with COVID-19, she said. Highview prides itself on the one-on-one relationships staff members have with students. That makes a difference for a student who struggles in school, she said. It's much harder to do online than when staff members see a student multiple times a day in the hall or the classroom, she added.
"That whole personal relationship piece has really suffered during COVID-19," Valentine said.
Valentine has learned a lot from her students. She is amazed by their resiliency, but also their lack of basic computer skills. Students know how to use their phones and mostly for social media. Their skills are lacking in running software programs, she said.
Involvement with the program
Highview had been involved with the Minnesota Association of Alternative Programs STARS program before, but Valentine took over the role of organizing the program at Highview when she started in 2006.
Students can participate in competitions at Hennepin Technical College. The competitions are similar to College Bowl, where members compete in categories such as public speaking and problem-solving. Last year's regional competition had to be canceled due to COVID-19.
There is a regional and state convention every year. The state convention has about 10 categories and the regional has four categories.
Valentine has done the planning and coordinating for the conventions for 12 years. She does registration, scheduling and reserves the rooms. She helps at the state convention, coaches the team at Highview and updates the 60-page manual every year.
Students have done very well in the competitions, Valentine said. They have won awards and placed in both the regional and state competitions. Through the STARS program, she has been able to watch students grow and become more confident as a result of participating in activities.
"It's fun to see them in a different environment, versus just school," Valentine said. "You get to know them on a different level."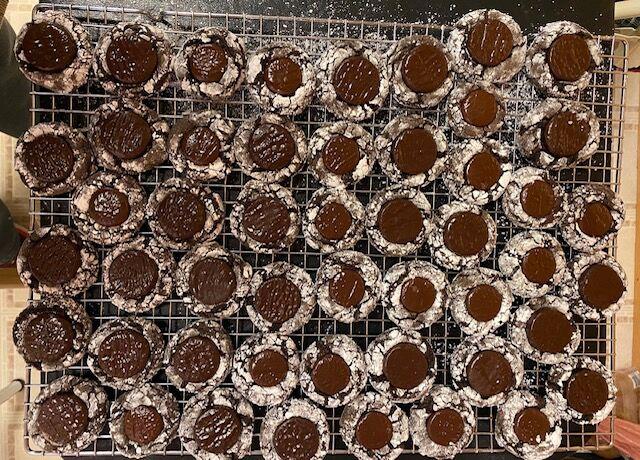 Valentine worked as a graphic instructor at Hennepin Technical College for 24 years and has had multiple careers. She worked for the South Dakota Legislature, in the communications department at Honeywell, as a graphic designer for a school district and for the Wooden Bird, which sold Western and wildlife art.
Valentine is known as a baker and candy maker. She makes caramels and English toffee. She recently made 400 truffles for Valentine's Day. The truffles, which she delivered in little boxes, were for friends and family. She used to host a Valentine's party every year for all the students and would bring food for the entire school, she said.