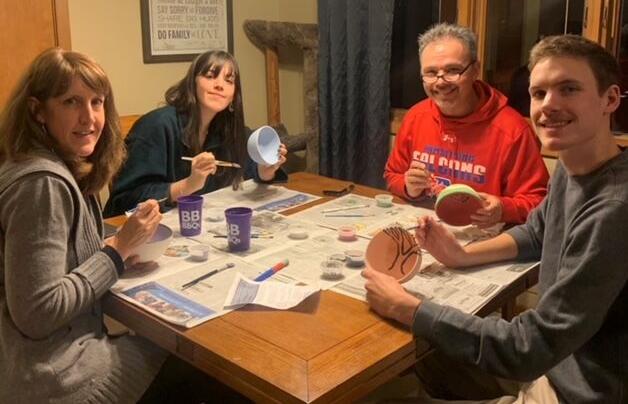 Empty Bowls is a fundraiser to raise awareness and alleviate local hunger, according to Mindy Potvin, a program specialist with Robbinsdale Area Schools Community Education. The fundraiser, benefiting the PRISM and NEAR Food Shelves, is hosted every March.
In a typical year, approximately 1,000 community members participate in the event at Cooper High School, Potvin said. Community members can pick out a locally handmade ceramic bowl. The event typically raises $4,000 to $6,000 in donations. At the fundraiser, there is soup, bread and beverages that participants can enjoy. The event also includes entertainment such as local musical groups, therapy dogs and face painting.
This year's Empty Bowls event has a fundraising goal of $20,000 and is close to hitting the mark. Potvin hopes that the new Color Me Mine kits will be enough to push the fundraising over the goal.
This year, organizers had to get creative to make up for the in-person fundraising event that isn't possible due to COVID-19. Empty Bowls partnered with Color Me Mine, a pottery store in Maple Grove.
Color Me Mine is selling bowl-making kits through April. A kit for one bowl is $20 and a family kit of four bowls is $60. The kits include several colors of paint, paintbrushes and instructions. Participants can bring the kit home, paint the bowls and bring it back to Color Me Mine to be fired. Half of the proceeds will go to Empty Bowls Robbinsdale.
Color Me Mine has been a fantastic partner, Potvin said. They've been involved with Empty Bowls Robbinsdale for years. Even as their business is struggling with shutdowns, for them to turn around and give so much to help Empty Bowls is much appreciated, she added.
Since COVID-19, food shelves have had an increased need, due to local families experiencing more financial struggles. Fundraising is as important as ever and we are grateful to the community for raising more this year than in past years, Potvin said.
"There has been a tremendous increase in the need for local food shelves with COVID-19," Potvin said.
In the past, they had community bowl-making and glazing events. Those bowls were usually showcased at the event for people to take, Potvin said. This year, people can keep the bowl that they worked on.
Potvin has heard positive feedback from participants about being able to keep the bowls they made themselves. Community members appreciate the opportunity to have an activity to safely do at home, whether alone or as a family. Potvin said she and her family got the four-bowl kit and decorated them together. "We had a lot of fun sitting at the table, talking and engaging in an activity," she said.
Empty Bowls will be at the New Hope and Golden Valley farmers markets again this summer. The markets give the group a lot of support, Potvin said. People can also donate to Empty Bowls Robbinsdale by searching it at Givemn.org. "We would so much appreciate any further donations," she added.