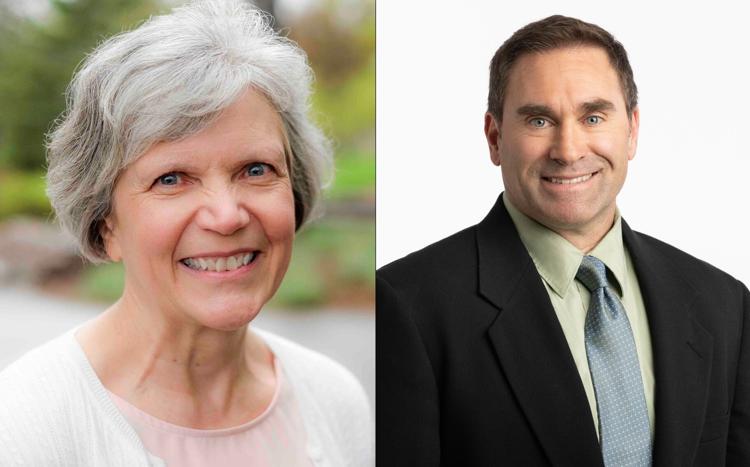 In the race for Minnesota House District 48A, incumbent DFL Rep. Laurie Pryor will face GOP challenger Eric Wessels. The General Election is Tuesday, Nov. 3.
House District 48A includes portions of Minnetonka and Eden Prairie.
The two candidates were asked to provide biographical information and answer two questions. Their answers were edited for length and clarity.
Laurie Pryor
Address: Minnetonka
Education: Master of arts, University of Minnesota
Occupation: Communications consultant
Community involvement: Rotary, Beyond the Yellow Ribbon, coach of multiple youth programs both academic and athletic
Contact information: LauriePryor@gmail.com
How should the 2021 Legislature handle the budget issues and meet school and societal needs caused by COVID-19?
As we face multiple crises, we need to pursue creative solutions and everything needs to be on the table. Thankfully, prudent savings to Minnesota's rainy day fund will cushion the blow of the budget deficit, but we still need to make cuts. I will carefully look at each area of our budget to find cost-savings while minimizing the impact on our communities. Importantly, I will ensure that we preserve and prioritize school funding and other essential investments as much as possible.
We must also pursue cost-effective legislation that meaningfully improves people's lives without appreciably impacting our budget. I support lowering prescription-drug prices, passing common-sense gun control, expanding broadband access and addressing climate change by setting the goal of 100% clean energy by 2050.
Finally, Minnesota should continue to take an evidence-based approach to handling the pandemic and the financial crisis. We need more testing, more support for our essential workers, more PPE and more guidance and assistance for businesses and schools. Minnesota is struggling to weather these crises, but we'll continue to be a leader in the region by doing what we're best at: investing in each other and the future.
Will you support the passage of a bonding bill in 2021 or 2022, if so, where should the priorities be?
I voted for a robust bonding bill in 2020 that failed due to lack of support from my Republican colleagues. I look forward to voting for a similar bill in the future. Now more than ever, we need to take advantage of our stellar credit rating to issue bonds. These funds pay for our roads, our water-treatment facilities and our schools. They create jobs at a time when we sorely need them, and the money can be used to fund projects that help local governments, school districts and families that are financially struggling due to the pandemic. We cannot afford to further delay making these necessary repairs and investments.
Eric Wessels
Address: Eden Prairie
Education: Doctorate of chiropractic degree
Occupation: Chiropractic physician
Community involvement: Volunteer athletic trainer for multiple local high schools, Wounded Warriors and Paralyzed Veterans of America
Contact information: info@ericwesselsformnhouse.com
How should the 2021 Legislature handle the budget issues and meet school and societal needs caused by COVID-19?
To handle the budget, Minnesota needs to run a short-term deficit and lower taxes, not raise them. Penalizing people and businesses with higher taxes after a protracted shutdown to their jobs and lives makes zero sense. Lower taxes will spur growth and expansion, this means more Minnesotans back at work and participating in general commerce. This will open the flow of tax revenue back to the government lowering the deficit.
We need to take a very close look at our two largest state expenditures: education and health and human services. Eliminate any redundancy, bloated bureaucracy and negative return programs that give the public a better return on their investment in these departments. The government, like the private sector, needs to get by with less until the deficit has been arrested and the yoke of the forced shutdown has been removed and take a 1% cut to all departments. 
Finally, we can dip into the rainy day fund, which currently has a balance over $2 billion and use it with priority and fiscal stewardship.
Will you support the passage of a bonding bill in 2021 or 2022, if so, where should the priorities be?
The bonding bill issue and its passage lie squarely on the shoulders of the governor. The Republicans have made overtures to a bill with the caveat that the draconian measures instituted by the governor and not passed by a full Legislature are halted. This is the reason we as a state are at this impasse. I cannot see into the future and therefore cannot answer what challenges in jobs and infrastructure, both in the metro and outstate, lie ahead.
We used to enjoy a two and sometimes more party system of government in Minnesota. Robust and spirited debate and, finally, compromise have historically put forth some good if not great legislation for the benefit of all Minnesotans. It has been months since a functioning Capitol has existed and the priority must be the return of bipartisanship.
Follow the Sun Sailor on Facebook at facebook.com/mnsunsailor.