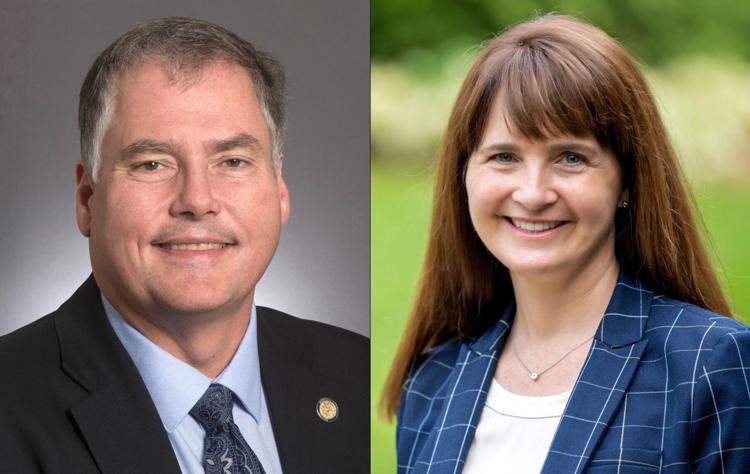 In the race for Minnesota Senate District 33, incumbent GOP Sen. David Osmek will face DFL challenger Gretchen Piper. The General Election is Tuesday, Nov. 3.
Senate District 33 includes Corcoran, parts of Chanhassen, Deephaven, Excelsior, Greenfield, Greenwood, Independence, Long Lake, Loretto, Maple Plain, Medina, Minnetonka Beach, Minnetrista, Mound, Orono, Shorewood, Spring Park, St. Bonifacius, Tonka Bay and Wayzata.
The two candidates were asked to provide biographical information and answer two questions. Their answers were edited for length and clarity.
David Osmek
Address: Mound
Education: Bachelor of educational studies, St. Cloud State University
Occupation: Healthcare industry consultant
Community involvement: State senator, 2013-present; Mound City Council, 2001-2013
Contact information: OsmekForMn.com
How should the 2021 Legislature handle the budget issues and meet school and societal needs caused by COVID-19?
Over the past budgets, E-12 education funding has received very reasonable increases to keep up with needs.  CARES Act funds have been provided to cities, who have discretion to use this to help COVID-related costs in schools. But even more important is supporting our police and public safety professionals. Defunding of police departments is wrong and cannot be tolerated. I do support the reforms that the Legislature passed earlier this year, which had the support of law enforcement professionals. Radical plans to defund police are designed to pander to extremist groups that want to bully their political agenda through the Legislature. I have been endorsed by the Minnesota Police and Peace Officers Association because they know I stand with police officers in our community to improve policing, not promote the lawless and criminal behavior.
Will you support the passage of a bonding bill in 2021 or 2022, if so, where should the priorities be?
It would be irresponsible for any elected official to support legislation without even knowing what is in it, so speculating on next year is not productive. I have voted for bonding bills and against them. In a bonding bill, it is a matter of "good" versus "bad." In this year's most recent bonding bill, I have a number of provisions that are needed in my district, including a bridge replacement in Deephaven, safety improvements to the intersection of Highway 41 at Minnetonka West Middle School and Big Island park improvements. Some items have not made the cut. But now that we know that Minneapolis is planning on reducing its police force by over 100 officers in 2021, I will not support bonding or funding to deal with rebuilding from this summer's riots. Minnesotans should not and will not tolerate wasting their tax dollars when the Minneapolis mayor and city council are not taking their jobs seriously.
Gretchen Piper
Address: Wayzata
Education: Master of business administration
Occupation: Strategy and fundraising consultant
Community involvement: History of board and volunteer work with Abbott Northwestern Hospital, the Minneapolis Foundation, Children's Hospitals and Clinics, Orono Schools, University of Minnesota Carlson School
Contact information: gretchenpiper.com
How should the 2021 Legislature handle the budget issues and meet school and societal needs caused by COVID-19?
On day one, our legislators must be ready to work together on the biggest issues Minnesota faces for COVID-19 recovery. We need leaders ready to create strong, bipartisan action focused on addressing rapid, accessible testing, economic rebuilding and job growth, making hard decisions to balance the state budget, while supporting education and the health and safety of all Minnesotans.
Will you support the passage of a bonding bill in 2021 or 2022, if so, where should the priorities be?
Yes! The Minnesota Legislature must pass a bonding bill, one of the most effective and cost-efficient ways to get our economy back on track, put thousands of Minnesotans to work and invest in aging infrastructure including roads, bridges, high-speed internet and water treatment. Our Legislature has not passed a bonding bill in two years. Our priority must be getting passage of the bill as soon as possible to put thousands of Minnesotans back to work.
Follow the Sun Sailor on Facebook at facebook.com/mnsunsailor.