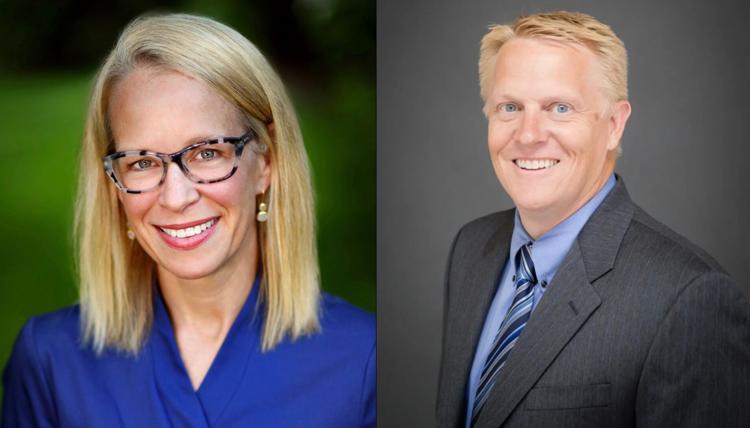 In the race for Minnesota House District 33B, incumbent DFL Rep. Kelly Morrison will face GOP challenger Andrew Myers. The General Election is Tuesday, Nov. 3.
House District 33B includes the suburbs of Carver and Hennepin counties, including Excelsior and the South Lake cities.
The two candidates were asked to provide biographical information and answer two questions. Their answers were edited for length and clarity.
Kelly Morrison
Address: Deephaven
Education: Bachelor of arts in history, Yale University; doctor of medicine, Case Western Reserve School of Medicine
Occupation: Physician
Community involvement: Board service on organizations that promote literacy, protect women's health and work to eliminate racism, vice-chair of the Health and Human Services Committee in the Minnesota House.
Contact information: kelly@morrisonforhouse.com
How should the 2021 Legislature handle the budget issues and meet school and societal needs caused by COVID-19?
COVID-19 has killed more than 200,000 Americans and has crushed our economy. When the November forecast comes out, we'll have a better idea of how big our deficit in Minnesota will be, but we know it will be significant. Constitutionally, we are required to balance the state's budget, and difficult decisions will have to be made to do so. Due to good governance and prudent fiscal responsibility, Minnesota is fortunate to have a "rainy day" fund money that most states do not. This is an appropriate time to use that money. We will also need to consider the budget carefully and end or suspend programs that have not been effective or that are not critical to our mission of protecting our people and aiding our recovery. I favor an approach that maintains our school and public health budgets so that we can continue the essential tasks of educating our students while protecting them and their teachers, school staff and families during the pandemic. We will need to focus on mission-critical programs to achieve those goals until the pandemic is under control and the recovery is complete.
Will you support the passage of a bonding bill in 2021 or 2022, if so, where should the priorities be?
I have supported the passage of the bonding bill since I first voted for it in the regular session last spring. The bonding bill requires a 3/5 majority to pass the House, so by it must be a bipartisan bill. Unfortunately, it has been voted down by the minority party in the House multiple times. It is critical that we pass a bonding bill in 2020 in order to create jobs and economic activity and to make needed repairs to our aging transportation and water infrastructure. This is a key to our economic recovery and should not be lost to partisan politics. If it is not passed this year, I would support passing a bonding bill early in the 2021 session.
Andrew Myers
Address: Minnetonka Beach
Education: Bachelor of science degree, Bradley University; juris doctor degree from University of Montana
Occupation: Licensed attorney, self employed
Community involvement: Minnetonka Beach City Council member; Planning Commission member and chair; park, fire, police and finance liaison, dock committee member, soccer coach and small business owner.  
Contact information: VoteAndrewMyers.com
How should the 2021 Legislature handle the budget issues and meet school and societal needs caused by COVID-19?
With a significant budget deficit on the horizon, it's clear we're going to need to make difficult decisions about how we balance our budget and meet the needs of our communities. Tax increases would be incredibly harmful to our economic recovery and take money from businesses and families who are already struggling and have already sacrificed so much. We must look through our budget for wasteful spending, fraud and programs that aren't getting the results that you deserve for your tax dollars. We need to be focused about priorities — needs versus wants — just like any family does with their budget at a time when money is tight. I'm ready to roll up my sleeves and put my experience as a City Council member and small business owner to work digging through the budget and working to fund our priorities while eliminating wasteful spending so we can protect Minnesotans from unnecessary tax hikes.
Will you support the passage of a bonding bill in 2021 or 2022, if so, where should the priorities be?
The even-numbered year (2022) is typically the "bonding" year — it's something we should look at given low interest rates, but a lot depends on whether the legislature passes one before the current legislative term ends in January. Priorities for bonding should always be heavy infrastructure, brick and mortar projects that put people to work. We should also use bonding to take care of the buildings and assets our state already has, and make sure they don't fall into disrepair and cost taxpayers even more long-term. I will push for any bonding bill to be free of wasteful projects and make sure every dollar is going to critical infrastructure, wastewater, asset preservation, roads and other core needs for our state.  I performed these same types of things as a council member in my city and will do that when elected to the Legislature.
Follow the Sun Sailor on Facebook at facebook.com/mnsunsailor.