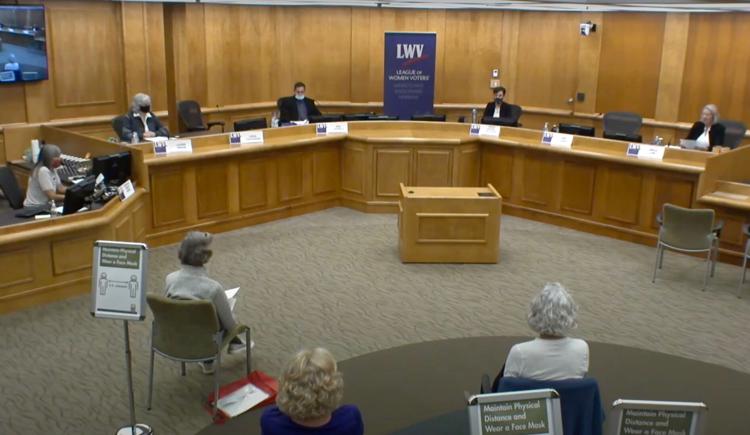 The League of Women Voters hosted a forum Oct. 1 with the candidates running for Minnesota House District 48A. The candidates are incumbent DFL Rep. Laurie Pryor and GOP challenger Eric Wessels.
The following is a selection of answers from the candidates, in the order they were given, to questions submitted by voters. Answers have been edited for length and clarity.
Question: What is the biggest issue District 48 residents are facing and what action would you take related to it?
Pryor: I base this on basically the research that I do, which is to reach out to my constituents and hear from them, and I've been doing this since I was first elected in 2016. I get letters, I get phone calls, and then even in the off years when I'm not up for re-election, I reach out and walk through the neighborhoods going door-to-door talking to folks. It's changed. People are concerned, I think, continually about the quality of education and supporting education. They are concerned about the environment. They're concerned about issues of fairness in Minnesota because we keep looking at all of these opportunity gaps we have. But what I'm hearing more often these days, in this election, is about the pandemic, and that people want to see a strong response and they want to stick together and make sure that we survive this and that we're ready to build back better when we get the opportunity.
Wessels: It is my opinion that the top issues that we're facing in the district are similar to the ones that we face statewide. They are public safety – and I believe that we need to continue to fund the police and give them the tools and resources needed to restore and maintain law and order while holding them still accountable for transgressions and bad behavior. Good police want to partner with other good police. Public health is another one, and this ties also to public safety in that Minnesotans want to feel safe going back to work and patronizing local businesses – these same businesses that can now open and are using CDC guidelines to limit the spread of the virus. Finally, the economy and getting Minnesotans back to work will help lower the budget deficit. It will allow parents to provide for themselves and not to just scrape by on the unemployment compensation that we've been given. And restoring attendance to formal education will be a boost to the public's morale.
Question: How are you bringing in Black, Indigenous and people of color voices and experiences into your campaign?
Pryor: This is one of the issues that's before us as a state. In the House of Representatives in one of our special sessions this summer, we passed a resolution acknowledging that racism is a public health crisis. And we heard this from medical providers, doctors, nurses, health care systems that acknowledge it and they see it. It's a public health crisis. And so, everything we do needs to keep this in mind and ask, how are we being inclusive? What can we do? How can we reach out? I work with young interns of different national origins, different races, and it's the young people who bring up questions and bring up challenges and they've really enriched my campaign. So, yes, people of color and Indigenous people – I've included them in my campaigns, particularly the younger generation.
Wessels: One of the ways that I have introduced my campaign to people of color is – I have a very urban chiropractic practice and I have a very diverse patient base. And one of the things that I have found interesting over the years and one of the things that made me unique as a provider is I do house calls and I have for a number of years. Being invited into people of color's homes, you get a chance to experience not only their culture, but their attitude and their impression of someone who is not from the neighborhood. But they are willing to – again, if you show up and you treat people with the same kindness and respect that you hope from them – the relationship can be fostered. And oftentimes I have been invited to dinner, I have been asked to help kids with homework, and so taking those experiences with me out on the campaign and meeting people of color and knocking on their doors. It always provides a little bit more insight, and having the background that I do, to maybe ask the right questions and find out what their concerns are.