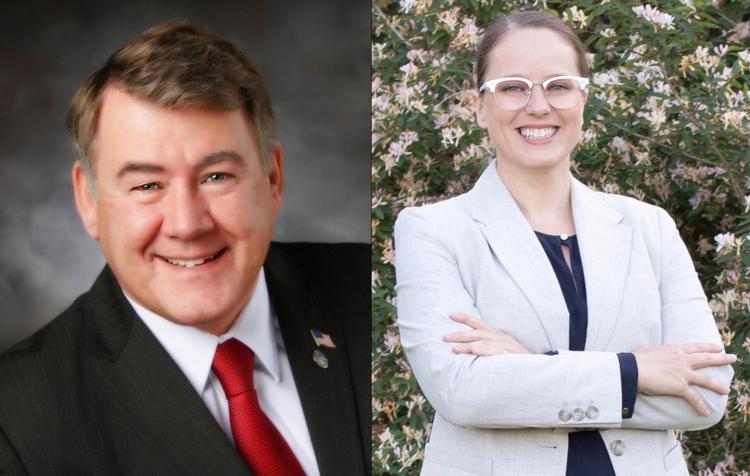 In the race for Minnesota House District 33A, incumbent GOP Rep. Jerry Hertaus will face DFL challenger Caitlin Cahill. The General Election is Tuesday, Nov. 3.
House District 33A includes all or parts of Corcoran, Greenfield, Loretto, Medina, Independence, Orono, Maple Plain, Long Lake, Wayzata, Minnetrista and St. Bonifacius.
The two candidates were asked to provide biographical information and answer two questions. Their answers were edited for length and clarity.
Caitlin Cahill
Address: Maple Plain
Education: Master of arts, extension studies in information technology, Harvard University
Occupation: Business owner providing technology support services
Community involvement: Current: Maple Plain City Council; Former: Hennepin County Library Board, SkillsUSA Minnesota Executive Board
Contact information: caitlin@cahillforhouse.com
How should the 2021 Legislature handle the budget issues and meet school and societal needs caused by COVID-19?
Will you support the passage of a bonding bill in 2021 or 2022, if so, where should the priorities be?
(The candidate combined her answers into one response.)
Because the majority of our state revenue comes from income tax as well as sales tax from people spending their income, the Legislature needs to help get people back to work at jobs with a living wage. One of the most effective ways to do this is to pass a robust bonding bill, which will create well-paying jobs in communities across the state and also benefit public safety with projects such as upgrades to our roads, bridges and water systems. The benefit of bonding is that the financial cost will be spread out over several years while quickly providing revenue.
One of the most critical needs for both school and societal needs is access to high-speed internet to enable people to safely work remotely and to support distance learning when necessary. Facilitating statewide broadband should be top priority of a bonding bill in 2021. Other priorities should include projects that improve public safety and health, particularly in areas of high unemployment that could benefit from workforce development. This includes not only safety upgrades to existing infrastructure, but also increasing affordable housing. Projects that promote energy efficiency, increase clean energy production and address environmental waste and pollution should also be considered.
The legislature should also provide schools, local governments and businesses with flexibility to adapt to more remote work and to address the financial impact of the pandemic. For example, schools should be able to transfer monies between funds to reflect the current reality of expenses, such as using community education funds to instead provide additional educational support personnel in classrooms. Another example would be allowing health care providers to count remote staff providing telehealth services towards their minimum staffing requirements. In some respects, the pandemic has caused us to be more efficient and we should embrace some of these improvements going forward.
Jerry Hertaus
Address: Greenfield
Education: University of Minnesota, College of Liberal Arts
Occupation: Self-employed construction, land development, Realtor, real estate services
Community involvement: State representative (8 years), mayor (2 years), Planning Commission (7 years), President Greenfield/Rockford Chamber of Commerce (3 years)
Contact information: rep.jerry.hertaus@house.mn
How should the 2021 Legislature handle the budget issues and meet school and societal needs caused by COVID-19?
Since March 13, the state's fiscal condition has severely worsened from more than $4 billion in surplus and reserves to a projected deficit of $4.6 billion in the out year of the biennium. A negative swing of more than $8.5 billion. Our economy is a contact sport. Every time people interact with each other, an exchange of dollars often occurs which means in most cases, a taxable event occurs that contributes to increased state revenues including sales, individual and corporate taxes. Doing everything possible to aid improving commerce and business will contribute heavily to getting our state's financial health back in order and the private sector back to work. Both sides of the aisle will have to prioritize needs and adopt a budget that reflects the realities and economic hardships faced by families and the state.
 Will you support the passage of a bonding bill in 2021 or 2022, if so, where should the priorities be?
I would support a robust bonding bill that borrows capital at currently low interest rates from investors in the private sector instead of taxing the public to increase revenue. Supporting a robust bonding bill would require being proportionately distributed equally as possible, preferably for infrastructure projects across the entire state. This will help jump-start our entire Minnesota economy and its economic impact would help put people back to work. Increasing private sector discretionary income will place demand for the services and the types of businesses that were devastated by the shutdowns.
In economic terms, the velocity of money measures how fast dollars exchange hands. Velocity is greatest in the private sector because each individual or business prioritizes their own needs making spending decisions swiftly, unlike government. When this occurs, state revenues increase at a faster rate. The Legislature should build upon economic growth and assist first, rebuilding a stronger private sector which is necessary to support future increased public spending.
Follow the Sun Sailor on Facebook at facebook.com/mnsunsailor.