When she left India 40 years ago and made her way first to Canada, and then in 1998 to Plymouth, Meena Chettiar is happy to say she was welcomed with open arms in both countries. Now 62, she has enjoyed a long and successful career as a chemist and biomedical engineer in Canada and the United States. 
"I feel I have been given a lot of opportunities in my life, and have achieved my dreams of being able to recognize my strengths and contributing through my strengths," she said. Her contributions have come not just through her work as a scientist, but through the efforts she has made to give back to her community.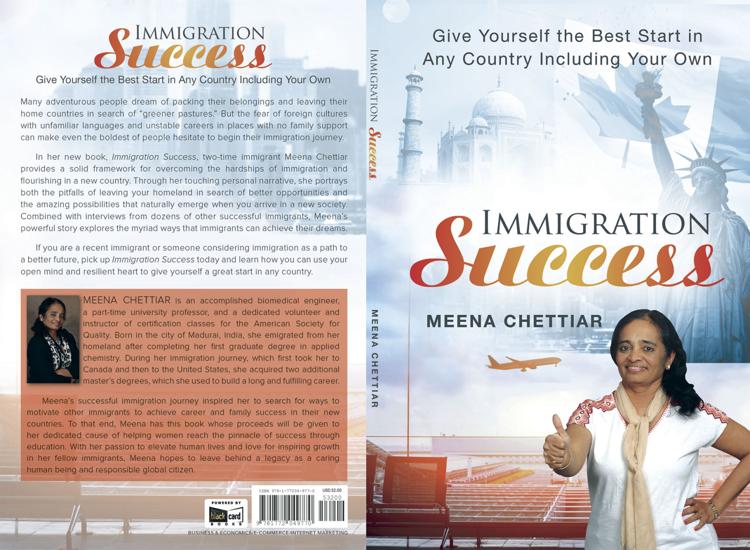 Chettiar is an active member of the Plymouth Rotary and regularly offers free consultations to new immigrants in need of guidance on resume reviews and preparing for job interviews. In addition, she recently authored the new book "Immigration Success," published in July by Black Card Books of Ontario, Canada.
In addition to sharing her personal story of immigration success, the book features the success stories of 30 people from 15 countries who have come to the United States, and their advice to new immigrants. Lisa Oh, a successful business woman who immigrated from South Korea to the United States in 1976, is among those whose stories are shared in the book. Her advice to new immigrants, "Learn the culture of the country you are immigrating to, blend its good aspects into your culture, and live the life of your dreams anywhere in the world!"
Devi Shanmugan, who immigrated from India to the United Kingdom 25 years ago, advises new immigrants to "believe in yourself, ask for help, work hard, and keep learning."
Sadika Mujic, who immigrated from Bosnia to the United States and didn't know the language when she arrived, advises immigrants to "be hardworking, honest people who set an example for the younger generation, especially for their own children."
Chettiar also interviewed several Americans who offer their perspective on what it's like to work with immigrants. The children of immigrants were interviewed, too. In addition to the sharing personal success stories, also included in the book are some of the most common barriers to immigration success, and tips for overcoming those barriers. The majority of the barriers have to do with career advancement and education.
"My goal is to erase all barriers that stand in the way of educational and career success of all global citizens who are immigrants, naturalized citizens and their dependents. I feel that contributions of immigrants to the citizens of their adopted country is extremely important to sustain global growth and maintain equilibrium in any society," said Chettiar, who adds that her motivation for writing the book was to share her story, and through it motivate others.
"I also wanted to provide tips for other immigrants to shine and bring out the best in themselves and contribute passionately to their new home country that has generously adopted them," said Chettiar.
Copies of "Immigration Success" are available in paperback through the author's website, ImmigrationSuccessBook.org. In the near future, a Kindle version will be available through Amazon.
All of the proceeds from book sales will be donated to MN Shakthi Global Foundation, a nonprofit organization founded by the author that is dedicated to the educational and career upliftment of needy women and their families.
During the 2019-2020 school year, the foundation will offer college scholarships to the three Wayzata High School students who write the best essays on growing up as the child of an immigrant.
Chettiar and her husband make their home in Plymouth and have two adult children who both graduated from Wayzata High School.