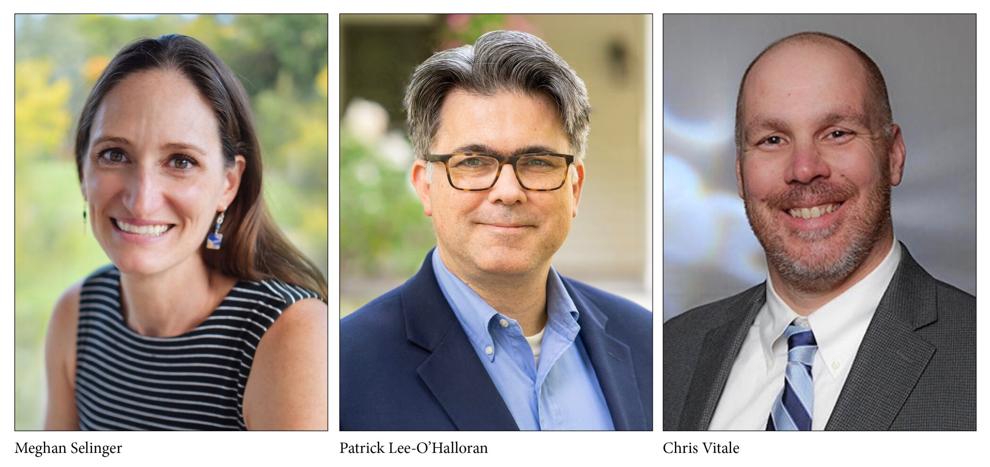 Voters decided Nov. 2 which candidates will fill three seats on the Minnetonka School Board.
According to unofficial results from the Secretary of State, the winners of the election were Meghan Selinger, Patrick Lee-O'Halloran and incumbent Chris Vitale.
The Minnetonka School Board has seven members who are elected at large, to four-year terms. The winners will begin their terms in January.
The current school board members who decided not to run for re-election were Jon Holcomb and Mike LeSage.
Selinger earned the most support with 4,872 votes (17.11%), followed by Lee-O'Halloran with 4,789 votes (16.82%) and Vitale with 4,567 votes (16.04%).
Selinger, who has two young sons in the district, has worked as a high school chemistry teacher with licensure in two states and has a variety of leadership experience at both the school and school district levels.
While campaigning, Selinger said she recognizes the excellence of the Minnetonka School District but also sees room for growth and improvement and wants to ensure that all students are safe, valued, well-rounded and prepared for whatever path they choose after they leave the Minnetonka Schools.
"Thank you to all those who took the time to become informed and vote in this important election," Selinger told the Sun Sailor. "I look forward to serving the local community, especially our students, as part of the Minnetonka School Board."
Another new face on the board will be Lee-O'Halloran, who has a son in his sophomore year at Minnetonka High School and a daughter who recently graduated from the school.
Lee-O'Halloran, an attorney and small business owner, has decades of board experience through the Minnesota State Bar Association and other industry groups.
In the run up to the election, Lee-O'Halloran noted the importance of celebrating the potential of all students in the district while fostering opportunities for everyone to connect across programs so that every student feels they belong.
"I am humbled and grateful for the results of the Minnetonka School Board election and want to thank district voters for supporting our message of excellence and equity," Lee-O'Halloran said while congratulating fellow winners Selinger and Vitale. "Thank you to all of my supporters and volunteers, and especially to the voters who turned out in record numbers for a school board election. It's very gratifying to see our community so engaged."
Vitale, who has served four years on the Minnetonka School Board and is the current chair, will return for another term. The school board member has two children currently attending schools in the district and one who graduated from Minnetonka High earlier this year.
In his bid for re-election, Vitale said he is proud of what the board has accomplished in the past four years and wants to continue supporting the district's vision into the future.
"I am honored that the community has voted to re-elect me to another term on the Minnetonka School Board. I want to thank everyone that supported my campaign. I am excited to continue to work hard for our amazing district and appreciate the trust of our community in the board's vision for world class, child centered excellence.  I remain committed to listening to stakeholders and supporting our students and teachers," Vitale said. "Congratulations to Meghan Selinger and Patrick Lee O'Halloran as they join the board."
Following closely behind Vitale in the election results was Jessica Reader with 4,522 votes (15.88%). Michael Salyards earned 3,823 votes (13.42%), Dan Olson earned 3,232 votes (11.35%) and Michael Remucal earned 2,429 votes (8.53%). Beth Robertson-Martin, who remained on the ballot but was no longer campaigning, received 194 votes (0.68%).