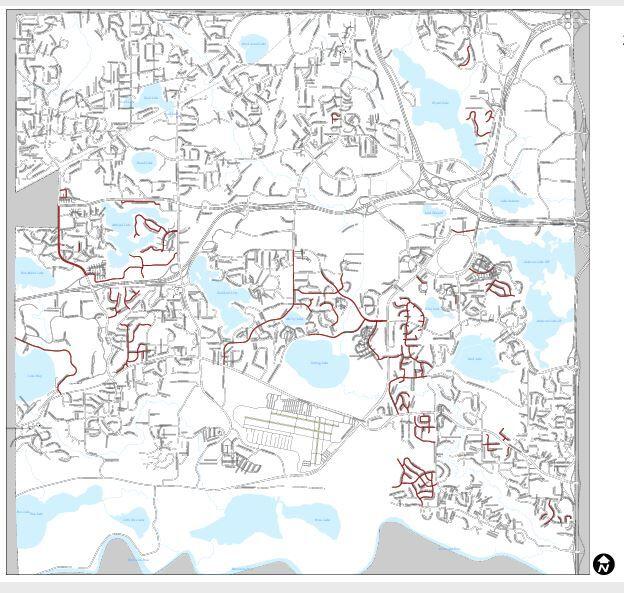 There are a number of construction crews that are working on several infrastructure projects in Eden Prairie this summer.
Among the projects being completed are:
• Duck Lake Road Improvements
The project includes reconstructing the roadway from Duck Lake Trail to approximately Mallard Court and includes the addition of a trail and sidewalk. A bridge is also being built over a portion of Duck Lake.
• Flying Cloud Drive Repaving
Beginning in mid-June, Hennepin County is repaving Flying Cloud Drive (County Road 61) between I-494 and Charlson Road. This month-long project will include lane closures and detours as needed.
• I-494: Airport to Highway 169
MnDOT staff and its partners are working to provide environmental documentation and preliminary and final engineering reconstruction of the I-494 corridor that travels through Bloomington, Richfield, Eden Prairie and Edina.
• Natural Gas Main Replacement
CenterPoint Energy is replacing natural gas mains across Eden Prairie. Work requires lane shifts as crews work in the public right of way.
• Pavement Management Projects
These projects include the mill and overlay, full-depth reclamation and surface seal coating of several roadways in Eden Prairie. Curb, storm drain and drain cover work has already begun.
• Southwest Light Rail Transit
With the majority of heavy construction in Eden Prairie near completion, there is ongoing work this summer which will periodically affect vehicle traffic.
West 70th Street is currently closed until mid-summer for reconstruction of the eastern segment of the roadway. The work is being coordinated with Southwest LRT construction to extend the multi-modal improvements on West 70th Street from the proposed Golden Triangle LRT Station east to Shady Oak Road.
The entrance ramp from Valley View Road to eastbound Highway 212 is closed for grading and utility work. This closure is expected to last until mid-June.
The north and southbound lanes of Highway 212, between Highway 62 and Shady Oak Road, will be fully closed from 9 p.m. Friday, June 3 through 5 a.m. Monday, June 6.
The westbound Highway 212 off-ramp to Shady Oak Road is closed for LRT construction and is expected to reopen in fall 2022.