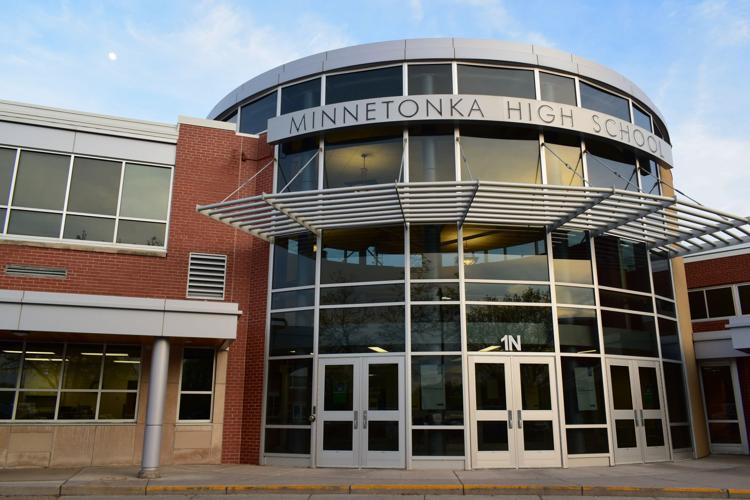 Younger students will spend more time in the classroom than older students
The Minnetonka School Board voted unanimously Aug. 6 to approve the school district's hybrid learning plan for the start of the new school year.
At the school board meeting, district education leaders presented seven options put together by groups of administrators, teachers and parents. One group focused on a plan for fully open schools, another group put together a plan for 100% distance learning (e-learning). The other groups focused on various hybrid scenarios that would allow students in school some of the time and learn from home on other days during the week.
Superintendent Dennis Peterson then presented the district's recommended plan for a hybrid learning model that he said draws from all of the prepared plans.
"It's a very comprehensive but extremely workable plan, and we think it'll work well for our students," Peterson said.
The superintendent noted that all parents will have the option to keep their students in an e-learning model at home if they so choose.
"No student should be forced to come to school by the district," Peterson said.
Under the district's hybrid learning model, younger students will spend more time at school and older students will spend most of their week e-learning from home.
For grades K-3, the district will provide in-person instruction every day at their school. 
The superintendent said classrooms for K-3 students will be at 50% capacity, which means 15 students per class for most rooms and up to 20 students for larger rooms. Non-classroom spaces like gyms, media centers and specialist rooms will be used to help students spread out.
Peterson added that grade-level, team-based instruction will be used for student pods.
"When we talk about a pod or a bubble ... we're grouping students together as much as possible in that 15-student group so that if there are symptoms of COVID or the teacher gets ill or whatever, we're affecting a very small number of students," Peterson said.
For parents who choose to have their K-3 students practice e-learning from home, Peterson said, the district will provide a classroom experience with online instruction support available for students in English, Chinese and Spanish.
"The e-learning will follow the same scope and sequence and calendar as the in-person model, so no one should feel like somebody else has an advantage or disadvantage based on the model they've chosen," Peterson said.
Students in grades 4-5 will have in-person instruction at Minnetonka High School from their classroom teacher four days a week while using student pods in spaces that are at 50% capacity. On the fifth day, those students will do e-learning from home.
Students in grades 6-8 can attend school in-person two days of the week, with three days of e-learning from home. Students will be divided into two groups so that for four days of the week, when one group is at school, the other is learning from home. On the fifth day, all students will practice e-learning at home. All classrooms will be at 50% for these grades as well.
For grades 9-12, students will do e-learning from home four days a week and will follow a similar type of block schedule that was used this spring, the superintendent said.
"Instruction will be primarily synchronous, employing Google Meet, live-streamed instruction and other instructional technology tools," Peterson said.
The fifth day of the week for high school students will be reserved for in-person instruction at the school, on the day students in grades 4-5 are not there.
"Some courses may meet in person if the quality of the experience really dictates that they really should be in school some of the time. … Students in the Momentum program or the trades, maybe orchestra and choir, maybe something in Vantage … maybe lab courses," Peterson said. 
The superintendent also noted that there will be in-person appointments available for students on that day of the week.
"Those meetings can be small group, they can be individual support, they can be whatever the teachers decide are most appropriate for students that day," he said.
For the district's early childhood and preschool programs, Peterson said a plan is still being developed and will be sent to parents soon.
"We want to have it in-person as much as possible. We also realize that there are a lot of complications trying to have younger children wear masks or shields and socially distance. ... We're going to do the best we can to provide a quality experience for ECFE (Early Childhood Family Education) and our preschool programs."
Peterson said shorter passing time between classes and surface cleaning of desks between classes will be used to help prevent the spread of COVID-19. The district will also require face coverings for anyone entering into a school building, which is also required under the state's mask mandate.
"Masks or shields will be required for students at all times. There will be no exceptions," the superintendent said.
District staff members will also take students' and adults' temperatures frequently, Peterson said, and parents are expected to take their child's temperatures before they come to school.
Due to data privacy laws, the district is not allowed to share any names or personally identifiable information of individuals identified to have the virus. If there is a positive case of COVID-19 in the school community, the Minnesota Department of Health will work with district leaders, advising them on when and whether the district needs to temporarily close a program or school for deep cleaning. The state department will also work with the district to contact all families and staff members who may have been in close contact with someone who tests positive.
For more information, visit minnetonkaschools.org/district/programs/health/coronavirus-response.
Follow the Sun Sailor on Facebook at facebook.com/mnsunsailor.