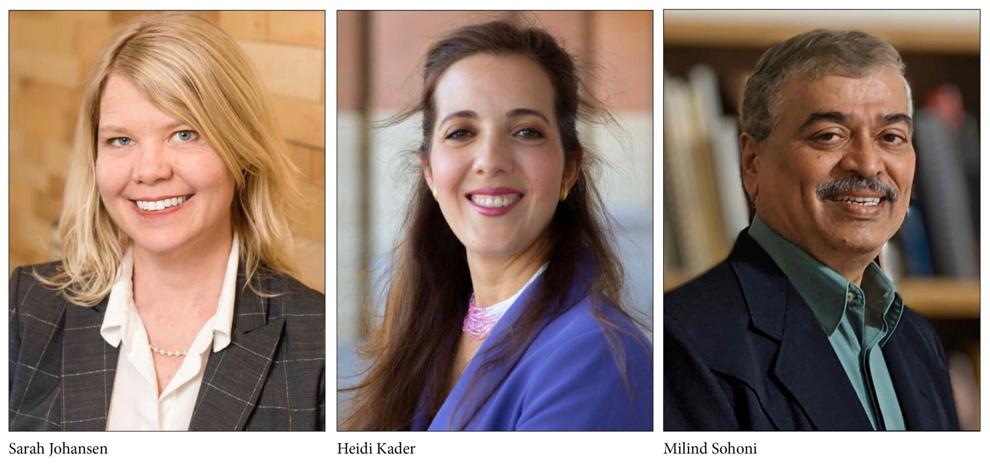 Voters decided Nov. 2 which candidates will fill three seats on the Wayzata School Board.
According to unofficial results from the Secretary of State, the winners are incumbent Sarah Johansen along with newcomers Heidi Kader and Milind Sohoni.
The Minnetonka School Board has seven members who are elected at large, to four-year terms. The winners will begin their terms in January.
The current school board members who decided not to run for re-election were Chris McCullough and Andrea Cuene.
Johansen received the most support with 6,125 votes (17.64%), followed by Kader with 5,632 votes (16.22%) and Sohoni with 4,809 votes (13.85%).
Johansen, who has served eight years on the Wayzata School Board, is an adjunct instructor at Augsburg University and volunteer for St. Phillip the Deacon Lutheran Church-Church Council. She has three students who attend Wayzata Schools.
Leading up the election, Johansen said returning to the board would allow her to continue advocating for each and every student so that they have the resources, supports and experiences to discover their unique talents and thrive.
"I am honored and grateful to have the opportunity to serve our community for the next 4 years and I promise to work diligently for each and every student. Voter turnout for this election was remarkable. Thank you to every voter who came out early or braved the lines on election day," Johansen said. "In addition to highlighting the diversity of thought in our community, this election underscored how passionately we all feel about our students and our schools. As we move forward together, I am committed to listening, seeking understanding and keeping everyone engaged and united in doing what's best for kids."
Kader, who has three children in the school district, is an adjunct professor at St. Catherine's University in St. Paul and a clinical research professional.
Kader said she was compelled to run for Wayzata School Board because she wanted to help students and the district as a whole successfully navigate the ongoing pandemic.
"Election Day 2021 was an incredible moment for our community. I've seen Wayzata School District activated before, but nothing like this," Kader said. "I am absolutely humbled by the incredible voter turnout. I have so many people to thank – for your support, for hosting signs, for advice, kind words, opening your doors, sharing your stories, for putting your trust in me (and) so much more. I am proud of the independent campaign that I've run and am ready for the work that starts immediately."
Joining Kader as a newcomer on the school board will be Sohoni, a first-generation immigrant who has lived in the school district for 26 years. He is a retired scientist, business development manager and entrepreneur. He has two children who have graduated from Wayzata Schools.
"Four months of rigorous campaigning has culminated in voters trusting me with a seat on the Wayzata School Board. I appreciate everyone who voted for me, my relentless team of volunteers, my close friends who went out of their way to help and generous contributions from supporters. Needless to say, my family stood behind me like a rock throughout this process. I could not have done this without you all," Sohoni said. "I am reaching out to you all, my community, to stand with me in pursuit of the goals. I look forward to working with the members of the board and you all to elevate Wayzata School District to the next level. It has been a dream come true for a first-generation immigrant, and I thank you all for this opportunity."
Following closely behind Sohoni in the election was Nick DeVries, who received 4,492 votes (12.93%). Erin Shelton earned 4,375 votes (12.6%), Bryan Kubes earned 4,281 votes (12.33%), Daniel Sellers received 1,831 votes (5.27%), Muthu Periakaruppan received 1,674 votes (4.82%), Mariam Siddiqui received 938 votes (2.7%) and 426 votes (1.23%) were cast for Aaron Herzberg.
Justin Hibbits and Derek Plymate, who remained on the ballot but were no longer campaigning, each earned just over 50 votes.