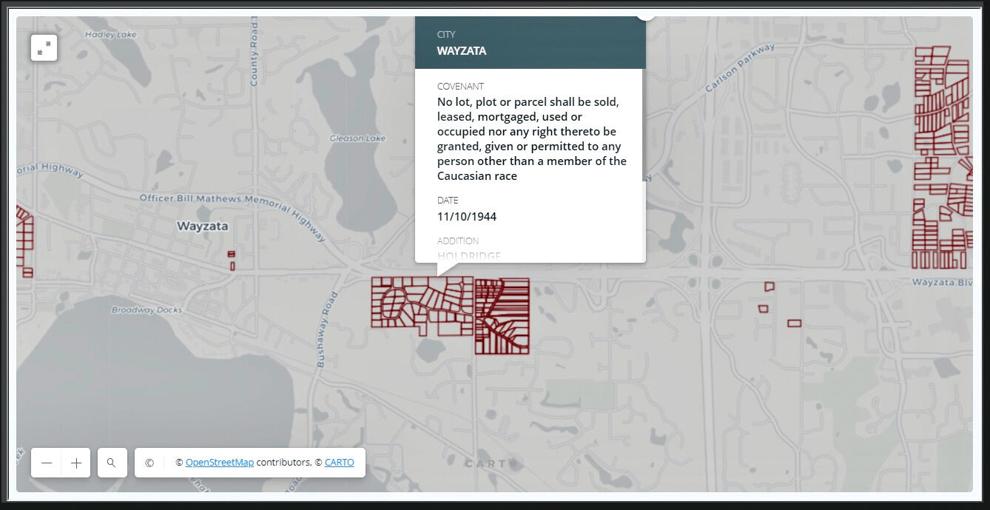 Just Deeds helps residents legally denounce racially restrictive language tied to their home
Wayzata has joined the Just Deeds Coalition in its effort to help residents discharge racially restrictive covenants from their property deeds.
Discriminatory covenants were included in the property deeds of homeowners throughout the United States during the first half of the 20th century. The language in the agreements was used by real estate developers to prevent people of color from buying or occupying a property. It was a powerful tool for segregationists.
These types of covenants were nationally declared unenforceable by the Supreme Court in 1948, and the Minnesota Legislature prohibited their use in real estate documents in 1953. They were made illegal in the U.S. by the Fair Housing Act of 1968.
In 2019, Gov. Tim Walz signed a bill into law allowing Minnesotans to file a document with their county denouncing discriminatory covenants. Legally discharging a covenant doesn't erase the language, but rather adds an extra document denouncing it to the end of the deed.
In the years since, the Just Deeds Coalition (justdeeds.org) was started by several Golden Valley city officials. The coalition works to pair homeowners with pro bono attorneys to discharge racial covenants and provides educational opportunities to help communities acknowledge the racist history of the restrictive covenants.
Area cities who have become members of the coalition include Minnetonka, Hopkins, St. Louis Park, Edina and now Wayzata following an Oct. 5 vote from the Wayzata City Council.
Also part of the overall effort are the organizers behind the Mapping Prejudice project. Since 2016, the group has been working to illuminate structural racism by creating a database and map of discriminatory property deeds throughout Hennepin County. Property owners can use an online mapping tool (mappingprejudice.umn.edu) to see if there has been a restrictive covenant found on their property title.
Racial covenants are known to exist in the Wayzata's Highland and Holdridge neighborhoods, where deed passages put in place throughout the 1940s read: "No lot, plot or parcel shall be sold, leased, mortgaged, used or occupied nor any right thereto be granted, given or permitted to any person other than a member of the Caucasian race."
Emily Goellner, Wayzata's community development director, said there are 137 properties within Wayzata's boundaries that have racially restrictive covenants.
"The Just Deeds Coalition is here to help us ask the question, 'What's next?' ... What is something tangible that we can do as individuals to recognize how we've gotten to this point?" Goellner said.
The coalition can help connect Wayzata residents with volunteer attorneys who will go through the work of legally discharging a covenant on a property.
"It's a highly procedural process," Goellner said. "It is not really a DIY kind of process."
By being a member of Just Deeds, the city will also receive access to educational materials about discriminatory covenants in Minnesota and city staff will be connected to other members of the coalition.
There is no formal action required to join the coalition, but most cities join by passing a resolution of support. City staff has recommended that Wayzata participate by devoting staff time to connect residents with free help from legal and title professionals to discharge discriminatory covenants, engaging in community conversations on race and housing, supporting strategic conversations about local housing policies that support a wide range of housing choices, and increasing efforts to communicate and involve residents who rent in community conversations and decisions.
Among those who spoke in support of the resolution during the council meeting was Kate Flom, a member of the Unitarian Universalist Church of Minnetonka. Leaders with the church discovered a discriminatory covenant in their deed while acquiring the land to build their new church in Wayzata's Holdridge neighborhood. Today, members of the church are encouraging homeowners to take a look at their deeds to seek out and denounce similar racist language.
"I'm very grateful that you're addressing this situation through your actions tonight," Flom said. "We were able to get a pro bono attorney through the Just Deeds project in late 2020 and were able to renounce the covenant on our deed, which was very important to the members of our congregation and for us as a faith community."
The resolution also found unanimous support from the Wayzata City Council, with Mayor Johanna Mouton saying it was a necessary step in addressing a part of Wayzata's history.
"I really applaud Just Deeds. ... Every person who is part of that is a volunteer," the mayor said. "These are people coming together to do the right thing."
Councilmember Alex Plechash said joining the coalition will allow for each homeowner to have their personal journey in discovering and confronting a racially restrictive covenant that may be tied to their home.
"I'd sure love to see the day when it all is behind us. ...This is just one small step in that regard," Plechash said.