'A Symphony of Rivals' is set in Europe in the years leading up to World War II
Wayzata resident Roma Calatayud-Stocks, an award-winning novelist and composer, is leading readers through 1930s Europe with her latest historical novel, "A Symphony of Rivals."
Blending her academic interests – Calatayud-Stocks holds bachelor's and master's degrees in music and psychology from the University of Minnesota and completed postgraduate studies in creative writing at the University of St. Thomas – the author explores through her writing the artistic contributions of various cultures, the politics of particular time periods and the resulting philosophical implications.
Set in Germany, Austria, Italy and the United States, "A Symphony of Rivals" follows protagonist Alejandra Stanford Morrison as she pursues her dream of becoming a symphonic conductor at a time when culture and the arts are falling under the influence of Nazism. Through her devotion to music and Beethoven's legacy, she finds a measure of hope and strength. 
In Berlin, Morrison meets and trains with renowned European conductors, and through her friends she meets art dealer Anton Everhardt, who falls in love with her. Morrison's musical talent is a double-edged sword, which places her at the center of a dangerous political world, where she attracts the unwanted attention of a high ranking German officer. While attempting to maintain her integrity, Morrison confronts harrowing situations, which challenge her principles. When the upheaval and violence of the Nazi ascendancy spreads to Vienna, Alejandra must choose between staying with her family in America or risking everything by returning to Europe in search of her friends.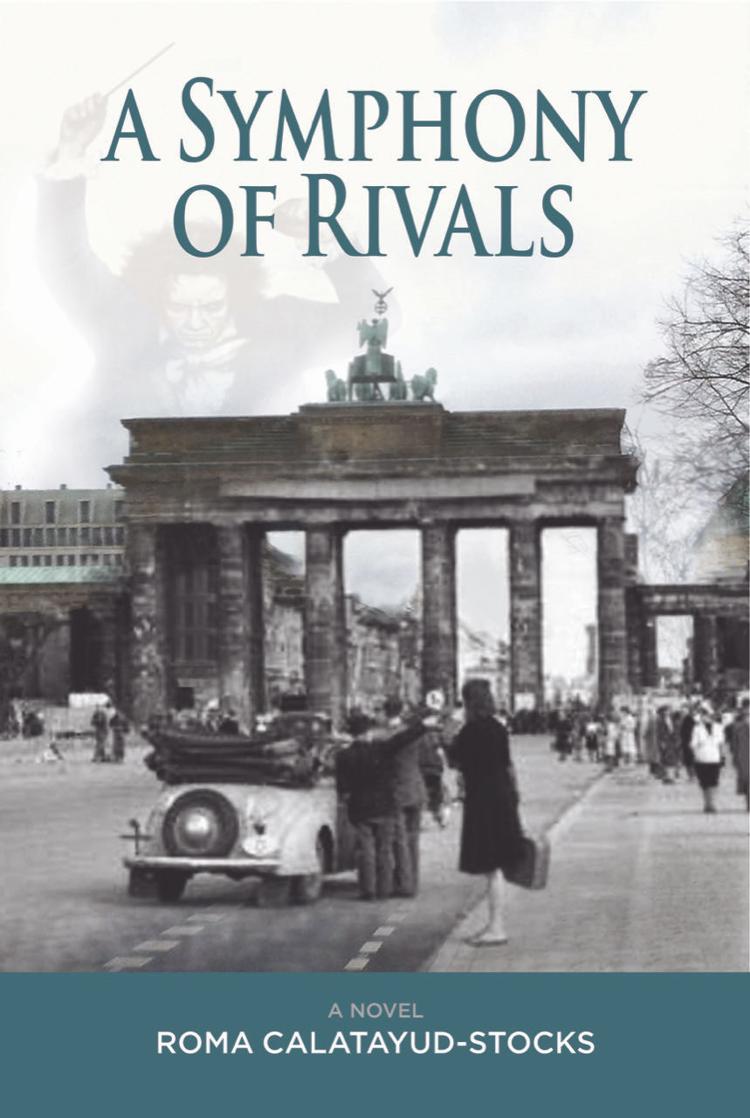 "A Symphony of Rivals" is the second in a trilogy of historical novels. The first, "A Song in My Heart," was released in 2011. The author is currently writing the third novel, "An Ode to Joy," and plans to have it released by 2020.
Calatayud-Stocks has also released two albums "Carnival of Life," and, to accompany her debut novel, "A Song in My Heart." With classical, jazz, and Latin musical influences, the albums showcase her original songs and instrumental compositions.
A native of Mexico City, Roma Calatayud-Stocks moved to Minnesota in her early 20s and has lived in the Lake Minnetonka area for more than 30 years.
The Sun Sailor recently sat down with the author to get a better understanding of the latest book, her background and how her love of music informs her writing.
This interview has been edited for length and clarity.
Question: Did your interests in music and writing begin while you were growing up in Mexico?
Calatayud-Stocks: They did. I grew up in a family that really had a great appreciation for the arts. My mother had a Beethoven music collection, so from a very young age I listened to all kinds of music, not just classical, but jazz and popular and world music. I then started taking piano lessons when I was about 10, so it kind of started there. I also started writing when I was very young.
I seem to have gone first on the route of music, but when I sat down to compose music I always envisioned some kind of narrative or some kind of story going with the music. I would say that inspiration to combine both the music and the narrative, or story, happened here while I was doing some work for the Minnesota Orchestra Volunteer Association back in 2002.
Q: Do all three books in your trilogy feature similar themes relating to music and history?
Calatayud-Stocks: I would say there's three themes that really run through all three novels, and one is my commitment to highlight the contributions of all cultures through the arts, especially music. The second aspect is to highlight some of the more important events in the 20th century from a historical point of view, so whatever was happening around the world because each book takes place in different cities around the world. ... The third theme, I would say, is a philosophical type of inclination and what it is that I want to communicate.
Q: What made you decide to set this story in that time and in those places?
Calatayud-Stocks: The protagonist's dream is to be a symphonic conductor and Germany has a legacy of great composers. As I say in the book, it's the land of Bach, Beethoven and Brahms. In terms of historical and in terms of its artistic heritage, it was very important. At the same time, it's the 1930s and we see how Nazism is taking over culture. ... I guess what I wanted to be able to contrast is that even though there are dark times in history, it's going to be music and the arts that are going to transcend all these times. So, we can be talking about things that happen 60-70 years ago or maybe even centuries ago, but music is still the one thing that brings us back together and unites people. I was really interested in tackling that aspect of history.
Q: The main character finds hope and strength in music. How much of yourself is in the character of Alejandra Stanford Morrison?
Calatayud-Stocks: The only thing that I think I have in common with the character is obviously the love of music. But other than that, she's a completely different character with many different experiences. I was interested in exploring the role of a woman wanting to be a conductor because even today it is still a primarily male-dominated world when it comes to conducting. ... In the case of the character, her profession is the most important thing for her in the world. And it's important to me, but I have my family and other things, so I wanted to kind of explore that because when you look at history and when you look at conductors and people who devote their lives to music, a lot of times it is at the expense of personal relationships.
Q: In your research for this book, did you learn  a lot about these composers that you didn't know before?
Calatayud-Stocks: Yes, I did. Of course, I knew the musical legacy of Beethoven, Bach and Brahms, but I didn't know some of their personal philosophies or their personal beliefs. ... Beethoven seemed to be the person that I wanted to highlight. ... Beethoven's music provides a huge range of emotions, but for me it was his own personal viewpoint about humanity that really kind of stuck with me ... In doing my research, I looked at all the various German composers and Beethoven came to the forefront. ... He was really someone who had a love of humanity that he expressed through his music. He also expressed that through his words. His spirit is sort of contrasted with the negative ideologies that are happening during Nazism.
Q: What else helped inspire this novel?
Calatayud-Stocks: I had a really wonderful opportunity a few years ago to interview Dr. Alexander White, who is a Holocaust survivor. He was on Schindler's list. I met with him again this spring to let him know where I was at with my novel and that it would be coming out soon. I was really inspired by his philosophy. He wrote a book, a memoir of his own life called 'Be a Mensch,' which is an expression that means to be a person of honor and to be a person of virtue. I think that kind of philosophy was something that I wanted to be able to portray in some of the characters in my book, especially against other characters that obviously - real ones or fictional ones - are maybe not particularly interested in. So that was very inspirational to meet him and to speak with him. 
Book-signing event Sept. 10
Calatayud-Stocksis planning a book event for 7 p.m. Monday, Sept. 10, at the Barnes and Noble in the Galleria Mall, 3230 Galleria, Edina. The event will feature a discussion, reading, signing and refreshments. 
For more info about the author, her work and upcoming events, visit RomaStocks.com or CalumetEditions.com.
Follow the Sun Sailor on Facebook at facebook.com/mnsunsailor.