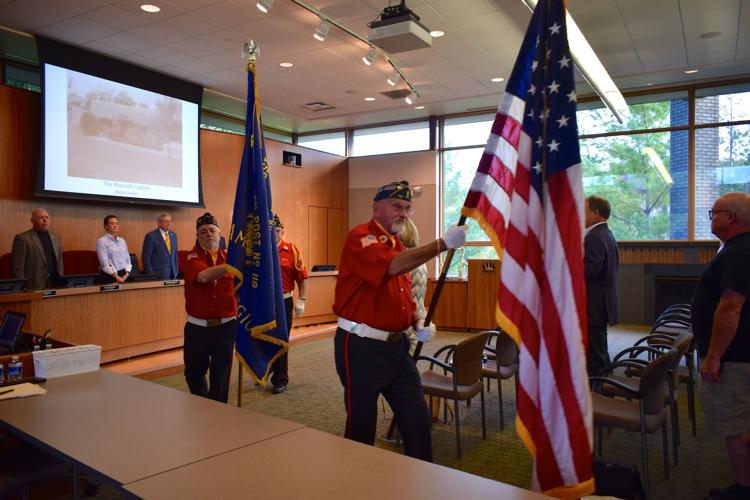 Post 118 was founded Sept. 3, 1919
The community continues to celebrate a landmark anniversary for Wayzata American Legion Post 118.
The Wayzata City Council marked the occasion during the Sept. 3 meeting, which happened to fall on the exact date of the Wayzata Legion's 100th birthday.
At the beginning of the meeting, members of the Legion's Color Guard presented the American flag and Legion flag before planting them behind the council.
Joanie Holst, president of the Wayzata Historical Society, then took to the podium to provide some history on Post 118.
"One hundred years ago today exactly, Sept. 3 of 1919, the Village of Wayzata, which had a bustling population of about 490 people at the time, got their charter to form the American Legion of Wayzata Post 118," Holst said, noting that the national organization turned 100 years old this spring.
U.S. World War I military personnel founded the American Legion in March 1919 in Paris, France, as a way to support veterans as they returned home from war. The organization was instituted on four pillars of service and advocacy for veterans, military personnel, youth and patriotic values.
Today, the American Legion's national membership is about 2 million. Combined with the American Legion Auxiliary and Sons of The American Legion, membership exceeds 3 million. Earlier this year, American Legion membership was opened to any individual who served in the U.S. armed forces any time after Dec. 7, 1941, and was honorably discharged, separated from service or continues to serve. Previously, membership was open only to service members who had served during a war era.
As the American Legion was being organized in 1919, Minnesota had started their own veterans organization known as the Loyal Legion. The organization changed its name to the American Legion to align with the larger group and sent delegates to a caucus in May in St. Louis. The delegates secured Minneapolis as the site for the first national convention in November of that year.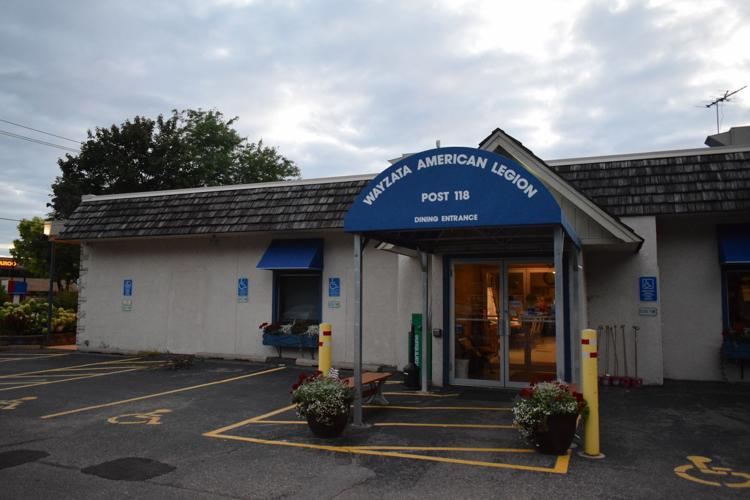 The Ernest Aselton Post 118 of Wayzata was granted its charter later that year. It was named for Aselton, a Wayzata resident and Wayzata High School student who served in the U.S. Marine Corps and was killed in action in France near the end of World War I.
"To the best of our ability to determine at this time, he is the only casualty that Wayzata had from World War I. … Sadly, he lost his life on Oct. 8 of 1918, just 33 days before the armistice," Holst said.
For several years, the group met on the second floor of Village Hall on the corner of Manitoba Avenue and Lake Street and in members' homes.
In the 1940s, the Wayzata Legion began meeting in a room near the bowling alley at Hart's Café on the corner of Broadway Avenue and Lake Street. The group's roles in the community included keeping the city's residents informed on local soldiers who were serving during World War II through weekly updates in the newspaper and efforts to make sure servicemen received letters from home.
In 1948, the group moved into its current location after constructing a building on Wayzata Boulevard. The club was 30 by 75 feet and consisted of a small bar, kitchen and a meeting room. Members were active in the community through their support of Legion Baseball, high school essay contests and helping to provide support for the disabled.
In 1963, the club was expanded. In 1990, the club was remodeled to include a new kitchen, added bathrooms and a spacious dining room.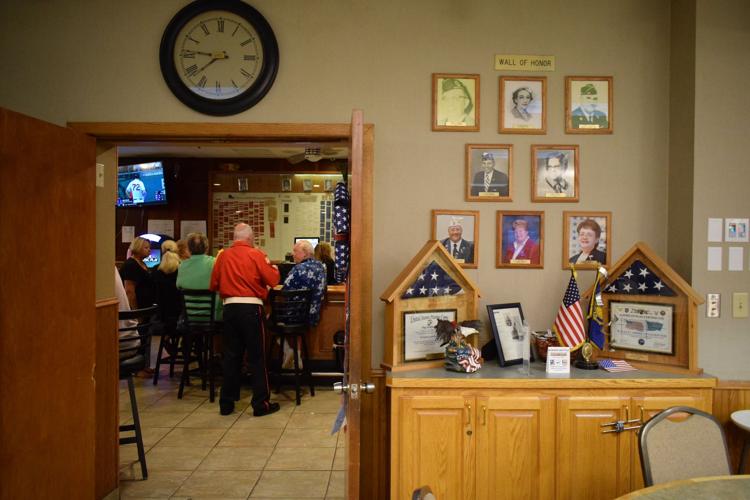 Throughout its history, the Wayzata American Legion has also been a space for the community to gather for dances, dinners and parties. 
"Today, the Legion remains for many of us to be a local gathering spot and it kind of feels like our own little hometown 'Cheers,'" Holst said. "We're thankful that our Legion has remained in Wayzata for 100 continuous years and that it has remained very active in the Wayzata community."
Wayzata Mayor Ken Willcox then presented Noel "Buck" Doran, commander of Post 118, with a plaque commemorating the anniversary. 
"The Legion is just such an important part of Wayzata," the mayor said. "It always has been as long as anyone can remember. It's part of the heartbeat of this town."
Doran, in a conversation with the Sun Sailor, reflected on his 54 years as a member of the Wayzata Legion. He joined the organization in 1964 while he was back home on leave while serving in the Navy during the Vietnam War.
"I was 20 years old," Doran said. "All of my friends were there."
For the past six years, Doran has served as post commander, helping oversee everything from the organization's bingo operation to sponsorship of the Wayzata American Legion baseball team.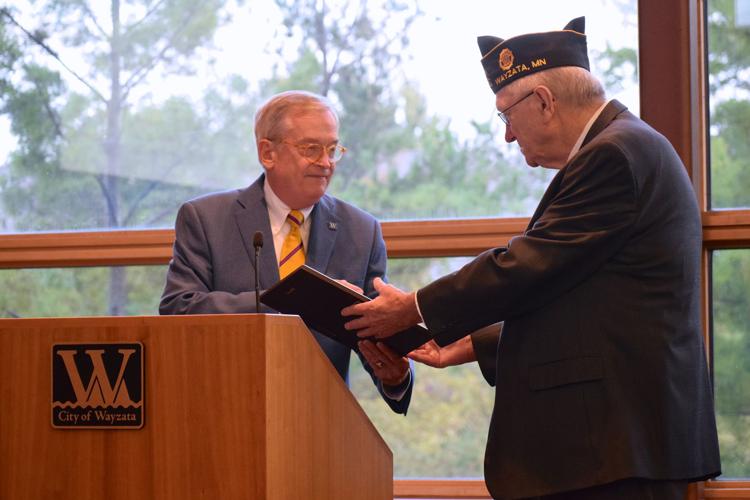 "It seems like every legion has a different mission for whatever area they're in. ... We donate a lot of our money to Legion foundations and various Legion funds," Doran said, noting that dollars are currently going to a disaster relief fund to help posts out east impacted by Hurricane Dorian.
The Wayzata Legion also sends high school students to American Legion's government-focused educational programs and contributes to the American Legion Legacy Scholarship Fund, which provides financial assistance for children of veterans who were killed in combat. Post 118 also gives to local organizations like Interfaith Outreach and Community Partners.
The post also continues to be a place where veterans can gather and converse.
"We're looking out for each other, and that's basically the premise that it was set up for in the beginning," Doran said. "I'm a Vietnam vet. ... I never got into any combat, but you've got guys that were coming back from there that, let's face it, they didn't know about post-traumatic stress syndrome back in those days."
 The post commander said the Legion works to connect veterans with various programs, including one that tries to help veterans save money on health insurance.
"If we got somebody that needs some help, we try to find help for them," Doran said.
The local Legion is also a community gathering place that hosts popular events like broasted chicken and fish fry dinners.
"People come out for it because they want to sit around and talk. You've got tables full of people and it's the same people every week," Doran said. "It's our get-together."
The Wayzata Legion is planning a special "get-together" next month: A centennial open house for members and guests. The event will be 2 p.m. Sunday, Oct. 13, at the post, 949 Wayzata Blvd. E., Wayzata.