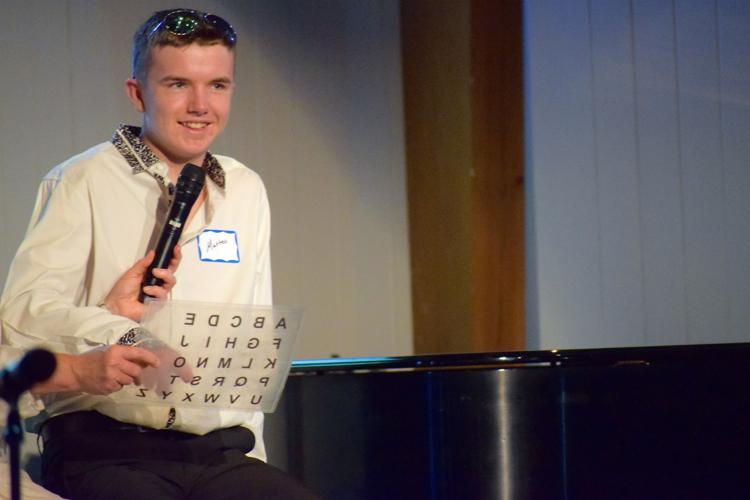 Matteo Musso, 15, presented at Wayzata Free Church
The insights of a 15-year-old author, poet and artist from California were the highlight of a family education forum hosted by Hammer Residences.
Hammer, a Wayzata-based nonprofit organization serving individuals with developmental and intellectual disabilities, invited Matteo Musso to share his experiences of navigating life with autism. Musso and his mother Annette, a Hopkins native, were the featured guests at the May 16 event at Wayzata Free Church.
For the presentation, Musso used a letter board to communicate to the audience, pointing to each letter to spell out sentences and sometimes vocalizing words.
Musso was 2 years old when he was diagnosed with autism. Not long before turning 12, he began using a letter board to communicate his wisdom on life, happiness, acceptance and what he refers to as the gifts of autism.
During the past two years, Musso and his mother have traveled the country together, presenting more than 65 talks at schools, parent groups, conferences and universities to share their experience and offer support to families of children with autism.
"I am so happy to be here with you," Musso said to the audience, before later declaring, "I have a few things to say to the world."
Musso first explained that even though someone with autism may not be making eye contact with you, that doesn't mean they aren't paying attention to what you are saying.
"We don't assume that a blind person can't understand speech just because he doesn't look at you, but we often do for autists if they don't give eye contact," he said. "I like people to know this because it changes how we're included in the conversation and affects thusly our self-esteem."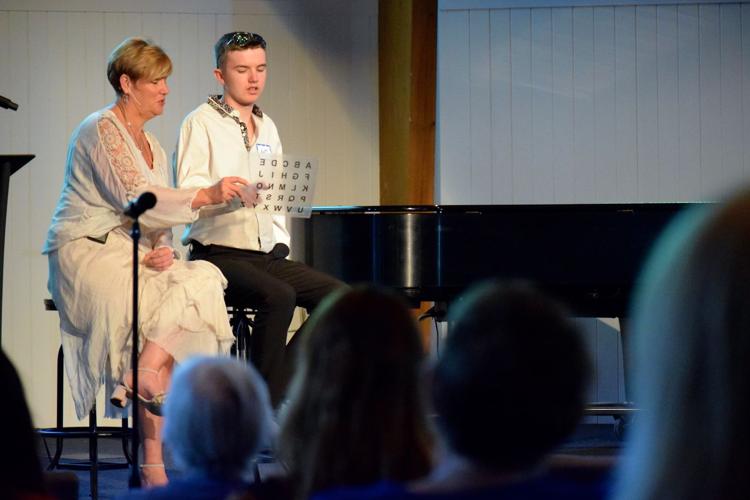 Musso's mother echoed this sentiment, explaining that she always includes him on a conversation whenever she is talking to someone else in the room, keeping a letter board close by in case her son wants to join the conversation.
Musso shares this sentiment and many other insights on autism through his writings. In 2017, he released "Handbook of Us: Understanding and Accepting People with Autism," the first of his three books on living with autism. In the book, the young author shares his thoughts on life, love and God, and offers insight on befriending an autistic child or autistic adult, which centers around his message for others to "assume intelligence" when communicating with a person with autism.
During the presentation, the young author explained that people with autism often don't have complete control over their bodies. 
"I wish we did because so many assume things that aren't true based on what they see," Musso said. "I am halfway in charge of my body, but the other half is a surprise even to me."
"He's an observer, watching his body do something on his own," Annette said, adding that this is an important lesson for anyone interacting with a person with autism. 
Musso said different settings give off different vibrations. He has a much different feeling when he's sitting near the ocean versus the feeling of being in a city crowded with people, he said.
"Each of your emotions have a different vibration and autists feel each one of them, not to mention sounds, music, animals, all those things. ... We get bombarded by all of it," he said. "Can you imagine not being able to turn a staticky radio off?"
Annette said understanding this is another important point for the public to understand about people with autism.
"Can you possibly imagine what they're dealing with? When I was told this, in this way, my respect went through the roof for every single one of those human beings," she said.
Musso's presentation also featured words of encouragement for people listening to "be the one who speaks to us with a normal voice that uses respect. Even though our daily experiences differ greatly, please know that we overcome so much each day to survive in this world."
Near the end of the presentation, Annette read "Being Autistic," which was written by Musso in April of last year for Autism Awareness Month.
"I am autistic but what does that mean? It means I'm full of so much that's unseen," the poem begins. 
The full poem, along with many of Musso's paintings and other writings, can be found at matteomusso.com.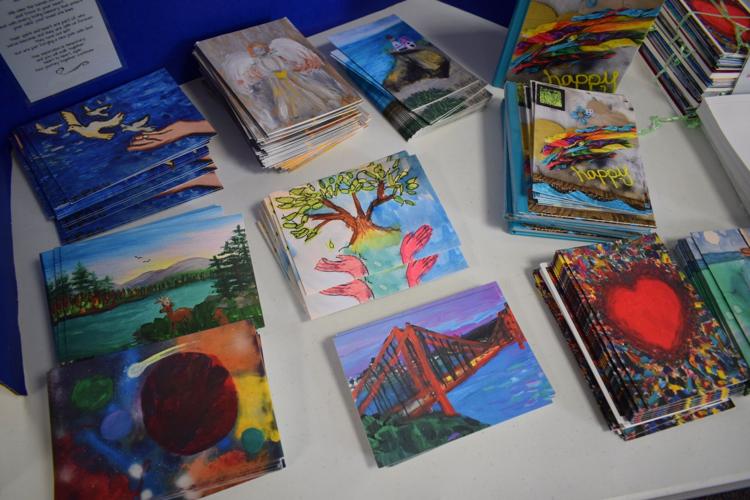 Follow the Sun Sailor on Facebook at facebook.com/mnsunsailor.