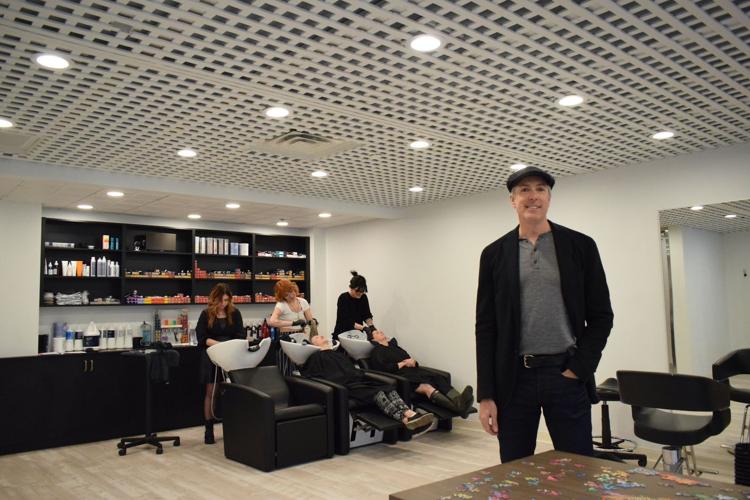 Root, a new hair salon on Lake Street, is ready for its first summer in Wayzata.
Jim Koktavy, the owner of Root Salon, which opened in January at 701 Lake St. E. and had a May 8 ribbon-cutting after joining the Greater Wayzata Area Chamber of Commerce, said Wayzata made perfect sense for Root's newest location.
"Wayzata has grown so much in the last 10 years," he said, noting that the new shop is the first location outside the Twin Cities. "I have a lot of clients from here, and a lot of clients from this area have been driving into the city for services for a long time, and I think that's changing."
Root's first location opened 13 years ago and is still running in St. Paul. Its second location, in Minneapolis' Linden Hills neighborhood, opened five years later. Koktavy said Root will soon close its Linden Hills location and has been working to redirect its clients out to the west suburbs.
The salon owner has been cutting hair for 30 years, beginning in the salon industry as an apprentice for Tom Schmidt and going on to spend 10 years as artistic director for Spalon Montage and overseeing hiring, training and creative inspiration for the salon's three Twin Cities locations. Koktavy also served as the artistic director for hair care companies Iso and Graham Webb, which allowed him to lead hair shows and photo shoots around the world.
Born and raised in the Twin Cities, Koktavy said he once had fantasies of moving away to New York or London for his career.
"I think I just had a moment of clarity somewhere in my 20s that said stay here, and I have not regretted it," he said. "I love it here."
Koktavy said he's been keeping an eye on Wayzata for the past few years as a potential home for one of his salons. Lake Minnetonka was a draw, and so too was the city's growing restaurant scene. Root is just three doors away from Gavin Kaysen's lauded French restaurant, Bellecour.
The new Wayzata location is also a testing ground for Root's new co-op business model.
"We're looking at this place differently than our other locations and trying to be a little bit smaller, but also letting the stylists be a bit more in control of the direction, and they're involved with profitability," Koktavy said. "The whole picture is just a little bit more co-op."
What hasn't changed is Root's specialty: hair color. All over color, highlights and balayage (a technique of free-hand painting highlights) are among the services offered by Root's stylists. 
A strong education for stylists is essential, Koktavy said. Stylists are hired out of school and trained through an apprenticeship program at the salon.
In addition to staying on top of color trends, salon staff members are also a rescue service of sorts for color gone wrong – from bad box dye jobs to home coloring gone awry.
"Hair color and YouTube is a bad combination," Koktavy said. "We do a lot of rescue services. ... We're good at color and people trust us."
Root also offers one-one-consultations with stylists, which the salon owner said is critical to finding a cut/style that works for each client.
"We are very passionate about educating our clients," he said. "So many of these women struggle with their hair, but with the right guidance they can look beautiful, not just after coming out of the salon, but always."
For more information or to book an appointment, visit rootsalons.com or call 651-222-0200.