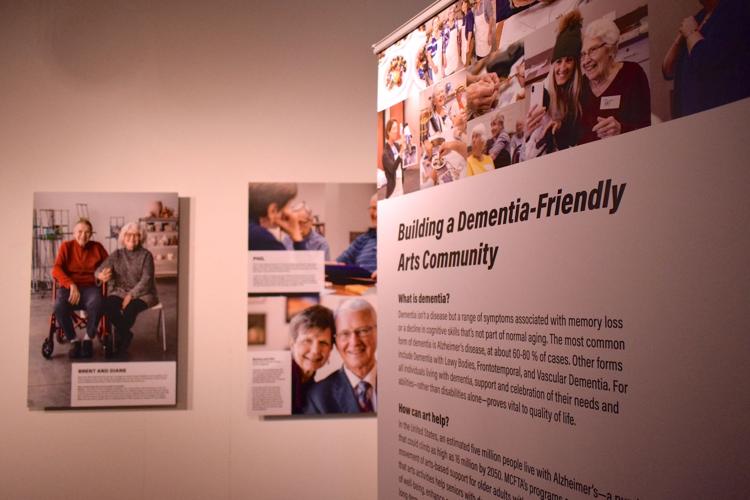 Exhibit captures months of memory café gatherings 
Speaking over the phone from her home in Long Lake, Shirley Smith details her experience living on two different "huge, huge farms" in Minnesota over the course of her childhood.
"I've had quite a journey," she prefaced before telling stories about growing up under the watch of her parents, both farmers.
When asked about her more recent experience of attending art classes hosted by the Minnetonka Center for the Arts, she's unable to recall many details. 
"Can I be very honest with you? My current memory is really, really bad. I do remember meeting really kind, good people," she said.
Shirley is in her third year of living with dementia. Since December, she and her husband Gary have been attending monthly memory café gatherings, a place for people living with dementia and their caregivers to socialize, learn techniques, create art, receive support and share experiences.
"Because of Shirley's journey, we were looking for a group that we could connect through and saw that Minnetonka was offering a memory café," Gary said.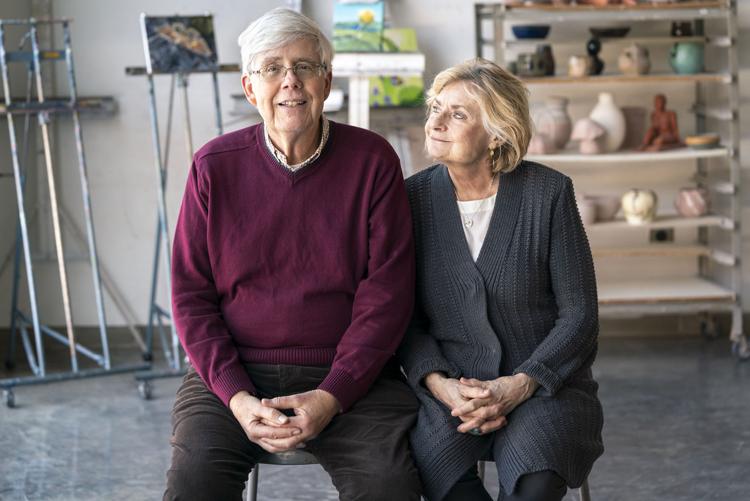 The art-focused memory café was born out of a grant for the City of Minnetonka's initiative to become a Dementia-Friendly Community, which was supported through a partnership with the Minnetonka Center for the Arts.
The initiative is a program of Minnetonka Senior Services and Senior Advisory Board that started in the fall of 2016 in partnership with the Alzheimer's Association, Senior Community Services, Ridgedale YMCA, Hennepin County Libraries and other community members. The goal of the program is to make Minnetonka a community that is informed, safe, respectful and supportive of individuals with dementia and their families.
Dementia itself isn't a disease, but rather a group of symptoms affecting memory, thinking and social abilities severely enough to affect day-to-day life. According to the Mayo Clinic, Alzheimer's disease is the most common cause of progressive dementia in older adults, but there are a number of causes of dementia. An estimated five million people live with Alzheimer's nationally, and that number could rise to as high as 16 million by 2050.
The Dementia Friendly Community concept was developed by the Alzheimer's Society in the United Kingdom and is now underway in the U.S. as well.
In 2017, the Minnesota State Arts board awarded nearly $50,000 to the Minnetonka Center for the Arts through an arts access grant. A portion of the funding helped organize the free memory café gatherings at the Minnetonka Community Center.
Each café event featured an art activity – drawing, painting, clay or other mediums – led by a Minnetonka Center for the Arts instructor, and a breakout group for caregivers wanting to meet with a social-worker provided by Senior Community Services.
Mara Miller, adult program director for the arts center and writer of the grant application, said the café was so successful that halfway through the grant a second monthly memory café was added so that more people could attend.
The memory café art classes are now being shared through an exhibit called "The Art of Living with Dementia," which Miller said is meant to help raise awareness of dementia and increase support for people with dementia and their caregivers.
"We want to change the attitude around dementia," she said. "People get the diagnosis and it's like a door closes. We wanted to show joy. We wanted to show that there's a lot of living left to do."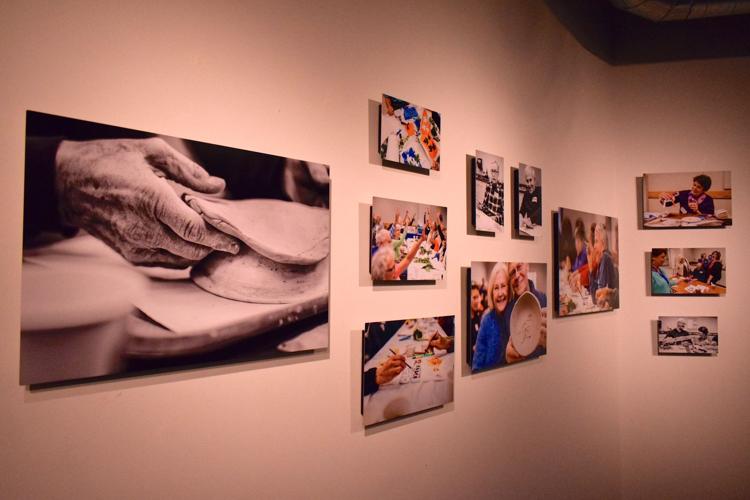 For the exhibit, the memory café experiences were captured by Minneapolis photographer Eric Mueller, who shared on his website what it was like to work on the project.
"Over the many months of classes, I documented moments of creativity, joy and sometimes frustration; I also witnessed the formation of a community, as the art-makers and their caregivers connected every month with this new group of peers," he said, noting that his experience living with his grandma, who had dementia, helped him connect with participants and relate to the caregivers.
The exhibit features photos taken during and after the art classes, as well as portraits of several of the participants and their caregivers. Accompanying the portraits are excerpts from interviews conducted by Minneapolis writer Rachel Moritz.
In the portrait for the Smiths, Gary and Shirley talk about how they met while working at the JCPenney Retail Credit office in St. Paul and what it's been like to celebrate 50 years of marriage.
The exhibit will be on display in the Henrietta Murphy Room at the Minnetonka Center for the Arts, 2240 North Shore Dr., Wayzata, through Aug. 15. The exhibit will then travel to the Minnetonka Community Center, 14600 Minnetonka Blvd., Minnetonka, in September. The art center is also working to bring the exhibit to Ridgedale Center and the Minneapolis Central Library.
Photos from "The Art of Living with Dementia" can also be viewed online at ericmuellerphotography.com/project/art-and-dementia.
The exhibit also features a book in which people living with dementia and their caregivers can share their stories by attaching a note or writing something online at minnetonkaarts.org/the-art-of-living-with-dementia.
Thinking back on the months of visits to the memory café, Gary said it's important for people experiencing dementia, whether in themselves or in a loved one, to find and connect with others going through the same experience.
"You have to connect to a group, you can't go it alone," he said.
To help Shirley remember her experience, Gary said he created a display area in their home to hold the many art pieces that she crafted.
For Shirley, while she's not able to retain every memory of creating each art piece, she does remember the feeling of meeting the other people in the class. 
"That's what I remember about it, so many very kind hands," she said. "I listened to their stories and I wanted to bless them."
To learn more about Minnetonka's initiative to become a Dementia-Friendly Community and upcoming memory café opportunities, visit eminnetonka.com/dementia-friendly-community.
Follow the Sun Sailor on Facebook at facebook.com/mnsunsailor.