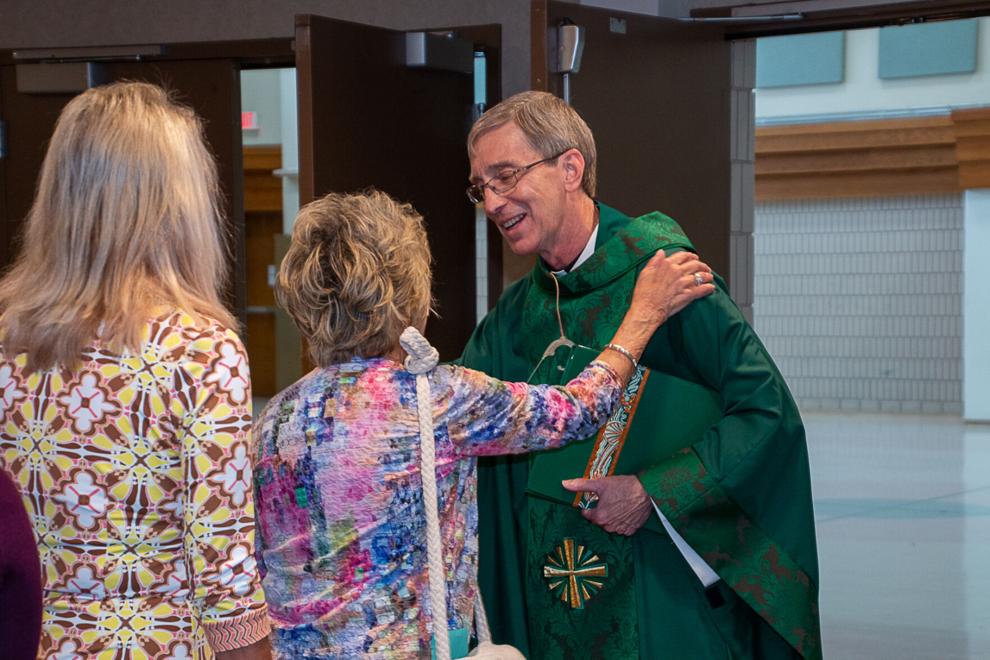 Van Sloun recently retired after 26 years in the priesthood
When the Rev. Michael Van Sloun was giving his final homily at Wayzata's St. Bartholomew Catholic Church, he characteristically decided not to make the message about himself.
"I didn't talk about my departure in my sermon at all," he said. "I did my personal comments at the very end of Mass."
Van Sloun retired from a 26-year career in the priesthood, the past eight years of which were spent making a lasting impression on the 1,600 parishioner families at St. Bart's.
"It's a very warm relationship that I've enjoyed with the parish community, and I'm really grateful for that," Van Sloun said, recalling the famous Dr. Seuss quote: "Don't cry because it's over. Smile because it happened."
Taking over for Van Sloun will be the Rev. John Klockeman, who most recently served as pastor of St. Gerard Majella in Brooklyn Park.
Church leaders hosted a farewell weekend for Van Sloun June 26-27 that included a video tribute and a scrapbook of photos and letters shared by parishioners. Outside the church, kids from the St. Bart's School, Faith Formation and Youth Ministry had crafted and displayed around 200 yard signs wishing Van Sloun a happy retirement.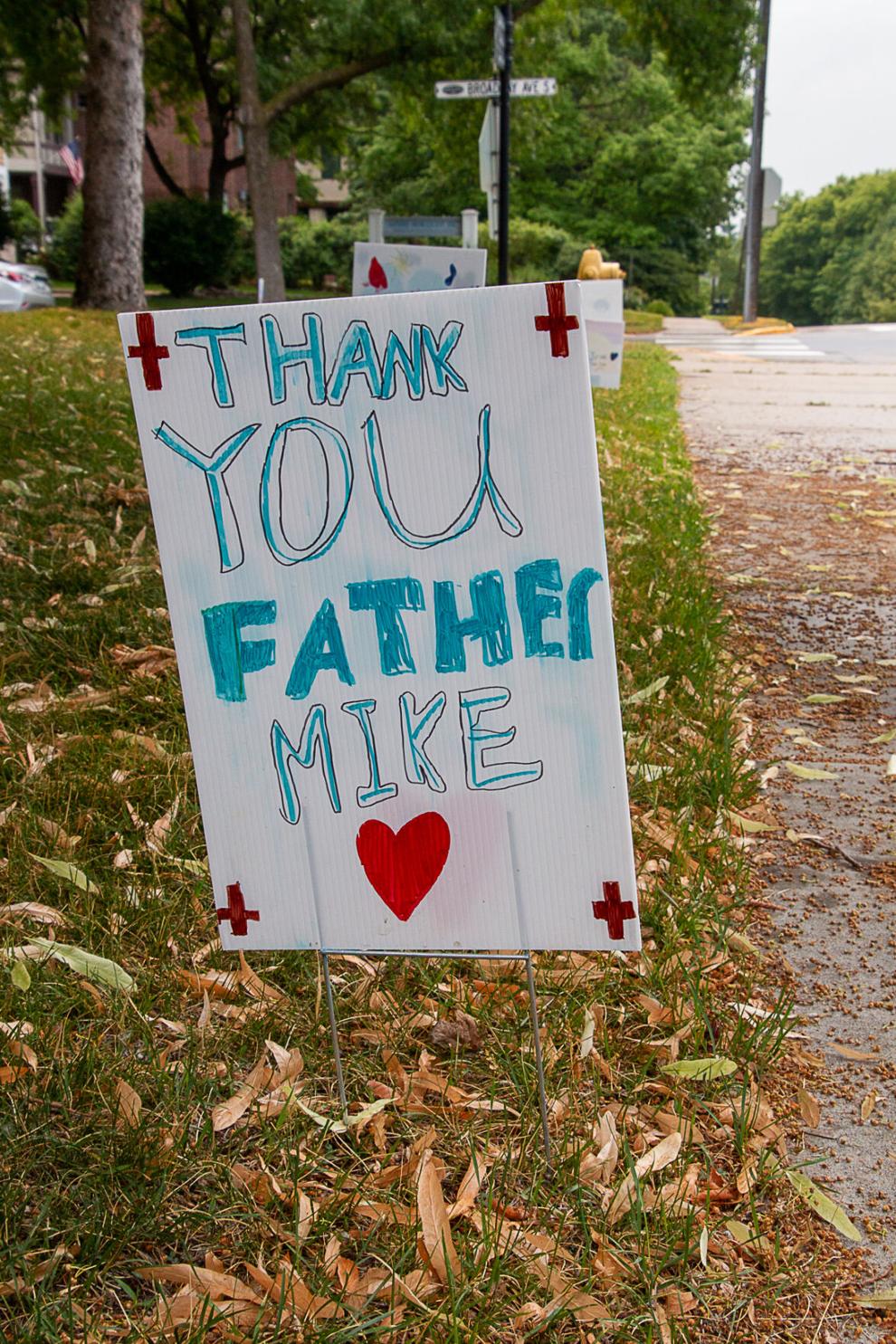 Among the many people in attendance for the reverend's final Sunday leading the church was former Wayzata Mayor Ken Willcox, who is a parishioner of the church and friend of Van Sloun.
"Father Van Sloun has been a tremendous asset to both his congregation and school as well as the City of Wayzata," Willcox said. "He is an extraordinary scholar and spiritual leader, and we have been fortunate to have him in Wayzata for eight years."
Following the reverend's final Mass, the former mayor helped mark the occasion by presenting a proclamation from the city designating June 30 as Father Michael Van Sloun Day in the City of Wayzata "in recognition of his remarkable career and extraordinary service to this community."
The proclamation provided a summary of Van Sloun's career in Catholic education and ministry, which he began in 1976 at Crosier Seminary High School in Onamia teaching biology and coaching boys track, cross country and basketball.
After being ordained a Catholic priest in 1995, Van Sloun spent 18 years leading St. Stephen's Catholic Church and School in Anoka before coming to Wayzata in 2013.
The reverend quickly became familiar with residents beyond the church's doors through his involvement in leading the St. Patrick's Day Mass at McCormick's Pub and Restaurant and providing the opening prayers and benedictions at various city events like the annual Night to Unite luncheons and the formal dedication of the Wayzata Police Memorial.
"When you're a pastor. ... You're not just there for the Catholics, you're also there for the community," he said.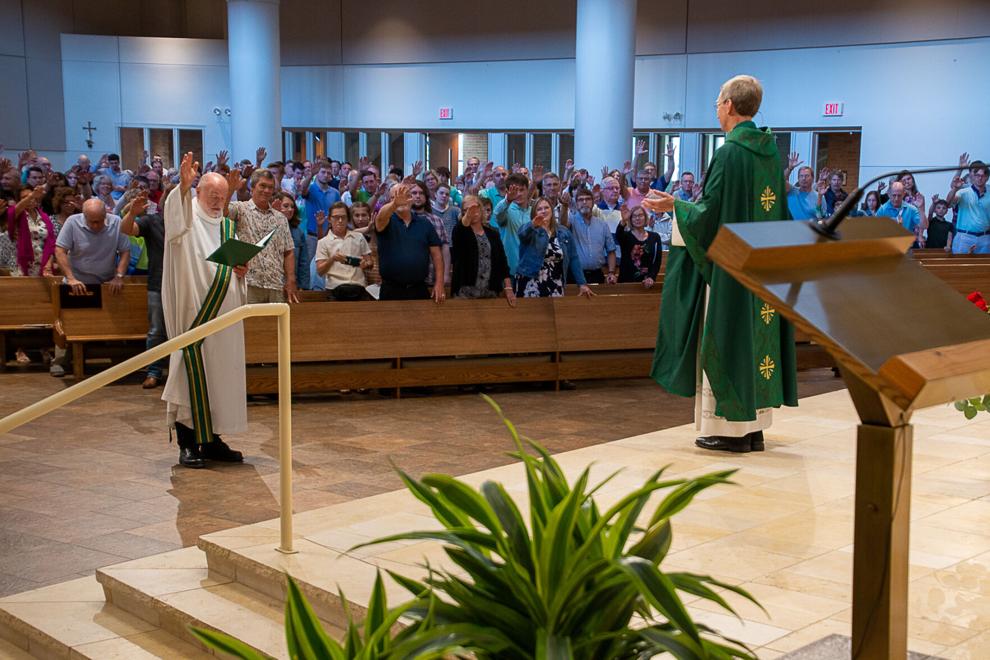 Another role he took on was serving for nearly 20 years as the Catholic chaplain for the Minnesota Vikings. The unique job opportunity was offered to Van Sloun in 2002 after he was referred by a Vikings front office staff member who Van Sloun had met while preparing he and his wife for marriage.
"I didn't even go out looking for it. I was actually quite amazed when it came my way," he said, noting that his passion for sports also likely helped him land the job.
In that role, Van Sloun led Mass for coaches and players - primarily before home games and sometimes while traveling with the team on the road.
"They would set aside time to be there and try and focus on their spiritual life and try and be men of God. It was worth being there for them. ... The most famous player would have probably been Brett Favre." Van Sloun said.
The reverend's versatility also extended to St. Bart's finances. Within four years of arriving at the church, Van Sloun helped retire the outstanding $4.1 million mortgage for an expansive renovation of the church and school.
"He's got St. Bart's on very sound financial footing, which is very hard to do for a church, especially in this day and age," said Art Kearney, a former trustee of the church who served as lead parishioner on debt reduction.
Kearney said the reverend has been an amazing and dynamic leader during his time at St. Bart's.
"People don't realize how difficult it is to run a parish. There are so many different things pulling at you, and he just did them all well," Kearney said.
When asked what his plans are for retirement, Van Sloun said he'll keep writing for the archdiocese's newspaper, The Catholic Spirit, and would like to continue leading spiritual retreats around the world. His past trips have included pilgrimages to Israel and retreats to Greece, Italy, Spain, Portugal and Ireland. 
He said he'll also continue to be connected to the community as a religious educator and friend to many.
"I have a townhouse right here in Wayzata and I plan to stay," he said. "I like Wayzata a lot."