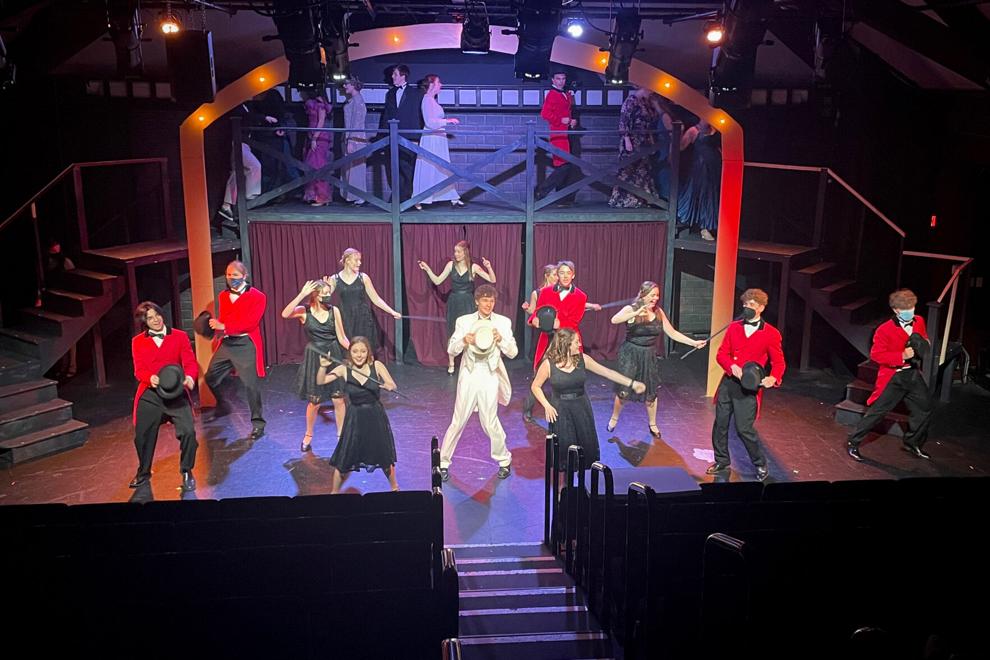 Musical will run through Sunday, June 20, at Wayzata venue
The young actors with Blue Water Blue Water Theatre Company are returning to something they haven't done since early 2020: Performing in front of full-capacity audiences.
"It's really exciting. When I think about what the energy is going to be like that night, I get emotional," Blue Water Director Charlie Leonard said three days before a sold-out June 6 performance of the musical "Follies," which returns Friday, June 11, and will run through Sunday, June 20.
The Wayzata-based theater group last welcomed full audiences in March 2020 to "James and the Giant Peach," but only got through one weekend of performances before businesses, live concerts and theater were forced to temporarily close due to the COVID-19 pandemic. Four months later as some restrictions eased, Blue Water resumed putting on shows to audiences limited to no more than 35 people.
A capacity audience of 145 people helped Blue Water return to normalcy for the opening night of "Follies." Set in 1971, the musical from theater legend Stephen Sondheim and author James Goldman centers around a reunion of ex-Follies performers in a crumbling Broadway theater set for demolition. Amid the reminiscing, two middle-aged couples deeply unhappy with their marriages confront some unpleasant truths about their past and present while coming face-to-face with the future.
"It's very poignant. It's very reflective," Leonard said. "It's just got this kind of beautiful sort of overarching, almost ghost-like quality to it in a way that asks us to look at our memories to reflect upon all of the things that we did in the past and what that means to us in our present."
The original Broadway production of "Follies" opened in 1971 and ran for more than 500 performances, but the expensive show ultimately lost its entire investment.
"It was moderately successful in terms of its run, but it was infamously a total financial flop," Leonard said.
The director said he had never really considered "Follies" for a Blue Water show because it didn't quite make sense for a group of high school actors. But after re-reading the musical's opening stage directions, which describe a deserted theater slowly coming back to life, Leonard found the story newly relevant.
And with four lead roles, the show also provided great opportunities to four seniors who will soon leave Blue Water to attend college.
"It's also got a ton of solos, duets and featured stuff for a lot of other people," the director said. "Almost everybody in the show gets their moment to shine."
Wayzata High School senior Sophie Beaulieu will play one of the lead roles, Sally, a former Follies showgirl who's now married to Buddy, played by Wayzata senior Jack Olson. The other couple in the musical, Benjamin and Phyllis, will be played by St. Louis Park senior Ben Sanford and Wayzata senior Ruby Fredricksen.
Beaulieu said she's excited to get in front of a full crowd again.
"So much of the shows we do rely on how the audience reacts to it, and so if it's a good audience we'll have a good night. ... I'm really, really excited," she said.
"Follies" will also mark the final Blue Water show for Beaulieu, who will attend the University of Wisconsin-Madison to study biology.
"I'm one of the few who aren't going into theater next year, so this is kind of my last hurrah. It's very emotional," Beaulieu said. "This is my goodbye to a place that I basically grew up in, and so it's the perfect show to end on."
Blue Water Theatre Company presents "Follies"
When: 7 p.m. Friday, June 11; 1 and 7 p.m. Saturday, June 12; 7 p.m. Friday, June 18; 1 and 7 p.m. Saturday, June 19; and 2 p.m. Sunday, June 20
Where: Blue Water Theatre, 605 Rice St. E., Wayzata