Long-time Sun Sailor columnist Bob Ramsey died last month, leaving a legacy of concern for people young and old.
He died May 14 of natural causes at the age of 86 at the Minnesota Masonic Home, said his son, Shorewood resident Jeff Ramsey. His health had declined quickly after a surgery related to cancer.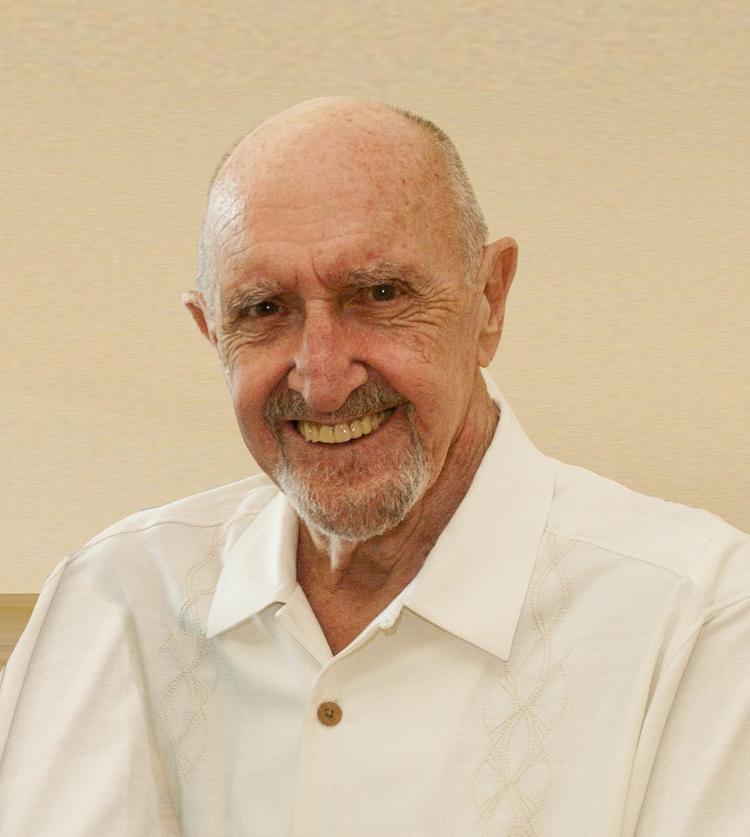 Ramsey hailed from Topeka, Kansas, originally – entering the Topeka West High School Graduate Hall of Fame in 2013 for his educational efforts there. According to the Topeka Capital-Journal, Ramsey helped plan and implement a pioneering school-within-a-school concept. With fellow educator Harold Hula, Ramsey co-wrote the book "The School-Within-A-School Program: A Modern Approach to Secondary Instruction and Guidance." Hundreds of high schools adopted their concept.
Attracted to Minnesota's education system, he and his family moved to St. Louis Park in 1969. He served in the St. Louis Park School District, including years as an associate superintendent.
"He loved what he did," Jeff Ramsey said. "He was always a happy man, loved his work, loved doing things to educate kids."
He retired in 1993, he told the Sun Sailor, to pursue a writing career.
"Boy, did he ever!" said Jeff Ramsey, describing his father as a voracious reader as well.
He wrote 30 books along with pieces for magazines, trade journals for educators and the Sun Sailor.
"Through his writing, he was able to reflect on his own peer group and feed that back into the community, where it had a widespread effect on many people," Jeff Ramsey said. "We've gotten so many cards in remembrance, and so many of them point to those vital aging articles as a source of inspiration and happiness from the reader."
After his retirement, Ramsey remained highly active in the community, working with nonprofits like the St. Louis Park Emergency Program, Caring Youth and the Park Nicollet Foundation-sponsored Successful Aging Initiative. He helped to found the St. Louis Park nonprofit Children First, chaired the Bookmark in the Park reading program, served on a Nurturing Our Retired Citizens committee and promoted a successful effort to identify a community poet.
"I think he really was trying to be a vital aging guy," Jeff Ramsey said.
Annette Sandler, aging services director at Jewish Family Children's Service of Minneapolis, pointed out that Bob Ramsey wrote the book, "Creating Vital Aging Communities: How you and your community can age successfully together." He didn't sell the book but rather gave it away.
"He was dedicated to finding ways to improve the community so people could age in place," Sandler said. "He was a 'friend of the heart' to me and to so many people whose lives he touched."
He often sought to create connections between older adults and young people – one of the key aims of Children First.
"He was always trying to argue that there is a bridge between us and we need to take care of that," Jeff Ramsey said.
Karen Atkinson, who lead Children First for 25 years, said of Bob Ramsey, "Such a sweet man. We all want to live a life like that."
Ramsey had retired before she began leading Children First, she noted.
"The whole time I knew him he was a retiree, but he never let up," Atkinson said. "He had probably a wider view of the community than almost anybody. A lot of people get pigeonholed into an area, but he spanned the generations."
She laughed and cried simultaneously while recalling a column in which he highlighted similarities in attitudes toward teens and senior citizens with his characteristic sense of humor.
"The thing is he was very wise and he had a lot of wisdom to share, but he also was very funny," she said.
Linda Trummer, long-time outreach of the past nonprofit Meadowbrook Collaborative, said, "Bob Ramsey was a kind and gentle man, with a surprising sense of humor that often caught one off guard. He always greeted me with a hug, and genuinely cared about others. Bob's writing touched my heart, especially his writings about parenthood and children. He had the ability to tell a story that left a meaningful impression, a picture that stayed for awhile."
Park Nicollet Foundation Executive Director Beth Warner said, "Bob made an incredible indelible impact in our community – through his writing, teaching, mentoring and actions he inspired so many people and reminded us of our humanity with humor and great wisdom."
He had a habit of writing thank-you notes to people he encountered.
"He did a lot of great things, but he also showed that simple gestures were really important," Atkinson said. "He made a huge impact on St. Louis Park, that's for sure."
Long after he retired, he took former school district employees to lunch for their birthdays, said Elaine Lerdall, who served as administrative assistant for him and then-Superintendent Carl Holmstrom.
Lerdall and Atkinson marveled at his ability to take in information and summarize the core of an issue.
"He went to the heart of a matter, and people understood it," Lerdall said.
Bob Ramsey won a St. Louis Park Outstanding Citizen Award in 2012. Of his community efforts, task force members declared, "All of this is volunteer work to better the City of St. Louis Park. Bob Ramsey truly does outstanding work for the City of St. Louis Park. We are a better place because of Bob Ramsey."
Former Mayor Jeff Jacobs said, "Bob was a mentor to a great many people, me included. The community was deeply enriched by his presence here and I will miss him. He was one of the nicest and most deeply committed people to children and their lifelong learning I've ever had the pleasure of knowing."
Current Mayor Jake Spano said, "Bob was a real treasure in our community and I always had a more optimistic outlook after five minutes with him."
School district officials also paid tribute to Ramsey.
"He served our community for 25 years very directly in our schools, but when he retired, he didn't retire," Boardmember Karen Waters said. "He exemplified lifelong learning and engagement, he wrote books, he led presentations, he was an active part of our 2015-2020 school district strategic plan. He said 'I'm the ghost of St. Louis Park' … and it was always great to be with Bob in meetings and gatherings."
Superintendent Astein Osei said, "When I started in St. Louis Park, Dr. Bob Ramsey was one of the first people to stop by and welcome me to the school district. From the moment I met him it was clear that he was a huge supporter of St. Louis Park Public Schools and Children First. I am thankful to have known him and I appreciate everything he did on behalf of students and families in our community."
Director of Community Education Lisa Greene said, "Bob Ramsey was a major supporter of Community Education in St. Louis Park.  e served on the Lenox Foundation which raises funds to support the St. Louis Park Senior Program. His wife, Joyce, volunteered with the Senior Program for many years and they participated in many Senior Program classes and events.  Bob's book and opinion pieces on vital aging were important in helping move public opinion and policy around the issues seniors face. Bob didn't limit his focus to seniors though. He also served on the Community Education Advisory Council advising the Director on programming for all residents of St. Louis Park.  Bob's humor, his kindness and his caring voice will be missed by so many."