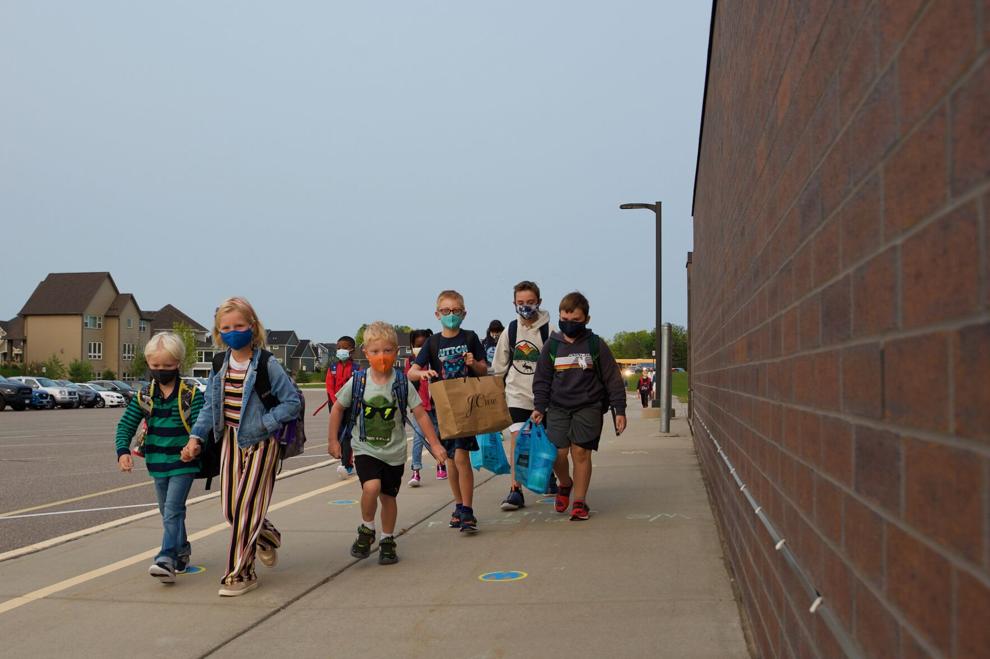 Drop in student enrollment means less funding from the state
Wayzata School District leaders are projecting a $9.2 million revenue shortfall for the current year attributed to the COVID-19 pandemic.
Jim Westrum, executive director of business and finance for the district, said a primary reason for the drop in funding can be tied to a drop in student enrollment. Around 570 fewer students were enrolled at the beginning of the school year than were first projected, which means 12,536 students were planned for in the 2020-2021 budget, but only 11,962 students actually showed up on the first day of school.
"Our revenue that comes from the state is based on the number of students we serve," Westrum said, noting that each missing student would have generated around $8,000 worth of state aid and another $2,000 worth of property tax levy per student, which adds up to a $5.7 million shortfall based on the 570 fewer students.
"If you don't have the students, then the state doesn't send you the money and you don't collect the property taxes," Westrum said.
The drop in student enrollment lines up with a statewide trend for public schools. According to the Minnesota Department of Education, there has been about a 2% decrease – or about 17,000 students – in public school enrollment between the 2019-20 and 2020-21 school years. The change is driven primarily by younger students, with a 9% drop in public kindergarten enrollment between the past two school years.
"The phenomenon that we're having here in Wayzata is being felt all over the state," said Kristin Tollison, director of administrative services for Wayzata Schools.
Following guidance from the state, the school district opened the 2020-21 school year under a hybrid learning model, which had students practicing in-person learning at their school two days a week and distance learning from home three days a week. Tollison said some families chose to move their students to a private school, begin homeschooling or delay kindergarten. Mandatory school attendance begins at age 7, but kindergarten attendance is not required by law in Minnesota.
With housing numbers in the district continuing at the projected steady pace, Tollision said district leaders are expecting a rebound in student enrollment in the coming years. Other factors, like the district shifting back to full in-person learning and the continuing COVID-19 vaccine rollout, are also expected to bring families back to Wayzata Schools.
Another large component of the district's projected revenue shortfall, Westrum said, is from the approximately $4 million Wayzata Schools has spent since March 2020 providing free childcare and transportation to families of essential workers, which was required for public schools under an executive order from Gov. Tim Walz.
School district leaders are hoping to cover a large portion of the financial shortfall through federal and state relief funds.
The district has already received around $3 million from the Coronavirus Relief Fund, which was authorized by the federal Coronavirus Aid, Relief and Economic Security (CARES) Act that was passed in March 2020. The money is being used to reimburse district expenses like additional school nurses, personal protective equipment, sanitation tools and supplies and transportation services.
Westrum said the district is still in the process of receiving guidance on the expected $5.7 million that the district will receive through the federal $1.9 trillion coronavirus relief package passed last month.
"Initial guidance tells us we can use that for some of the expenses we're incurring now and for addressing learning loss that's occurred during the pandemic," Westrum said.
Westrum said the district is also working to identify cost containment strategies, some of which are cost savings tied to when students were distance learning from home, like school supplies, building utilities and substitute teachers. The district is also looking at delaying building projects and spending on new curriculum and textbooks as other ways to help cover the shortfall.
The finance director also noted that district leaders are working to communicate to state legislators the need for additional funding to recover lost revenue and added expenses amid the pandemic.
"We have indicated to the legislature that if they could provide some type of remedy or relief to school districts to attempt to minimize the impact of that shortfall in the number of students, that would position school districts in a better place moving forward after the pandemic," he said.
Public school officials across the state are also closely watching the governor's budget plan, which includes $25 million in aid for school districts that have experienced reduced enrollment. Another bill being discussed would allow districts to use pre-pandemic enrollment numbers when deciding how much state funding schools receive. 
"We won't know until May when the legislature gets their work done, but we are optimistic because the February state forecast showed an improvement in the state's financial position," Westrum said.