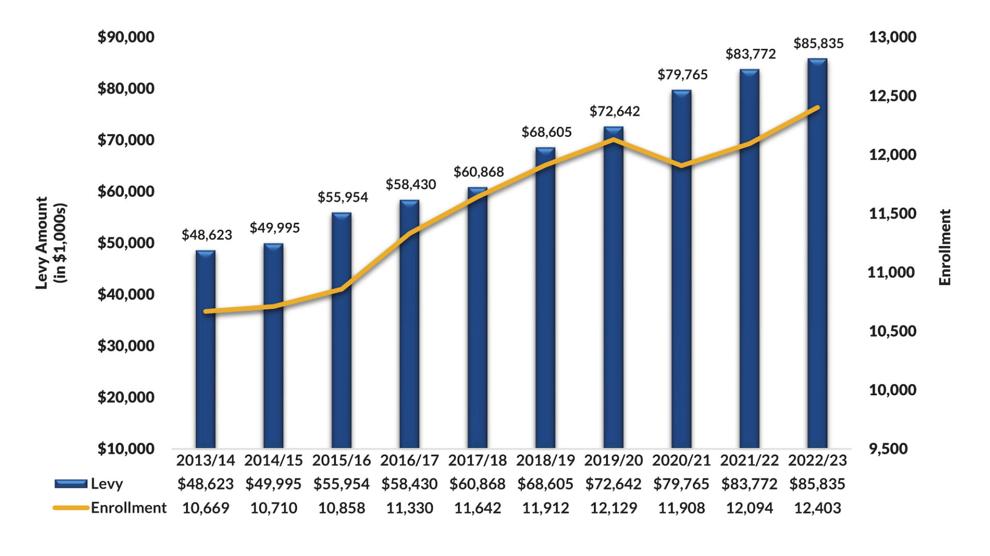 Preliminary levy is a 2.46% increase over last year
The Wayzata School Board has approved the district's preliminary 2022 tax levy.
The proposed levy of $85.8 million represents an overall increase of $2.06 million, or 2.46%, over the previous year.
DeeDee Kahring, executive director of finance and operations for Wayzata Public Schools, presented the levy numbers at the Sept. 27 special school board meeting.
"Year over year changes to the district's property tax levy are due to some of the following items: Legislative actions, enrollment changes, voter-approved referenda, population changes, market value adjustments, debt service payments and to a lesser degree, district decisions by the school board," Kahring said.
Excluding the pandemic school year of 2020-2021, Wayzata Schools has seen student enrollment growth in recent years. Student enrollment decreased from 12,129 to 11,908 students between the 2019-2020 and 2020-2021 school years. Enrollment then increased from 11,908 to 12,094 students for the current school year and is projected to increase to around 12,400 students for the 2022-2023 school year.
Over the last five years, the district's total levy increase (excluding the voter-approved bonds in 2014 and 2017) has averaged 4.1%. According to Kahring, the district's robust residential growth in the northern part of the district and corresponding growth in tax capacity has served to minimize the tax impact to the property owners related to increases in the district's levy.
The district's property tax levy is allocated to individual properties within the district using formulas based on market values assessed by Hennepin County. The preliminary estimate of the district's total assessed market value has increased by $915.87 million (from $14.84 billion to almost $15.76 billion). This represents an approximately 6% increase in market value and includes older and newly constructed homes.
Wayzata School District's 2022 preliminary tax levy includes a general fund levy of $67.2 million, debt service fund levy of $16.53 million and community service fund levy of $2.11 million. The increase over the 2021 levy raises the general fund levy by $699,000 (1.05%), raises the district's debt service fund levy by $1.44 million (9.52%) and lowers the community service fund levy by $72,000 (3.3%).
The preliminary property tax levy sets the maximum amount that the school district can levy. The final levy amount will be certified at the Wayzata School Board's regular meeting Dec. 13. Also at that meeting will be a Truth in Taxation hearing for the public.