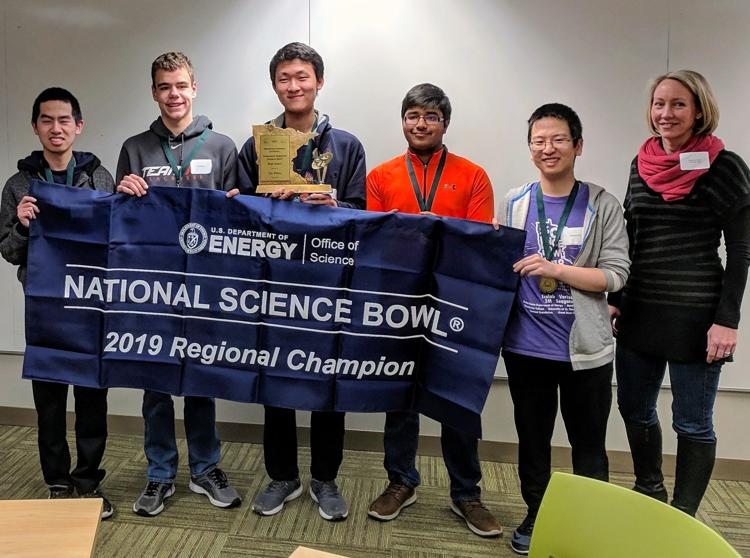 Students will head to Washington D.C. this spring for national finals
A group of Wayzata High School students is planning a spring trip to the nation's capital after their win at the regional Science Bowl competition.
The team took first among 33 teams from 17 schools that competed Jan. 26 at Macalester College in St. Paul.
Minnetonka High School also found success at regional, with teams placing second and third. But it was only the top team that moved on to finals.
Science Bowl is a competitive "Jeopardy"-like academic event where teams of students compete in a fast-paced verbal forum to solve technical problems and answer questions in biology, chemistry, earth and space science, energy, physics and math.
More than 290,000 students have participated in the National Science Bowl in its 28-year history, making it one of the nation's largest science competitions. It was created by the U.S. Department of Energy to encourage students to excel in math and science and to pursue careers in those fields.
"I am honored to congratulate Wayzata High School for advancing to the National Finals, where they will be competing against some of the brightest science, technology and engineering students across the country," said U.S. Secretary of Energy Rick Perry.
A series of 111 regional middle school and high school tournaments are across the country from January through March. The regional middle school competition will be Feb. 9 at the University of St. Thomas in St. Paul.
The first-place team from each regional competition advance to represent their areas at the National Science Bowl, which will be April 25-29 in a suburb of Washington, D.C.
The winning Wayzata team includes Geoffrey Chen, Stephen Chen, Aayush Gupta, Matthew Qu and Ben Weiner and is coached by science teacher Amanda Laden.
Wayzata High also won last year's regional competition but failed to move past the round robin portion of the tournament.
"It was a great experience, but there were some pretty unbelievably competitive teams," said Laden.
Laden and two students who were part of last year's regional championship team, Geoffrey Chen and Gupta, will return to D.C. this year for another chance at nationals.
"Last year was my first time going to nationals, so when we went in, we had a lot of expectations, but obviously we didn't do as well as we would have liked so it's nice to have a second chance this year," Gupta said.
The junior said he credits his team's success to hard work and understanding each member's strengths and weaknesses.
"We have one person for each subject. For example, my subjects were biology and earth and space science. It's about understanding what each person is good at so that there's no confusion at the competition," Gupta said.
The top 16 high school teams and the top 16 middle school teams in the National Finals will win $1,000 for their schools' science departments. Prizes for the top two high school teams for the 2019 Science Bowl have yet to be announced. Last year, the top two teams received all-expenses-paid science trips to Alaska, where they learned about glaciology, marine and avian biology, geology and plate tectonics.