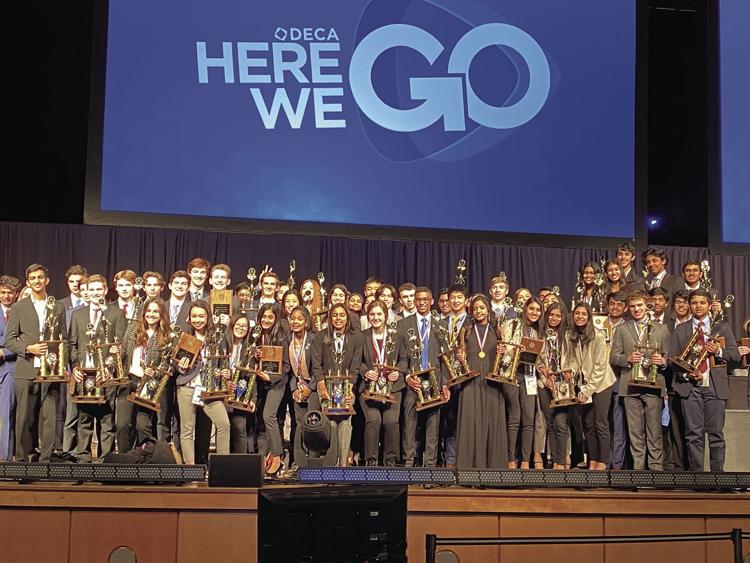 Wayzata High School students partcipated in this year's DECA State Development Conference, which was March 1-3 at the Hyatt Regency in Minneapolis.
Students in the chapter competed against over 2,000 other students from schools across Minnesota in events on the topics of finance, marketing, hospitality and management while also networking and participating in games.
Overall, 64 Wayzata DECA members competed in the finals and 37 members placed in the top four at the final awards ceremony. Those who placed in the top four also qualified for the 2020 DECA International Career Development Conference.
In addition, Wayzata DECA Advisor Paul Kimbler was awarded the Minnesota DECA Outstanding Service Award and Wayzata DECA President Kyle Jagerson was awarded the Dr. Mary Klaurens Scholarship. 
Jake Mann, Matt Judge and Adam Mecthnik qualified for the international competition in the Stock Market Game. Kevin Zhang, Arnav Desai, Spencer Mateega, Kyle Jagerson and Jacob Hoogenakker qualified for the international conference for the virtual business competition.
"We had tremendous success this year with the number of members competing at state and the number of members moving on to [the international conference]. I am extremely proud of the hard work chapter members put in," Jagerson said. "I look forward to the future success of this chapter."
The students were set to travel to Nashville, Tennessee, for the international conference, but the event was canceled due to the COVID-19 pandemic.
The Wayzata students who qualified for the international conference: 
Arnav Barve and Akshat Dwivedi – Hospitality Team Decision Making
Coco Crandall and Olivia James – Marketing Management Team Decision Making 
Jackson Maroon – Financial Consulting
Kevin Zhang - Personal Financial Literacy
Ramira Ambrose, Samay Ghandi, Nikki Nagiri - Franchise Business Plan 
Sai Chelluri – Integrated Marketing Campaign - service
Sarah Cao and Lorien Zhao - International Business Plan
Sidarth Gazula - Principles of Finance
Sophia Marcon - Apparel and Accessories Marketing
Coco Crandall and Olivia James – Integrated Marketing Campaign – Product
Eli Hanson, Matthew Pietrzak, Finn Hutchinson – Start-Up Business Plan
Katie Scattergood and Lauren Schweitzer – Marketing Management Team Decision Making 
Meredith Kleve - Marketing Communications Series
Meredith Kleve and Sophia Marcon – School Based Enterprise
Sanah Ali – Human Resources Management Series
Sarah Cao and Isha Godbole - Travel and Tourism Team Decision Making
Sonia Gazula – Restaurant and Food Service Managment
Sophia Marcon and Meredith Kleve - School-Based Enterprise
Spencer Mateega, Charlie Kassmir, Blake Hibbs – Business Services Operations Research
Affaan Ahmed and Krish Methi – Financial Services Team Decision Making
Ellie Shaver and Tessa Shaver – Integrated Marketing Campaign - Event
Elsa Maas and Taylor Stueve – Buying and Merchandising Team Decision Making 
Ishita Gupta, Harshini Soman and Rita Mittal – Independent Business Plan 
Jacob Hoogenakker – Restaurant and Food Service Management
Sai Chelluri – Marketing Communications Series
Eli Hanson and Matthew Pietrzak – Sports and Entertainment Team Decision Making 
Kyle Jagerson and Jacob Hoogenakker – Franchise Business Plan
Niveda Ramaswamy – Principles of Marketing
Tessa Shaver – Principles of Hospitality and Tourism