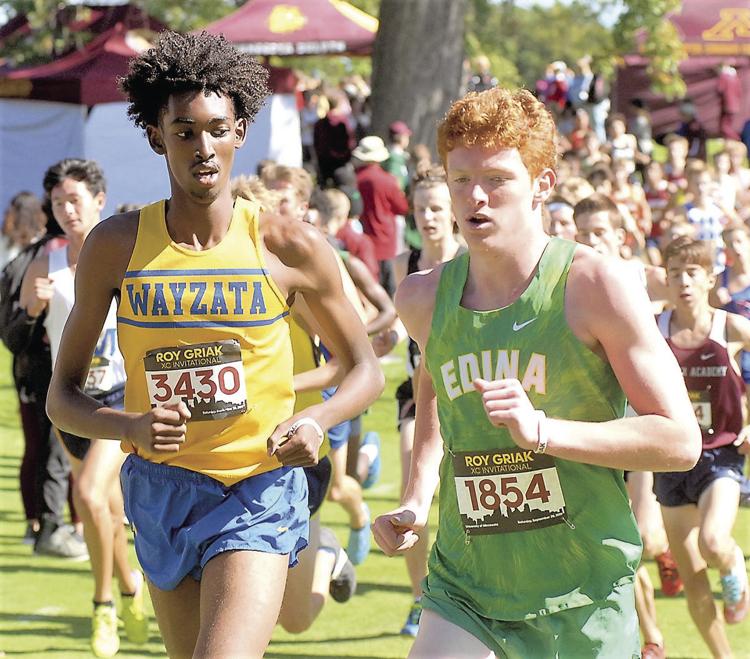 Going into the Lake Conference Boys Cross Country Meet at 4:10 p.m. Thursday, Oct. 10, at Gale Woods Farm in Minnetrista, Wayzata head coach Mark Popp has 12 entries available.
That number will drop to seven when the Trojans compete in the Section 6AA Meet two weeks later, so the conference race could have a significant impact on which runners have spots for the postseason.
"State boys cross country is more wide-open than usual," Popp said recently.
One thing that hasn't changed is the strength of the Lake Conference and Section 6AA. Four of the top 10 teams in the state will compete Thursday afternoon at Gale Woods Farm. Eden Prairie has been as high as second in the state poll, and Edina isn't far behind. Wayzata and Minnetonka are also ranked.
"It has always been team-first at Wayzata," Popp said. "We may have less depth with our top-end runners this season, but we have 40-45 guys in our program running under 20 minutes [for the 5K]. We pretty much know who our first five runners are, but 6-7-8, who knows? Our ninth, 10th, 11th and 12th runners are all capable of moving into the top seven."
Without question, the Trojans' No. 1 man is Shuayb Hussein, a senior who has come on strong since last year. Wayzata's top five presently includes Abdi Robleh, Blake Hayden, Drake Young and Connor Von Holdt along with Hussein.
Charlie Ernst and Matt Harries are both coming off of injuries and could run in the conference meet this week. Ernst placed fifth in the Lake Conference in the 1,600-meter run during the track season.
As usual the Lake Conference is full of good runners this year. Eden Prairie has Jake Derouin and Mohamed Mohamud, Edina rallies behind Russell Gokemeijer and Augustus Hubbell, Minnetonka has Max Lauerman and Reese Thompson and Hopkins banks on Niko Schmanski and Ben Haberman. Lake newcomer Buffalo has a good senior, Nick Oak.
The race for the Lake individual title could be as interesting as the race for the team title.
Hussein had his only "subpar" race of the season in the Roy Griak Invitational two weeks ago, coach Popp said.
"What we've seen is that he's killing it in practice," the coach observed. "He has been focused and consistent in races."