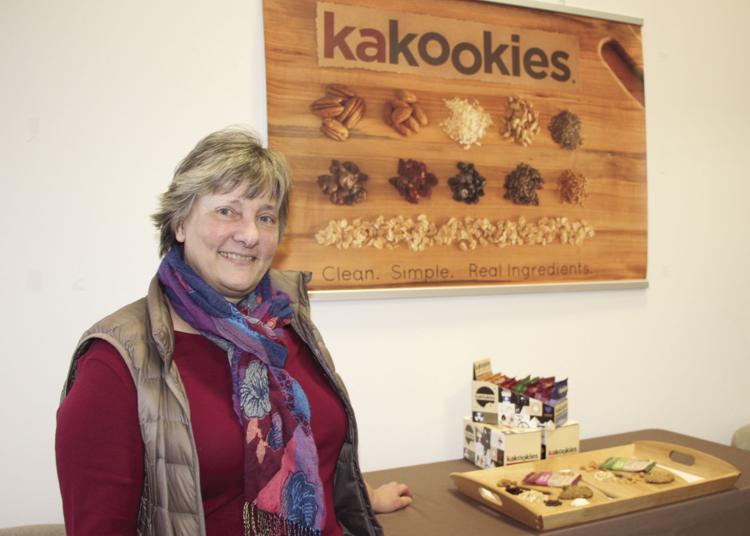 Longtime Plymouth resident Sue Kakuk has turned a cookie into a good-for-you snack with Kakookies, individually wrapped plant-based cookies for those on the go.
With necessity being the mother of all inventions, Kakuk, the mother of a collegiate cyclist, saw the need to replace the donuts her daughter was eating before her morning races.
"I didn't think that eating donuts was really good fuel before you're going to go on a race for the day," said Kakuk, a two-time Pillsbury Bake-off finalist.
With a passion for creating recipes and thinking "outside the box," Kakuk took to the kitchen, finding a way to provide a healthy and convenient snack for her daughter and cyclist friends to enjoy both on and off the bike.
Kakuk came up with an oatmeal-based cookie that she "cleaned up" by reducing the sugar and adding superfoods like nuts, chia seeds and coconut oil.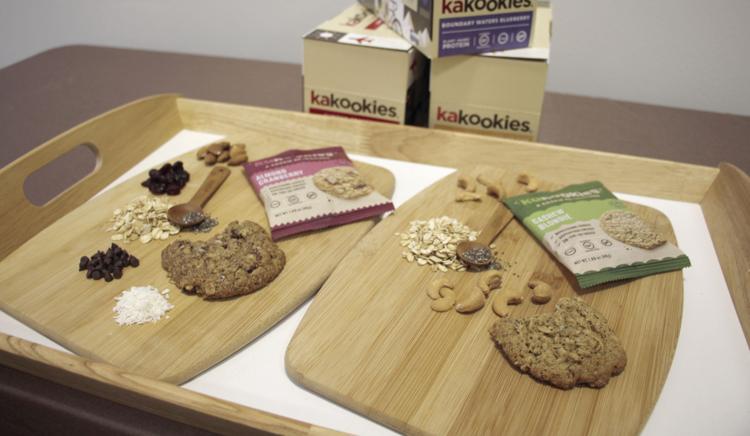 "Really, just making it a more functional healthy cookie – something that provided the nutrition to help them satisfy their hunger and sustain their energy," she said. "I really wasn't thinking of business, it was just being a good mom."
For her, there was also something that set the soft-baked cookie apart from the chewy granola bar.
"You compare that to a nutrition bar or any kind of granola bar that you might make at home, there's something different about that round shape of a cookie," that people like, Kakuk said, noting that cookies tend to conjure up fond memories around the cookie jar.
Soon, she began receiving feedback from her daughter's fellow cyclists and learning about their dietary restrictions, such as no dairy, eggs or soy.
"The biggest thing was gluten-free," she said, noting they are also free from preservatives and artificial flavors.
Instead of having to make cookies from five different recipes, Kakuk came up with one main recipe that would adhere to those dietary restrictions.
Eventually, her husband Jay suggested she start a business to at least pay for the shipping costs for sending off her cookies.
"I don't want to do the baking, and I don't want to do the dishes," Kakuk said, noting she wouldn't move forward with a business plan until they found somebody to do the baking.
They found a small bakery in Becker where the bakers hand-scooped each of the cookies and experimented with the packaging and labeling.
"So we took these baby steps" to see if Kakookies would take off, Kakuk said.
They started with the almond cranberry flavor and now have five flavors, including the Boundary Waters Blueberry, which is near and dear to her heart as a former YMCA camp counselor who spent time in the Boundary Waters Canoe Area.
"Really, my vision is that we all live active lifestyles, and we get hungry," Kakuk said, adding that the on-the-go Kakookies provide a great option for travelers, athletes, outdoor enthusiasts and busy families.
Five years later, Kakookies are available for purchase at local food co-ops, Kowalski's, Whole Foods, Peace Coffee, Good Earth and the MSP Airport.
Kakookies can also be found in corporations in Minnesota and across the country, such as 3M, Mayo Clinic, and Twitter, along with recreation areas, including Yosemite and Zion national parks.
Kakuk is also proud to have the distinction of being a certified woman-owned business.
"It hasn't really been an advantage for me, but it's just been a proud moment to say that I am a certified women-owned business," said Kakuk, who also gives credit to her supportive husband.