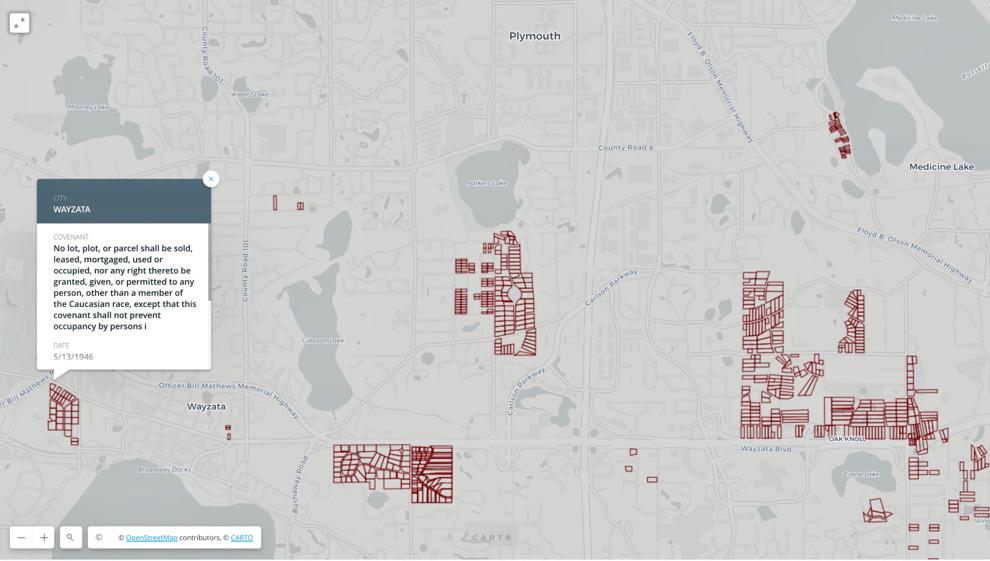 Online session will be hosted May 13 by the Just Deeds Coalition
An online event will help homeowners in Plymouth and Wayzata learn how they can discharge discriminatory covenants that may be on their property deeds.
Restrictive covenants based on race were inserted into many property contracts throughout the United States during the first half of the 20th century. The language in the agreements was used by real estate developers to prevent people of color from buying or occupying the property and was a powerful tool for segregationists.
City leaders are encouraging residents to attend a virtual event 6-7 p.m. Thursday, May 13, hosted by the Just Deeds Coalition, which helps homeowners legally discharge racial covenants from their property deeds and educates the community about the history of the covenants.
Other supporting organizations for the event include the League of Women Voters of Wayzata-Plymouth Area, Wayzata Community Education, Unitarian Universalist Church of Minnetonka, Interfaith Outreach and Community Partners and Citizens 4 Racial Equity.
"All of these groups kind of came together and were interested in this topic and thought, 'How do we spread the word that, A, this exists, and let people know what they can do about it," Wayzata Administrative Services Director Aurora Yager said during an April 20 council workshop meeting.
Emily Goellner, Wayzata's community development director, noted that racial covenants are known to exist in the city's Highlands and the Holdridge neighborhoods, where deed passages put in place throughout the 1940s read: "No lot, plot or parcel shall be sold, leased, mortgaged, used or occupied nor any right thereto be granted, given or permitted to any person other than a member of the Caucasian race." 
In Plymouth, similar types of discriminatory language can be found in property deeds in southern portions of the city near Parkers Lake and south of Highway 55.
"They were used as a tool to keep neighborhoods of higher value because at the time race was very tied to home values," Goellner said. "And lending companies also were very much a part of lending to developers who would put racial covenants on their new subdivision. So, it's not just the planning industry, it's not just local government, it was also the real estate industry working really within a system that was focused on excluding people of color from suburban neighborhoods."
These types of covenants were nationally declared unenforceable by the Supreme Court in 1948 and made illegal by the Fair Housing Act of 1968.
In 2019, Gov. Tim Walz signed a bill into law allowing Minnesotans to file a document with their county renouncing discriminatory covenants.
"You can never erase one piece of the history of your deed. So, the discharging of the covenant is actually an extra document that's put at the end of the deed," Goellner said.
A key player in educating the public about these types of covenants has been the Mapping Prejudice project at the University of Minnesota. Since 2016, Mapping Prejudice has been working to illuminate structural racism by creating a database and map of discriminatory property deeds throughout Hennepin County.
Property owners can use an online tool (mappingprejudice.umn.edu) to look up and take steps toward renouncing restrictive covenants on their property titles.
To learn more about the Just Deeds Coalition, visit justdeeds.org.
A follow-up event is being planned for Thursday, June 17, for residents to discuss how to confront racism locally and lead their communities to equitable outcomes.