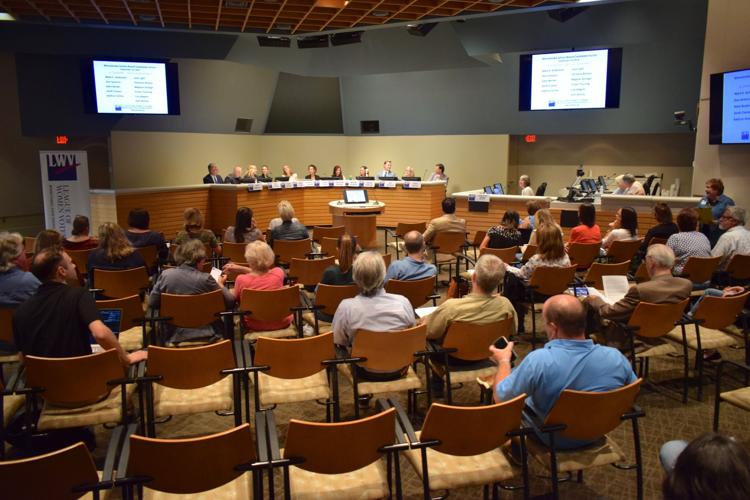 The League of Women Voters Hopkins, Minnetonka, Eden Prairie hosted a candidate forum Sept. 24 at Minnetonka City Hall that included all 11 candidates running for Minnetonka School Board. 
Four board seats will be open and decided during the Tuesday, Nov. 5, election.
Incumbents Mark Ambrosen, Katie Becker and Lisa Wagner are running for reelection. Joining them in the race are Don Amorosi, Sarah Clymer, Kathryn Gimse, Julie Light, Christine Ritchie, Meghan Selinger, Trevor Thurling and Josh Wilcox. 
The forum will be rebroadcast on cable TV and is available for viewing online at bit.ly/2mmJiA8. For more information, visit lwvmeph.org.
The candidates were asked a series of questions submitted by district residents. Here's a summary of answers for two of those questions, in the order that candidates were asked to respond:
Question: What is your position on open enrollment? Is it a plus or a minus for the district?
Clymer said open enrollment is a plus but recalls being told by district officials that it had already reached capacity and has since seen the number of students continue to grow.
"While I am for open enrollment, I am for a cap on open enrollment," Clymer said.
Gimse said she also sees open enrollment as a plus, noting that her family first began in the district through open enrollment.
"I have concerns though. ... The enrollment has increased so much and I'm worried that it's going to affect our youngest kids in elementary school. ... I would definitely want to look into it more closely and make sure that everything that we're doing is according to students' well being," Gimse said.
Light also said open enrollment has been a positive for the district, but added that the number of students being open enrolled "is a great concern."
 Light said open enrollment has grown the district's total enrollment to around 11,000 students, which she said has led to overcrowded schools.
"Our resources are overstretched," Light said. 
Ritchie said open enrollment "saved the district" and that the district couldn't provide what it does for students without the funding.
"With that said, we are reaching capacity, but the district knows that," she said. "We're already turning away families." 
Ritchie said her goal as a school board member would be to "stick to an enrollment level where we can continue to offer the level of education and support we're proud of."
Selinger said that while open enrollment has brought in a lot of revenue, she believes there's a lot of misconceptions around open enrollment.
"I've heard people saying that we accept every single open enrolled student that applies, and I don't think that's true," she said, adding that "maybe it is time to re-examine and do a new study around resident students to make better projections so that we can maintain the capacity instead of going over it."
Thurling said he fully supports open enrollment and that it helps the district to remain fiscally strong.
"However, it seems very evident that we have reached a point where open enrollment has extended beyond our capacity," he said. "The district has told us since 2015 that we were in fact at capacity but has risen steadily since. ... It's fair to be confused as a parent when we're receiving communication from the district telling us that our schools have been at capacity and yet see more and more students come in."
Wagner called open enrollment "absolutely a plus" for the district, citing that during her 12 years on the school board, open enrollment has brought in more than $200 million to the district.
"We are getting to the target. No one is expecting to continue to grow the district above and beyond where we're at, the goal is actually to keep the enrollment approximately where it's at right now," Wagner said.
Wilcox said he supports open enrollment "when it's done in the right way" and that the district should focus on what the optimal classroom size is for students and go from there. 
Wilcox added that the district should already be achieving optimal financial efficiency with the current number of enrolled students.
"I'm not against open enrollment, but when the target keeps moving. ... It's hard to know what that actual cap is," he said.
Ambrosen said open enrollment "has enabled Minnetonka to be the district that it is."
"Saying that, I do believe we are about where we need to be numbers-wise," he said, noting that over the last few years, the district has made more efficient use of its spaces in the classroom to accommodate the growth.
Amorosi said he believes open enrollment "is great to a point," noting that he's heard open enrollment saved the district and has allowed tremendous things to happen.
"I struggle with those two things because I don't see evidence of either of those two things being true," he said, adding that he's lived in five school districts in five states and has "never once heard someone, a Realtor or anyone else, say that being massive was a positive characteristic of a district. Minnetonka is massive."
Becker said open enrollment is a plus for the district, citing that this year alone, the district is going to see $20 million in revenue.
Becker also noted that since the voter-approved referendum in 2015, the district has redone space at the high school that has allowed for higher capacity. She said the district also bought an additional building along Highway 7 that it's been able to use for various programs.
"There are reasons why enrollment has gone up the last couple of years," Becker said. "What I would not do is approve a budget that does not allow for an enrollment plan and an increase that you could not support."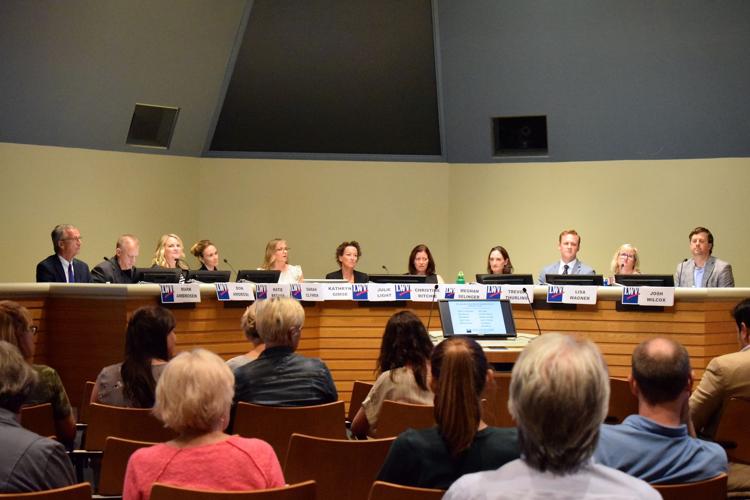 Question: The emotional health of students is a big issue in our state and country. What roles should the school district, parents and community play in addressing this issue?
The candidates agreed that the district should work together with parents and resources in the community to better meet the mental health needs of students.
"It's not all academics, it's 'how are you doing?'" Gimse said.
Light said the district needs to enhance the resources available to school counselors, which could come through pursuing mental health grants.
Ritchie said the district realizes there an issue around mental health and wellness and is working toward solutions, including its partnering with Relate Counseling Center. She said the district should also create a culture around the idea that success looks different for every student.
Along with providing students access to mental health support, Selinger suggested looking to see what schools in other districts are doing to alleviate anxiety in students, including enacting a night where teachers aren't allowed to assign homework so that students can take a mental break.
Thurling said the school should play a role as a facilitator in advocating for mental and emotional health for students.
"It's our job to connect families with the school and resources that they need to be successful," he said.
Wagner said student well-being has been listed as the school board's first goal for the past several years as the district has implemented more counselors and more social workers at all levels.
"Having said that, there's always more work that needs to be done in this area, and it's ongoing," she said.
Wilcox said more rigorous monitoring of students' mental well-being should be done and that the district should consider how it can be more proactive in providing help. He said the district should also look at the amount of screen time young students have in the classroom, consider the high academic pressures on students and think about how large classroom sizes play into the mental health of students.
Ambrosen said the district has recognized that it is in an "emotional health crisis" that is an epidemic nationally.
"And we have to partner with parents so that they don't feel alone. ... It's a partnership. We're working on it very strongly and this is going to be going on for years because it's not something to ignore," Ambrosen said.
Amorosi said the issue of students' emotional health "is the whole reason I'm here," and that much more needs to be done.
"We haven't admitted anything in Minnetonka," he said, noting a statistic on the Minnetonka Schools website (based on data compiled by Tonka CARES) that says 23.4% of seniors replied "yes" when asked if they had ever seriously considered attempting suicide.
Amorosi said the district also needs to increase its counselor to student ratio.
Becker said it's the school's job to be a support for students and to provide resources to staff, and it's the community's job to also be there as a support for students and staff.
"It really is something that we can do more work in, and we've done a great job these last few years getting this started," she said.
Clymer said it is "absolutely imperative that we have mental health resources readily available and accessible to our students" and that she would advocate that the district put more resources in place that will support the many mental health professionals who directly counsel students in school on a day-to-day basis.
Look for more from the school board candidates in the Sun Sailor Voter's Guide, which will be in the Oct. 17 edition.