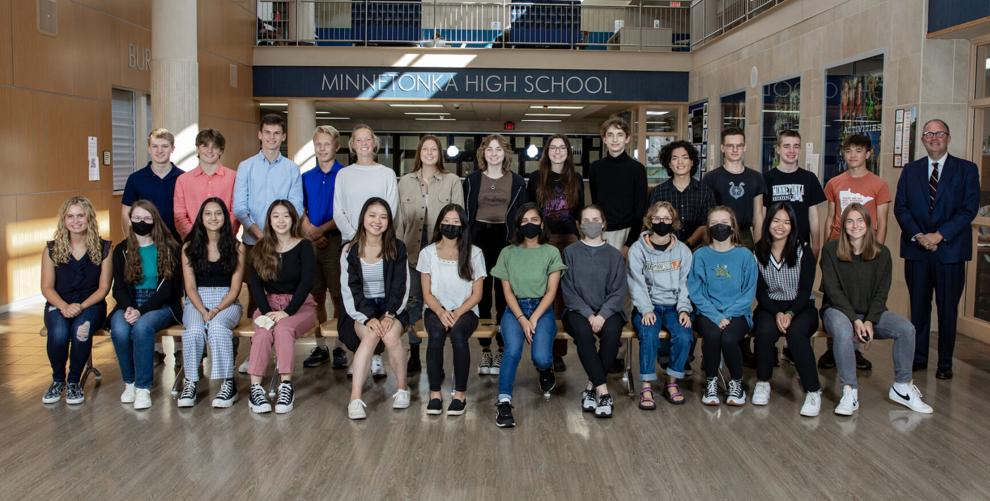 A record-setting 32 Minnetonka High School seniors have been named 2022 National Merit Semifinalists in the 67th annual National Merit Scholarship Program. The students scored among the nation's best on the Preliminary SAT/National Merit Scholarship Qualifying Test taken their junior year.
"To have the highest number of students in district history achieve the significant honor of being a National Merit Semifinalist this most challenging year is truly outstanding," Superintendent Dennis Peterson said. "I am proud of each student for their hard work and dedication to their learning."
Minnetonka High School Principal Jeff Erickson also congratulated the group of students on their accomplishments.
"The National Merit Semifinalist distinction is prestigious. It recognizes an untold amount of hard work that students have put in over the course of their high school careers and honors their focus to excel academically," Erickson said.
The students named 2022 National Merit Semifinalists are Madison Andrews, Andrew Bertsch, Ethan Best, Ava Chen, Rory Cole, Kruthica Dama, Stanley Gagner, Parker Griswold, Claire Huang, Quentin Hughes, Elsa Johnson, Forrest Johnson, Emily Joseph, Eva Kashyap, Grace Kaung, Emma Konezny, Aida Lengeling, Caden McDaniel, Elizabeth Morgan, Emily Nikas, Luke Patefield, Sophie Pederson, Alexander Soltau, Scott Sorensen, Declan St. John, Zara Thomas, Leah Tift, William Walker, Elizabeth Wang, Greta Weeks, Molly Welch and Katherine Young.
All semifinalists will have an opportunity to continue the competition for approximately 7,500 National Merit Scholarships to be offered next spring. The National Merit Scholarship Program is an academic competition for recognition and scholarships that began in 1955. High school students enter the National Merit Program by taking the Preliminary SAT/National Merit Scholarship Qualifying Test - which serves as an initial screen of approximately 1.5 million entrants each year - and by meeting published program entry and participation requirements.