While much has been made about the rise of crime in Minneapolis, it's a trend that seems to be bleeding into the suburbs, particularly with property-related crimes like vehicle thefts and burglaries.
It's an increase police departments in the suburbs have seen over the past two years, though Minnetonka Police Chief Scott Boerboom said he doesn't attribute the pandemic as the main driver of it.
"I think a big part of it is that criminals are more emboldened," said Boerboom, noting that criminals feel they can get away with crime lately.
While person-to-person crimes in Minnetonka have remained relatively flat, there has been a sizable increase in property crimes.
Since 2019, there has been a significant increase in car thefts in Minnetonka, according to recent data.
This year alone, there have been 330 theft from vehicles, a number that data analysts project will be 369 by year's end, making it a 96% increase from 2019.
Home burglaries are also projected to be 60% higher than three years ago, with 111 burglaries reported thus far, compared to 84 in 2019.
Stolen vehicles are also on the rise – 96 thus far, with 100 cars projected by year's end making it a 44% increase from 2019.
Boerboom also sees crime trickling out of the city limits and into the suburbs.
"What's happening in Minneapolis is all of our problems," he said, as criminals move around and don't acknowledge boundaries.
This further became evident in a recent connection between two stolen vehicles from two separate neighborhoods around Lake Minnetonka, an area that is also experiencing a record number of property crimes, according to Deephaven Police Chief Cory Johnson.
He explained an incident that took place Oct. 14 in which 18-year-old Salem Sido Abdo of Minneapolis was charged with first-degree burglary involving a home on Lake Virginia Drive in Shorewood.
Home video showed Abdo entering the attached garage and stealing a vehicle, along with two juvenile accomplices, while a fourth individual left on foot, according to the complaint. Shortly after, they attempted a second burglary in the area.
Within the hour, a South Lake Minnetonka police officer attempted to pull over the stolen vehicle, but it sped away resulting in an eight-mile pursuit that ended in Minnetonka at Highway 7 and Williston Road.
With assistance from the Deephaven and Minnetonka police departments, stop sticks were deployed, and the vehicle crashed, damaging a Minnetonka squad car, according to the report.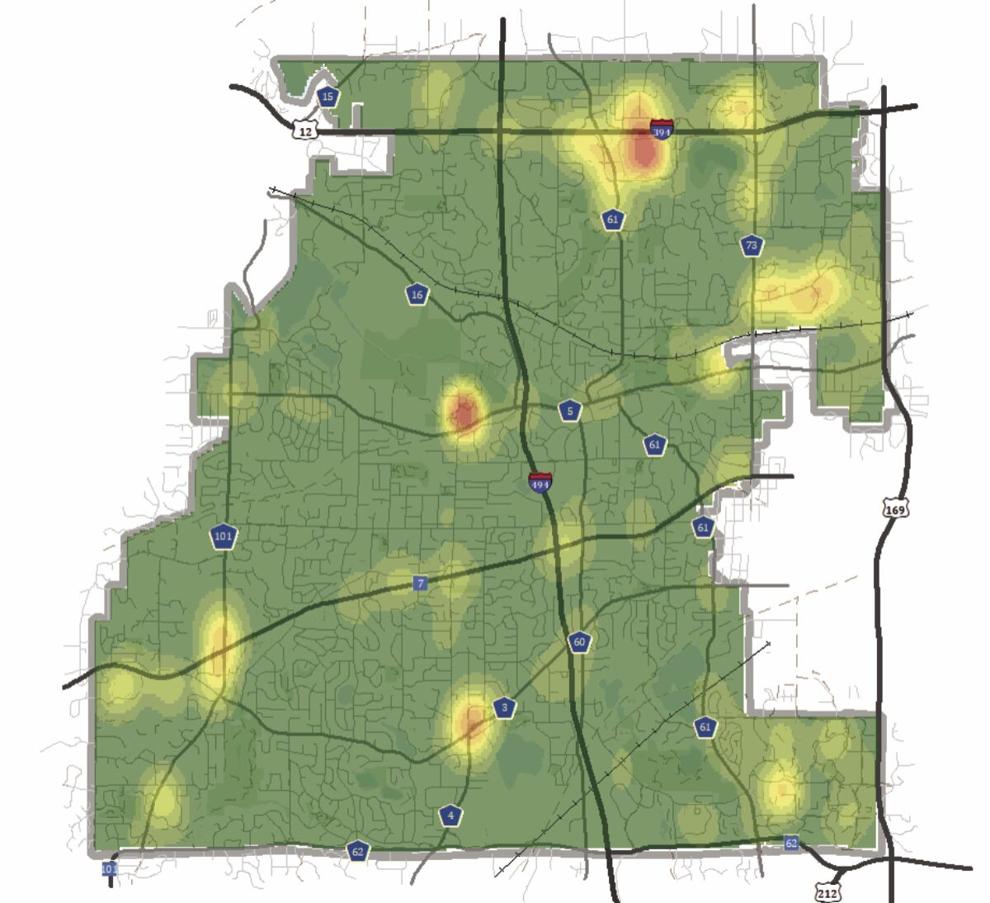 Along with Abdo, the two juveniles were also taken into custody. Officers also found a loaded gun found in the car. A second gun was recovered in the morning.
While the Lake Minnetonka area has always been a target for these "crimes of opportunity," the rise in property crimes is concerning, Johnson said.
Last week, the Deephaven Police Department announced it will increase patrols throughout the neighborhoods at night to deter crime and ensure residents' safety.
"It's not your run-of-the-mill local kids looking for change," he said.
Criminals also don't seem to be phased by motion lights, he said, noting that crimes are occurring on random days and times, and while residents are awake inside.
Complacency is also a factor in what Johnson calls "crimes of opportunity" as victims will often leave doors unlocked, allowing criminals easy access.
Plymouth Police Chief Erik Fadden said officers are also seeing an increase in people who refuse to cooperate with police, noting that the numbers of vehicles fleeing from officers has increased "exponentially over the past year and a half."
"This past summer, we saw an increase of thefts from motor vehicles and thefts of motor vehicles from residential neighborhoods," he said. "When our detectives began to identify potential suspects, we learned that many of the crimes were likely committed by the same individuals."
As with most department policies, Plymouth restricts officers from engaging in vehicle pursuits for less serious crimes, such as thefts.
"These groups of thieves are learning that, and fleeing at a record rate only to reoffend later," Fadden said, adding that some of the suspects located by detectives in Minneapolis fled in a vehicle that was stolen in Plymouth.
In those cases, when arrests are made, the suspects have often been found to be juveniles, which further complicates the situation.
"Even when arrested for thefts or other violent crimes, juveniles are often not accepted to the juvenile detention facility and we've seen cases recently in which juveniles are suspected of committing numerous crimes," he said.
It's this "lack of accountability" for offenders that Boerboom also attributes to recent policy changes in Hennepin County. He referenced the bail reform that took effect in January and included a list of 19 felony crimes for which bail is no longer requested. These include fifth-degree sale or possession of narcotics, theft under $35,000, theft of a motor vehicle, forgery, damage to property and more.
Hennepin County Attorney Mike Freeman announced the changes last December with the support of Minnesota Attorney General Keith Ellison.
"These crimes are low-level, non-dangerous offenses," Freeman said in a statement last year. "What that means to the defendant is that he or she will promise to make all court appearances and follow any other conditions set by the judge. With that, they remain free until their next court hearing."
Ellison talked about the "numerous repercussions" when a person is held in jail until their criminal case is over, including the potential loss of a job and home, as well as disrupted parental responsibilities. Even if that person is later acquitted or given a probationary sentence, the repercussions could land them right back in jail because they are unemployed or homeless, he noted.
Now, when a person is charged with auto theft, the Hennepin County Attorney's office will not request that bail be posted unless other aggravating factors are present, such as criminal history and history of failure to appear.
While the county attorney's office reported the number of repeat offenders has remained about the same, suburban police departments are seeing what Boerboom describes as "unintended consequences" of the bail reform, since it took place without "thorough discussion of the impact," Boerboom said.
"The ultimate goal is to not put people in jail," he said. "The hard part is finding that balance."
Boerboom added there needs to be reform that will correct the behavior.
"We all agree we've got to make it better, but what does that look like?" Boerboom said.
Boerboom also urges lawmakers to "take a hard look at the laws," but until then, "there needs to be some method to hold people accountable."
Anti-police rhetoric has also been a factor that prevents officers from getting involved in traffic stops and other encounters, he said, noting traffic stops are down from past years as fewer vehicles are being pulled over for moving violations that could otherwise deter some of these crimes.
"Officers are concerned with the risk of getting involved with something if they pull someone over," he said, referring to recent fatal encounters involving traffic stops.
This same negative rhetoric also has officers reexamining the profession, he said, which could further put a strain on police efforts.
In the meantime, police chiefs are working on several strategies to combat crime and reviewing trends locally to deploy appropriate resources. They are also looking for ways to hold these criminals accountable.
"I am proud of the hard work that my officers do every day in finding and arresting criminals who commit these property crimes, but it's frustrating to see them released quickly from Hennepin County Jail or in some cases, not even accepted to the detention center," Fadden said. "They ultimately are seeing little or no consequences for their behavior."
When it comes to deterring crime, "The best advice that I can give residents is to remain aware of your surroundings," Fadden said. "Lock your homes and vehicles. If you have a garage door opener in your vehicle, make sure it's removed or not visible if you park outside. If there is ever something suspicious that you see, call 911 and report it."