A Minnetonka mother and teacher has made it her mission to lift up other local Black business owners and makers this holiday season by offering gift boxes curated with locally sourced products.
Jessica Winnie started Minnesota Black Box last spring as a way to feature products from exclusively Minnesota-based, Black-owned businesses.
Winne, a self-published poet and a school teacher in the Hopkins district, started a Facebook group called MN Women BlackOwnedBusiness Network in early 2019, hoping to create a space for Black, female entrepreneurs to share resources, information and network.
The group gained traction, particularly during COVID-19, as many small business owners were struggling.
"Financially supporting other Black businesses is important to me," she said.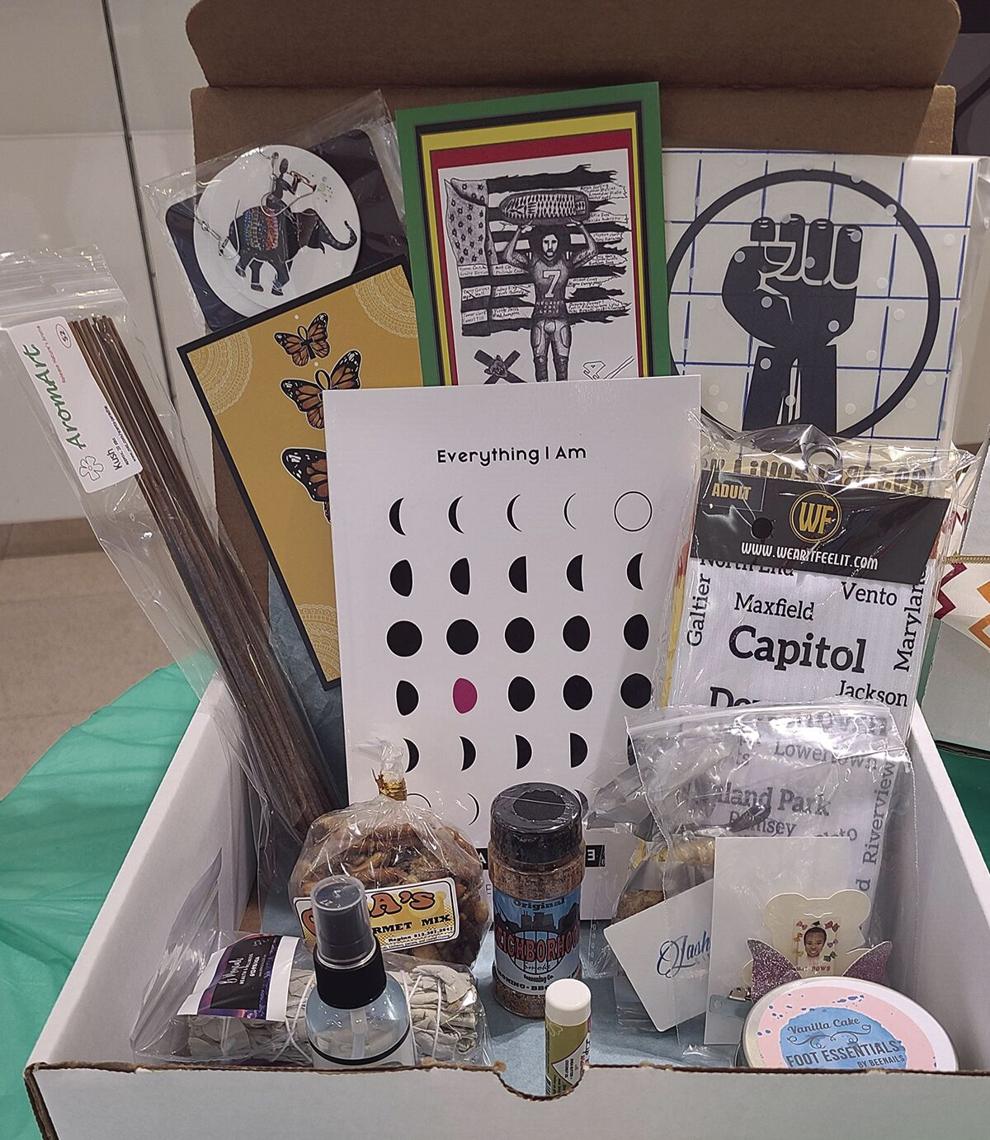 Inspired by the interactions in the group, Winnie decided to create a way to facilitate business for the group's members through a subscription box.
She launched her first box in May with a Mother's Day theme in which she included a variety of everyday household items. Since then, she has featured more than 50 businesses from in and around the Twin Cities.
The items vary by month but typically include five to seven products such as candles, bath and body items, food and artwork.
Winnie also likes to support young entrepreneurs, such as St. Louis Park teenage twin sisters Imani and Nia Sullivan of N.I. Creations with handmade jewelry and face masks.
Promoting services through a "business card boost" in each box is also part of her mission.
Winnie found nearly all of the Black Box vendors on Facebook. Some of the vendors have come from the MN Women BlackOwnedBusiness Network group and some have come from word-of-mouth.
For Winnie, it's become a way to build community outside of the home and introduce new products with the goal of creating repeat customers for these business owners across the Twin Cities.
"Just being able to help others boost their business has been rewarding for me," Winnie said.
A Minneapolis-based candle and bath product shop, Kobi Co., was featured in a Black Box earlier this year and will have another one of their products in one of the four December boxes.
The candle company is run by Kobi Gregory, a high school student who started the company to save money for college and subsequently joined the Facebook group.
"I appreciate having the opportunity to be one of the first and repeat vendors in a box that celebrates small local black businesses," said Gregory. "Because of MN Black Box I have had increased exposure, sales and new business as a result."
In addition to including items in the box, Winnie cross-promotes all of the vendors on her website and Facebook, where people can get to know the makers.
Putting the boxes together is one of the most time consuming, but best parts of the operation, Winnie said.
"My oldest daughter, my niece and myself come together on a Friday night and design the boxes and put everything together. It can take a while, but it's great quality time," she said.
She then delivers the packages across the Twin Cities. She has also shipped packages to 11 states.
Winnie said her ultimate dream is to have a brick-and-mortar boutique where people can come in and shop from an assortment of featured Black-owned products.
Currently, Winnie is offering four boxes for the holidays, the Awakening Winter Wonders mixed box, a Lighting Your Way candle box and edible treat boxes, including a vegan box.