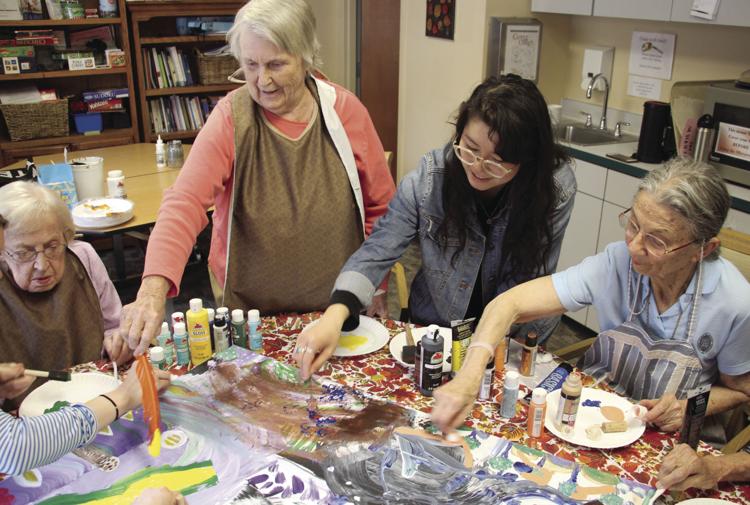 With a large canvas in the center of the table, seniors at Augustana Open Circle adult day center in Hopkins use feathers and artificial flowers to add their own creative touches to a painting that will soon hang on the walls of the ICA Food Shelf in Minnetonka.
This is the fourth art project created by the members of Open Circle with the guidance of art therapy intern Caila Kritzeck, a graduate student at Adler Graduate School in Minnetonka. Open Circle partners with Adler to provide art therapy for its members, many of whom have Alzheimer's disease or a dementia diagnosis.
Their first project – a painting done for the Empty Bowls silent auction in March benefiting ICA Food Shelf and ResourceWest – was also a process painting, in which several members work on the same piece in multiple sessions.
This process focuses more on creativity and the enjoyment of putting paint on the canvas rather than making it look a certain way, explained Kritzeck. This less structured form of painting is more beneficial for this population than representational or realistic art, which can be frustrating for those who are aware of their losses from their diagnoses, she said.
Mark Rosen, program director at Open Circle, explained the art therapy experiences provide members with creative outlets for expressing complex emotions or conveying life experiences.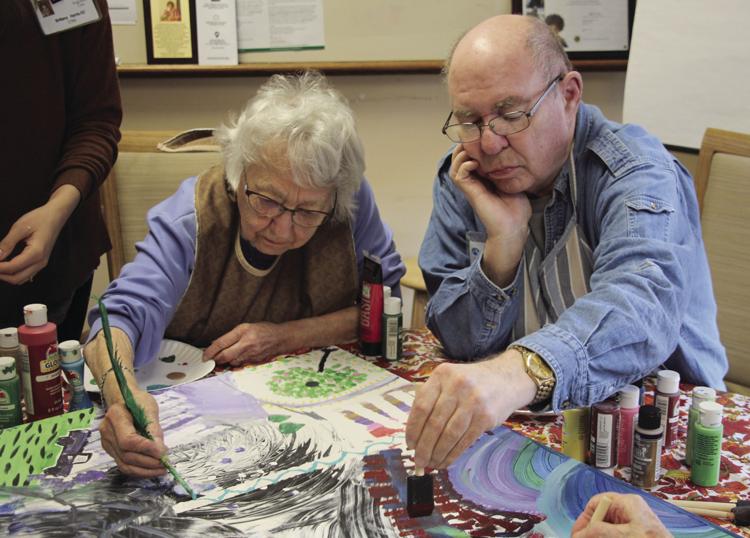 The creation of "Hidden Treasures of Hopkins" took two months and involved more than 25 members, some with highly progressed dementia, and many who show little interest in other programming, Rosen said.
While art therapy provides a creative outlet, many participants also found the community service facet of the project the most interesting.
"The process painting projects have the added benefits of reconnecting with community service, something that many of our members actively participated in when they were healthier," Rosen said.
When the members learned their very own painting had multiple bids and sold at the Empty Bowls fundraiser for $100, "they were over the moon," Rosen said.
Peg Keenan, ICA Food Shelf executive director, enjoyed the abstract painting so much and was so impressed by the work that went into it by the Open Circle members that she commissioned a piece of art for the food shelf.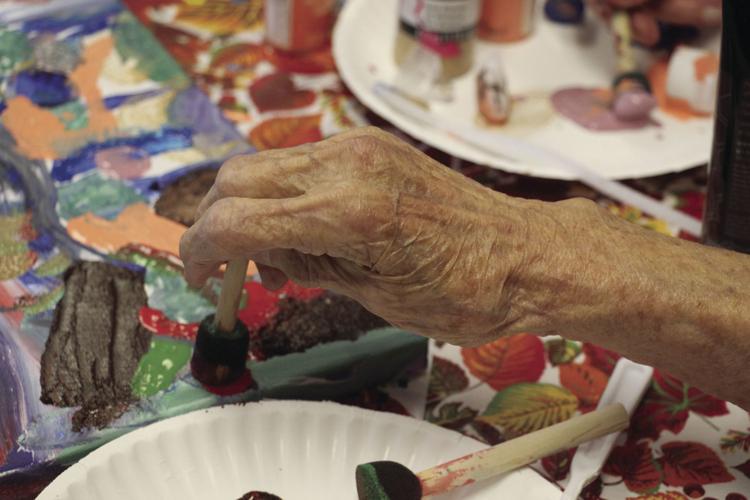 Keenan really liked how the members were "able to really use their imagination and nothing was off limits," and thought a similar piece would make for an "amazing addition" to the facility, she said.
Community members also took note of the prominently displayed piece of art during Empty Bowls which cascaded into other projects, including a collage entitled "Belonging" for the Blank Canvas Art Gallery, recently unveiled at The Commons in Hopkins. The work represents each of the members' ideas of what community means to them.
The third piece was a painting that was auctioned off at a recent fundraiser for Open Circle and purchased by a staff member who then donated it back to the center.
Working with the seniors through this community art program has also been rewarding for Kritzeck.
"The most rewarding part of it is giving them a sense of self-efficacy and feelings of mastery," she said. Despite their age, diagnosis or their losses, the participants can still learn a new skill and contribute to their community in different ways, she said.
The art program also expands the limited view of adult day care, Rosen explained. "This is about reengaging our members within the fabric of the community itself," he said.
Breaking the stigma through academic outreach
According to the U.S. Census Bureau, by the year 2035, people age 65 and older are expected to outnumber children under age 18.
Currently, 10% of the population age 65 and older has Alzheimer's dementia, according to the Alzheimer's Association.
As the population of older adults increases, so does the demand for care, which is why Open Circle's partnerships with colleges, such as Adler, are so critical.
"It's incredibly important that we get young people who are going into these skilled professions to at least have some exposure to working with the fastest growing population in the nation," Rosen said.
Through his own experience working with students going into nursing or other human services, very few have little to no experience working with older adults.
During a recent presentation to Adler's art therapy students, Rosen went around the room asking them what area they want to work in once they graduate.
"And everyone in the room either said 'I don't know' or 'youth, youth, youth ...," he said.
"I know that's just a small portion, but I'm guessing that that's a pretty good sample size," he said, noting very few students think of working in gerontology.
Additionally, very few students in occupational therapy, nursing and social work who first come to intern at Open Circle say they want to work with seniors.
"And that's alarming to me," Rosen said.
His theory is that when students think about what they want to do and the impact they can make, they see the most potential for growth is with young adults or children.
There are those feelings and perceptions that seniors, particularly those with dementia "don't have anywhere to grow into, that they are toward the end of their life," Rosen said, which translates to not overstimulating or challenging them.
"And that's very patronizing," Rosen said. "Our job here at Open Circle is to confound those stereotypes."
Those misconceptions can also lead to a rapid decline in health within the older adult population.
"The moment someone stops challenging themselves and stops looking for purpose and meaning in their life, that's when they begin to fail very quickly," he said.
The goal at Open Circle has been to challenge the members and the interns by providing meaningful experiences that prove the older adult population can still be challenged and learn new things, all while contributing to their community, Rosen explained.
The academic outreach program at Open Circle began in 2012 and has had more than 500 student interns from a dozen colleges and academic disciplines.
Through the program, Rosen has witnessed students' perceptions change, many of whom begin the internship with no experience working with the older adult population or someone with dementia.
"They come unsure of what to expect or their expectations reflect their limited experiences with nursing homes," Rosen said.
Students have shared how surprised they were at the capabilities of the members in regard to physical and intellectual activities, Rosen explained. They realize the value of spending quality time with older adults, gain a different perspective and experience the joy of being able to impact a person in a positive way in real time.
In addition, students cease using "elder speak" - terminology for the patronizing, infantile form of communication that sometimes occurs when communicating with an older adult, talk often associated with a toddler or a puppy, which is patronizing for an adult who has a lifetime of experiences, Rosen explained.
"Students gain a level of understanding, empathy and respect for older adults that perhaps wasn't present prior to the internship," he said.
The experiences have also prompted them to either volunteer with Open Circle, change their major to focus on gerontology or take a job at an adult day program or senior facility.
"The people and the work that we do make that much of an impact on them," he said.
Ultimately, the academic outreach program is about many things, one of which is educating future professionals about the vibrancy of the older adult population, Rosen said. It's showing the abilities of the older adult population "and that their age or dementia diagnosis is not an end to anything."