The song "Still Learning" features several notable locations like the World's Largest Raspberry 
After returning from a lengthy hiatus, popular 90s Minneapolis rock band Muskellunge debuted its new music video last month, which included many downtown Hopkins hotspots.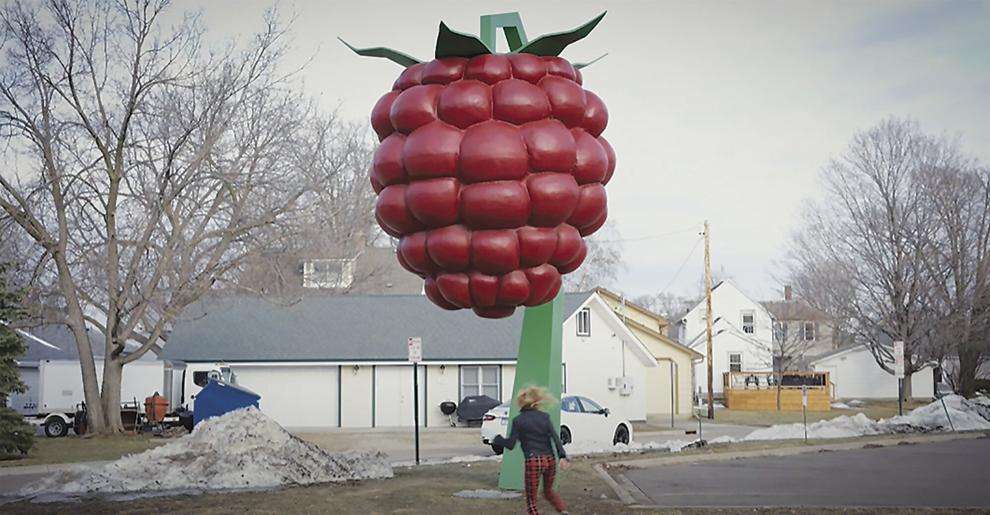 The music video for the song "Still Learning" features notable locations such as the Mann Hopkins Cinema 6 that closed last year, Big Willow Park and the World's Largest Raspberry. The visual tribute to Minnesota was filmed last March. Band leader Reba Fritz wanted to include Hopkins in the video after coming back home to the state after nearly 17 years.
"It was the places that were my favorite," Fritz said. "Like the raspberry. That's always a funny little thing and I still look for raspberry bushes. I actually, when we go on bike rides, I find them in the alleys. I'm kind of the raspberry thief."
While she said the song was written many years ago and the lyrics are about learning how to communicate and be a band, she wanted the music video to be more playful and share Hopkins with the world.
"I just love Hopkins. ...I love small towns that have just a genuineness to it and they're not fussy," Fritz said. "The biggest thing is when there's free street parking. You can tell it's a real, genuine small-town downtown because they're not trying to make money off people. They just want you to come and gather."
Muskellunge formed in the 1990s, when Fritz and band members John Crozier and Benji Boyd were working together at Kinko's Copies in Minneapolis. The band added drummer Eric Tretbar and later engineer Bryan Hanna as members. Muskellunge thrived locally and nearly signed for a record deal, but broke up shortly after in the late 1990s. When the band members reunited during the COVID-19 pandemic, none of them had spoken to each other in nearly 25 years.
"I think a lot of us during COVID realized what was really important and made efforts to do that more in our lives," Fritz said.
The band will be making a proper comeback during its reunion show at the Hook and Ladder Theater in Minneapolis on Nov. 19. The music video for "Still Learning" is available on YouTube and can be purchased on various streaming platforms.