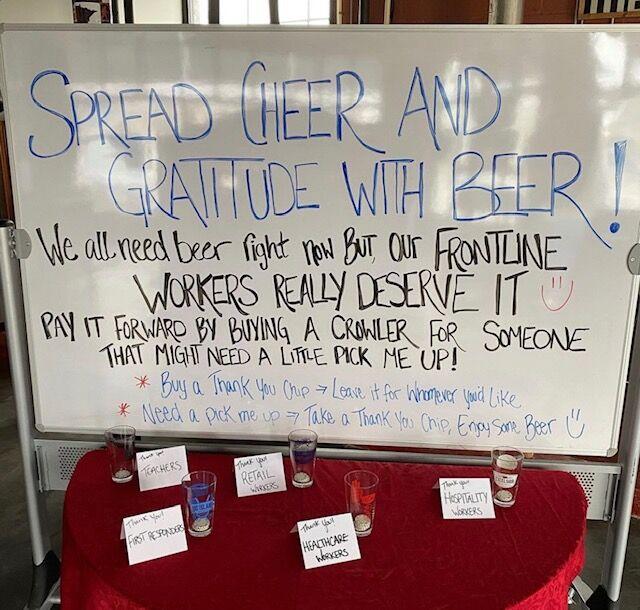 When customers stop by Excelsior Brewing Company, 421 Third St., they can purchase a beer for themselves and spread cheer by purchasing a beer for a front-line worker.
Chips can be purchased for $8 and put into pint glasses, which are designated by profession. Customers can pay it forward to first responders, teachers, hospitality, health care or retail workers. When those workers come in, they can redeem a chip and "get a pint on the community," said Tony Filippi, the taproom business manager at the brewery.
Patrick Foss, one of the owners of the brewery, came up with this way for the community to give back and gave it the tagline "Spread cheer and gratitude with beer."
The initiative will go on indefinitely, depending on how long people want to give back, Filippi said.
A lot of customers have liked the idea and are excited to give, he said. Brewery staff members are working on ways to get people to come in and redeem the chips. For example, a firefighter came into the brewery to purchase growlers. Filippi thought he would take a chip, but instead, he bought one for someone else.
"There's just such an overwhelming amount of people that want to support the front-line workers that they're putting others before themselves," he said.
Filippi hopes front-line workers understand how important they are and that the community is behind them. Something as little as a crowler of beer can be a nice way to give back, he said.
Throughout the year, the brewery has a "buy your friend a beer" board, where customers can purchase a pint and leave a note for their friend to redeem the beer.
Enjoying beer at the brewery
With Gov. Tim Walz's newest order, the brewery can serve beer outside. Staff members are figuring out ways to make it a comfortable environment, which is difficult with the colder weather, Filippi said. The patio will be open to customers on the weekends.
We can get through this together, he said, adding brewery staff members appreciate everyone for their support. Filippi also said he looks forward to pouring pints in the taproom again.