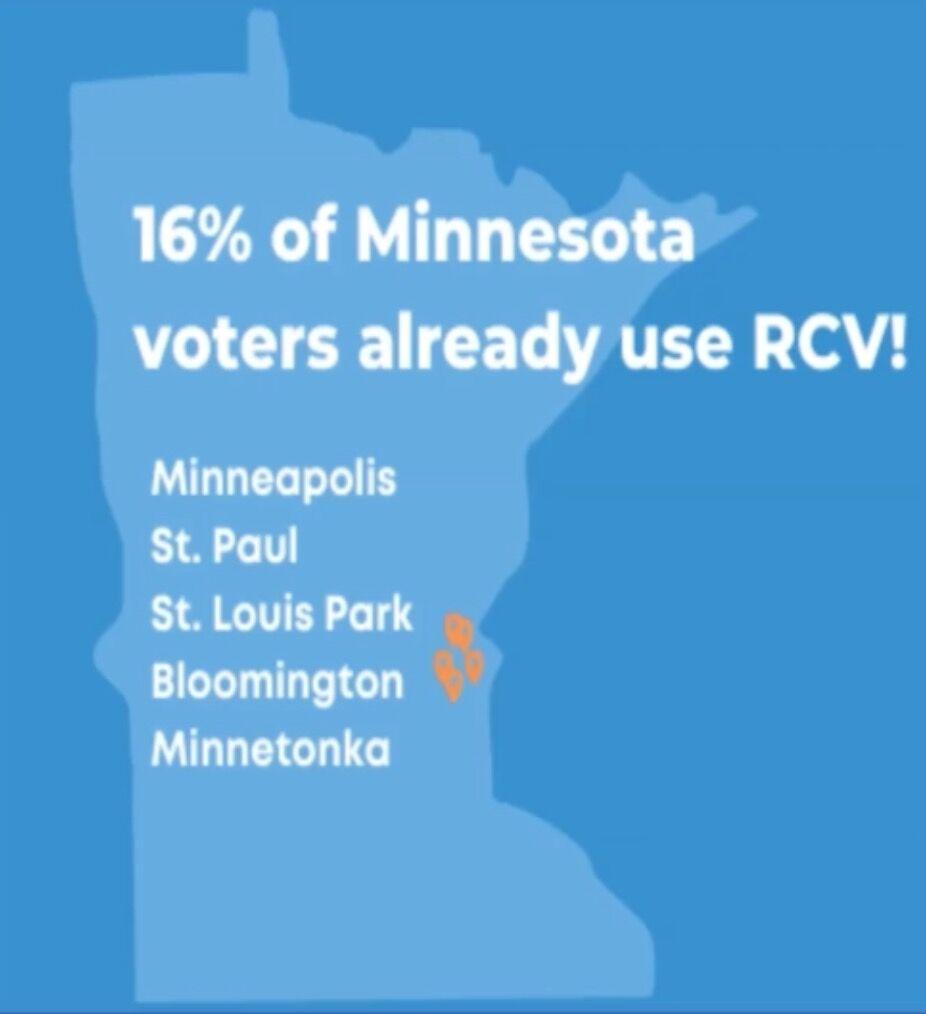 Patricia Hauser, a Shorewood resident, gave a presentation to the Shorewood City Council on ranked-choice voting at the April 12 meeting. Hauser approached Mayor Jennifer Labadie to discuss the matter and Labadie suggested she make a presentation to educate the council.
Hauser was joined by Liz Johnson, the deputy director of FairVote Minnesota, a nonprofit, nonpartisan organization.
Hauser mentioned the mayor's forum in March and that a few of the participating mayors said they feel challenged to find candidates to run for city office. She found that when she talked with neighbors and friends that are interested in good government and democracy, they think there is too much negativity and divisiveness in campaigning.
Ranked-choice voting could help with both of these issues, Hauser said. She thinks there are plenty of smart, talented and thoughtful people with good ideas who would serve in city office if it wasn't for the campaigning. Perhaps that's why nine people stepped up to be interviewed for the empty council seat after the last election, she said.
"We think more participation in government is good," Hauser said.
In the current voting system, if three or more people are running for office, the person who gets the most votes wins, not necessarily the person with the majority of votes. With ranked-choice voting, there is a simple and clear way to help people know which candidate has the majority of support, Hauser said.
People running for office know they must gain the support of at least 50% plus one vote to win, so they aren't going to trash their opponents, Hauser said, adding perhaps that's why the elections with ranked-choice voting are more about the issues. It also opens the door for more people to run for office, including more people of color.
According to Johnson, 16% of Minnesota voters are already using ranked-choice voting. St. Paul and Minneapolis have been using the method for city elections for some time, she added.
Johnson discussed some of the benefits of ranked-choice voting. It gives voters more choice, candidates reach beyond their base to get enough votes to win, winners must earn majority support and, in local elections, the method combines the primary and the general election into a single higher-turnout and more representative election, plus candidates must stay positive and issue-focused.
Currently, Shorewood and other cities are unable to use ranked-choice voting. Cities must be charter cities that have elections in odd years. Local options legislation has been introduced that would implement ranked-choice voting in primary and general elections for state and federal offices. The legislation also allows local jurisdictions to adopt ranked-choice voting if they choose, Johnson said.
Duncan Storley, a Shorewood resident, said he has read about ranked-choice voting and as far as he has seen, there isn't a downside. Everyone who uses it thinks it's a great advance in politics and voting that cuts out the negative campaigning and name-calling in politics, he said.
Resident Diane Tsari said she would like to get away from situations where she feels like she's choosing between two people who she doesn't want to hold office.
"I would rather have more choices so that I could vote for somebody I feel more strongly about," Tsari said.
Mike Melnychuk, another resident, asked if the city would invite a counterpoint discussion to address the drawbacks of ranked-choice voting. He said that the voting method can disconnect elections from issues, allow candidates with marginal support to win and it obscures true debate and issue-driven dialogues among candidates.
Labadie said Melnychuk could also do a presentation for the board with someone who isn't a Shorewood resident, like Hauser did. The topic could be discussed at a future council meeting or a work session. Labadie said to reach out to the city administrator to be put on an upcoming agenda. When the matter comes up for discussion, it will be noted as an agenda item, Labadie said.