Three Minnetonka students were honored April 5 with Prudential Spirit of Community Awards for their charity work.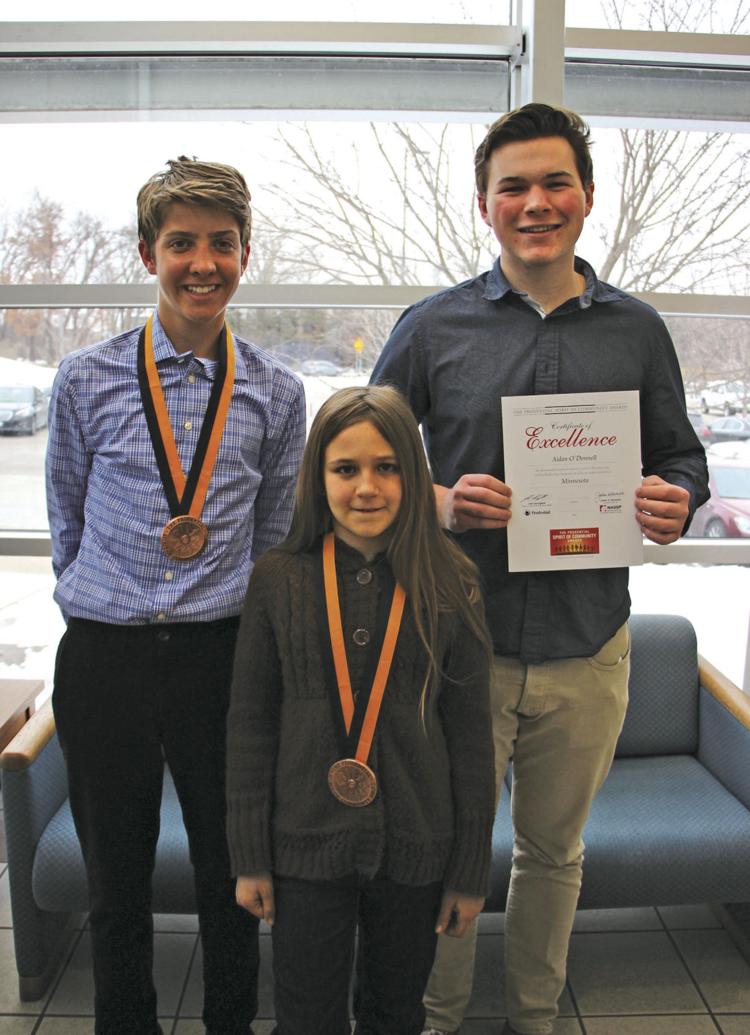 Claydon Dunn, Gabriella Feygin and Aidan O'Donnell were presented with awards to recognize their selection as top youth volunteers in the state at the Minnetonka School Board meeting.
The awards, conducted by Prudential Financial and the National Association of Secondary School Principals, is based on volunteer community service. 
All middle and high schools in the U.S., along with all Girl Scout councils, county 4-H organizations, Red Cross chapters, YMCAs and affiliates of Points of Light's HandsOn Network, were eligible to select a student or member for a local award in November. 
Two state honorees, one middle and one high school student plus a select number of distinguished finalists from each state and the District of Columbia, were selected based personal initiative, effort, impact and personal growth. The program grants certificates of excellence to the top 10 percent of all applicants in each state and the District of Columbia.
Dunn and Feygin were both named distinguished finalists for Minnesota and received bronze medallions.
Dunn, 13, is an eighth-grader at Minnetonka Middle School West from Chanhassen.
Dunn said he became interested in becoming a volunteer at Sunrise Senior Living in Minnetonka after his uncle Christopher died in 2014. His uncle worked for a Sunrise facility in Chicago. 
"A few years ago I was looking at getting involved at the Sunrise of Minnetonka, but I was too young," Dunn said. "When I turned 13 years old, I applied and I started volunteering weekly ... I enjoyed chatting with the residents and hearing what they had to say. It was a really great experience."
Dunn said he helped residents with electronics such as setting up televisions, Wi-Fi and fixing devices. He said he helped assist staff members and enjoyed socializing with the residents.
"This experience has made me a more moral person because I realize what I have more and I want to share that with others and make their days better," Dunn said.
Feygin, 11, is a fifth-grader at Minnewashta Elementary School and is from Victoria. 
Feygin co-founded a youth initiative with her siblings and friends that has raised more than $190,000, since 2013 for the Pinky Swear Foundation. The foundation helps families affected by childhood cancer with any costs they have, such as transportation, mortgage payments and other basic expenses.
Feygin and her siblings became inspired to help after an anonymous person helped their mother, Julia, and their grandmother after losing their grandfather, Michael Romm, to pancreatic cancer. 
"One day a little after he had passed away our mom found an envelope in our mailbox with a $10,000 check inside donated by a kind anonymous stranger," she said. "It helped out our mom and our grandmother during such a difficult time. We still don't know who donated that money but we wanted to pay it forward to others in need and we're happy we've been able to do that almost 20 times over." 
Feygin has helped host movie nights and carnivals, operate lemonade stands and facilitated auctions to help fundraise for the foundation.
"It means so much to us that we know we're helping making a difference in kids' lives and their families," she said. "We've been able to meet and become close friends with some of these families and kids who are so awesome and amazing. It's so inspiring to know that we're helping make their lives better. This experience has made me so grateful for what I have."  
O'Donnell, 17, is a senior at Minnetonka High School and is from Shorewood. He received a certificate of excellence.
O'Donnell has served as a co-leader class of 2018's legacy project. The class' project is focused on protecting and helping the environment.
He said he has always been passionate about the environment and saw his class project as a way to give back.
"I've been camping, hiking and enjoying the outdoors for as long as I can remember," he said. "I've been trying to give back as much as I can. I think it's important now more than ever that we focus on protecting our environment."
In the past four years, O'Donnell and his classmates worked on projects including selling compost at the Excelsior Farmers' Market, cleaning up a local beach, providing educational outreach to local elementary and middle schools on Earth Day and rebuilding a courtyard at Minnetonka Middle School West, where they replaced all of the existing plants with bee-friendly plants. 
"With getting this award it's nice to know I did something meaningful," he said. "I think the work itself is more important than the award, but it's still nice to be recognized."
To learn more about the state honorees and distinguished finalists, visit spirit.prudential.com.
Follow the Sun Sailor on Facebook at facebook.com/mnsunsailor.