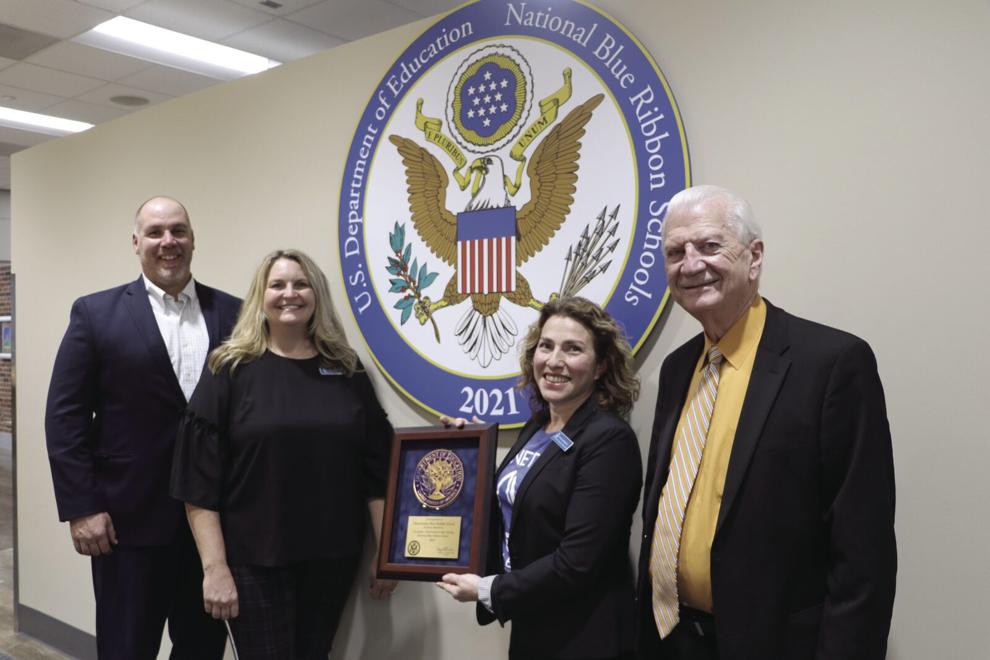 Minnetonka Middle School West hosted a celebration assembly Nov. 16 to recognize its 2021 National Blue Ribbon School designation by the U.S. Department of Education, which was announced in September.
"We are so excited to take this opportunity to pause and recognize the incredible achievements of receiving the U.S. Department of Education National Blue Ribbon School Award. ... And I know that we rarely take the time to stop and celebrate our hard work and accomplishments. So today, we are going to do just that," said Minnetonka Middle School West Principal Freya Schirmacher during the ceremony.
The school was among 325 schools recognized nationally as Blue Ribbon Schools, including six schools in Minnesota. The recognition is based on a school's overall academic performance or progress in closing achievement gaps among student subgroups.
School Board Chair Chris Vitali congratulated the teachers, staff and students, as well as principal Schirmacher, former principal Paula Hoff and Superintendent Dennis Peterson, stating: "Great leadership producers great results."
"Achieving the status of being the National Blue Ribbon School is so impressive," he said. "It is a result of all of your hard work together in creating a school culture and environment where students are supported and are able to achieve their personal best."
Peterson acknowledged the hard work of teachers, administration and staff, as well, but also gave credit to the students for their achievements.
"It's you students who have to really do the measures and do the work, so I can never say enough about how much you've done to make that happen and to be successful," Peterson said. "So I'm proud of each of you."
Additionally, there were student speakers including past MMW student and Minnetonka High School sophomore Elias Grant and eighth-grader Isabelle Gensmer.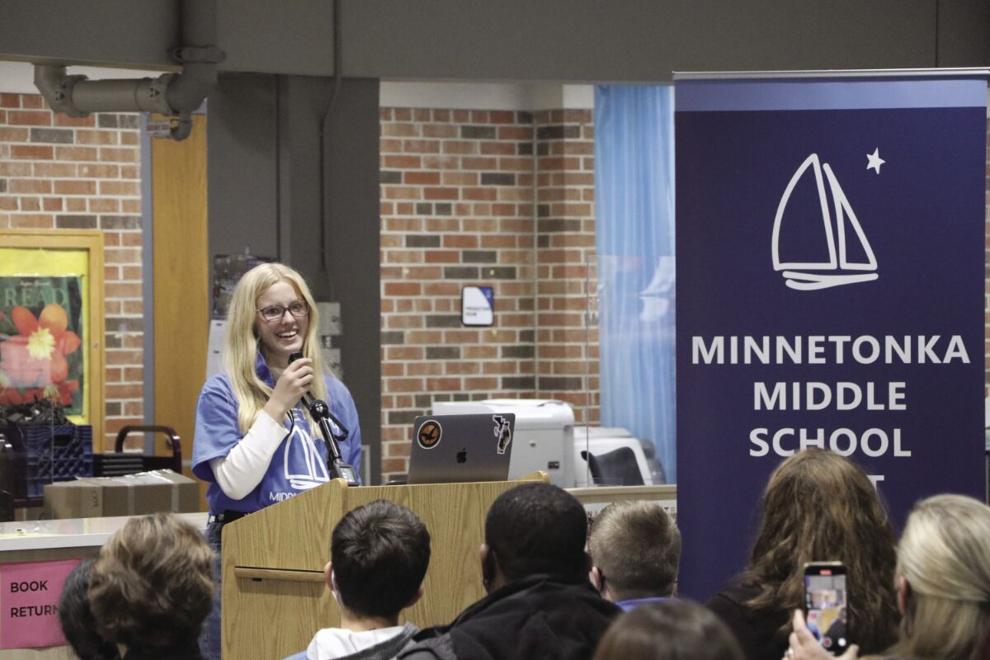 "The time we spend in middle school is one of the most influential times in our lives," Grant said, who is a student ambassador at MMW and currently enrolled in the Vantage program's professional studies course. "The years we spend here are for learning about who we are and who we want to be. I can think of no better place to find yourself than at MMW. This school made me who I am today."
Gensmer started her speech by quoting Plato: "Excellence is not a gift, but a skill that takes practice."
"It captures the essence of what MMW has taught me in my three years here that each and every human being on this planet is excellent, talented and capable of greatness," she said. "What we have to do is learn to see and celebrate that. Then, we will make change and break down barriers that exclude others from making change."
Schirmacher concluded by thanking the major stakeholders in the award - the staff, families and students.
"I'm so honored to work with such an incredibly caring, talented and skilled group of teachers and staff," she said. "The heart of this award really affirms the culture of MMW - that every student can and will find success. Teachers believe it, students believe it and our families believe it."
The other Minnesota schools named Blue Ribbon Schools were Roosevelt Middle School and McKinley Elementary in the Anoka-Hennepin School District; Barnesville Elementary in the Barnesville School District; Twin Lakes Elementary in the Elk River School District; and St. Croix Preparatory Academy Middle School in Stillwater.