Nicholson is national hero
Maggie Nicholson, Minnetonka High's All-Lake Conference girls hockey defenseman, is back with the Skippers this week after winning a gold medal with Team USA at the World Under-18 Tournament in Russia.
It was a great experience for Nicholson, one of the youngest players on Team USA's roster. Most years, the Lake Conference is well-represented on the international U18 roster, but this winter Nicholson was the only player from her conference to make the team.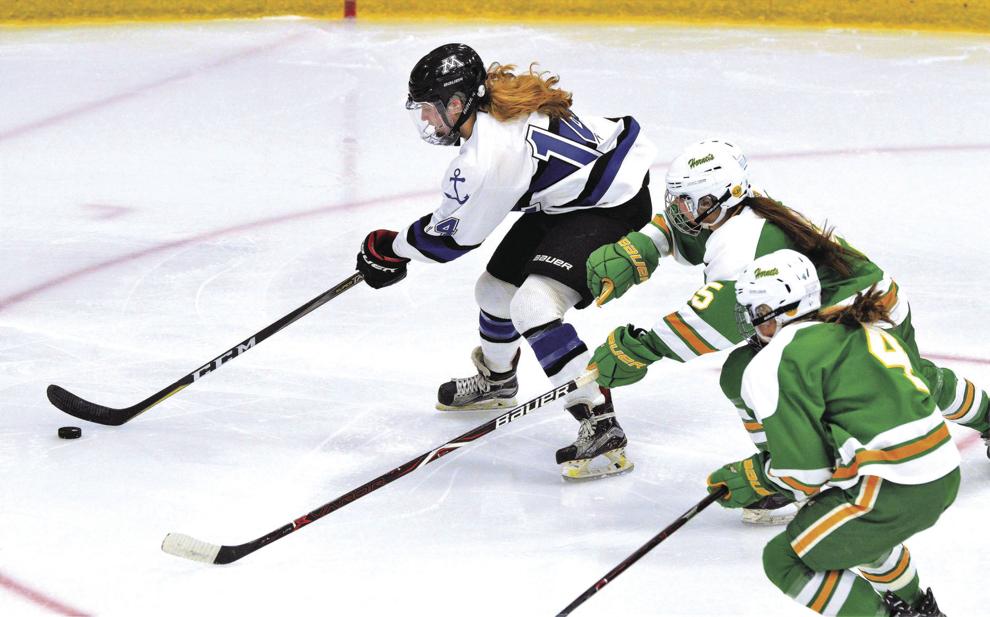 "The girls on the team left for Russia as friends and returned as a family," said Nicholson. "Every girl in our locker room put the team first, and that is one of the reasons we won the championship."
There were some anxious moments on that championship path, including a shootout win over Canada in the semifinals after the rivals had skated to a 3-3 tie.
"Team USA grew together through a series of camps in Maine, Lake Placid [New York] and Florida," Nicholson noted. "We had girls from different states, and some of them are still playing against boys in their areas."
Nicholson said she liked the experience more than she liked winning a gold medal.
However, she looks at that medal every day.
"It reminds me of all the fun we had as a team, and it also reminds me of all the people who helped me get there," she said.
The game against Canada was exciting, to be sure, but for fan interest nothing beat the match-up between the USA and Russia.
"I scored a goal against Russia on a power play," said Nicholson. "The crowd for that game was amazing."
After defeating Canada in the semifinal shootout, Team USA played underdog Sweden in the finals and won the game 9-3.
"It didn't feel like a championship game should," said Nicholson.
When the Minnetonka defenseman returned to her hometown, her teammates had a lot of questions about what it was like to play in the World Tournament.
Nicholson shared her favorite stories, and her teammates were excited to hear them.
Not everything she shared was an on-ice experience. She told her Skipper teammates about all of the team-bounding activities that included music trivia contests and Karaoke.
"My coach and one of my teammates got up and belted out a country song," said Nicholson. "That took a lot of courage."
In a 3-0 loss to Edina on Saturday afternoon, Minnetonka played well and had its chances to upset the No. 1-ranked Hornets. C.C. Bowlby scored an open-net goal for Edina late in the third period to ice the victory.
"We were in the game," said Nicholson. "But we needed a few bounces to go our way."
Nicholson had one good chance in the third period when the score was 2-0, but two Edina defenders were able to cut off her angle in front of the net.
With the loss, Minnetonka is now 11-8-3 for the season.
In their other game last week, the Skippers used 24 saves from senior goalie Abby Manlove to beat Lakeville South 3-1. Senior captains Bella Bertogliat and Madison Fleming provided the scoring punch for Minnetonka. Bertogliat had two goals and Fleming added one. Lucy Martin was the top playmaker with two assists, while teammates Anna Koethe and Julia Gallogly each had one assist.
"Our girls played hard from start to finish," said Minnetonka head coach Eric Johnson. "I am really proud of them. Hats off to Edina - they're a great team."