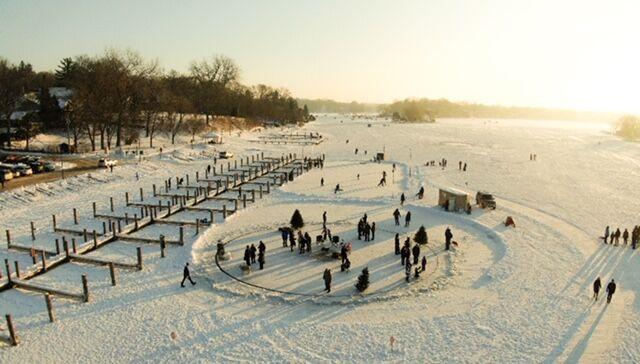 What's round and spins and is cold all over? An ice carousel.
Jim van Bergen, of Deephaven, and his friends, Scott Hemink and Steve Pavek, spent a majority of New Year's Eve creating an ice carousel on St. Louis Bay of Lake Minnetonka.
Van Bergen, who loves being outside on the lake and creating things, watched a video of an ice carousel about eight years ago and knew he had to build one someday. Van Bergen, Hemink and Pavek had been planning the ice carousel and decided New Year's Eve was the day to do it.
"It was something we were going to build for our families and just kind of the neighborhood for fun," van Bergen said.
The location of the carousel is a gathering spot for the neighborhood, especially this year because people are outside enjoying the nice weather. It's where van Bergen builds an ice rink every year. They had no idea the attraction the ice carousel would become, he said.
Van Bergen cleared a spot on the lake and the group got to work with the help of his sons and nephew. They started working at around noon and had the carousel going around 5 p.m. For the carousel to work, they had to cut a nearly perfect circle, so van Bergen put a stake in the middle and used a wire attached to his chainsaw to create the radius.
Then, he had to create a second circle. Once the circles were cut through, they had to pull the ice out or push the big chunks underneath and cut a hole for the motor.
They used a 25-year-old trolling motor, which was hooked to a battery. The ice carousel moved at a slow, steady pace. Any number of people could be on it and it didn't move or wobble, he said. The carousel was 70 feet wide and Van Bergen estimates it weighed 220,000 pounds.
Van Bergen assumed they'd have to go around with the chainsaws multiple times. He was standing outside the circle and leaned in to give it a push. The whole thing started to move, he said.
At first, the men didn't want to tell anyone about their plan in case they couldn't pull it off. A few people gathered on New Year's Eve, but word started to spread in the neighborhood. People were asking if they planned to do it the next day, he said.
The ice carousel was decorated with candle luminaries and van Bergen sent his son around the neighborhood with an ATV to pick up people's discarded Christmas trees. The word they kept hearing was "mesmerizing," he said, adding it was so relaxing spinning around in a circle.
The carousel ran from New Year's Eve until Jan. 3 and was kept moving overnight, because otherwise, it would freeze.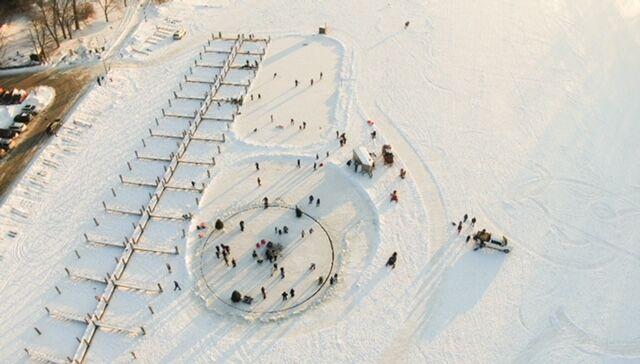 The ice carousel became quite the attraction. People were excited to be together and felt safe because it was outside, he said. There were people from the neighborhood who came to see the carousel six or seven times. Others told him the joy it brought to their weekend.
Van Bergen estimates 1,000 to 1,500 people came to get a look at the carousel. They had people who heard about it in Excelsior and as far away as St. Paul and the northern metro.
The ice carousel was an item van Bergen got to check off his bucket list. The energy was infectious, he said, so it's hard for him not to consider making another. They are already been dreaming up ways to cut the ice more efficiently, he said.
Annie Stanz, of Deephaven, was out for some fresh air on New Year's Day when she happened upon the ice carousel. She was captivated by what she saw.
"I saw Christmas trees moving in the circle and I'm like, 'what's going on down there,'" Stanz said with a laugh.
People of all ages were bundled up and enjoying the spectacle. It felt like she was in a Hallmark movie, she said. The ice carousel brought people together and it was a fun way to ring in the new year, she added.