The ground-breaking ceremony was Oct. 25 for The Waters Senior Living, 723 Water St., Excelsior. The facility is expected to open in the fall of 2018.
The facility will have 115 apartments, including 16 memory care suites. In addition to spacious and elegant living space, residents will be offered multiple on-site dining options including a restaurant, café and pub with outdoor dining.
The Waters will also partner with the University of Minnesota's Earl E. Bakken Center for Spirituality & Healing to bring an integrative health philosophy to the community.
"We are pleased to have the Waters Senior Living become one of the many diversified residential options to live in the City of Excelsior," said Excelsior Mayor Mark Gaylord. 
The project will be built by Frana Companies and financing will be provided by TCF Bank.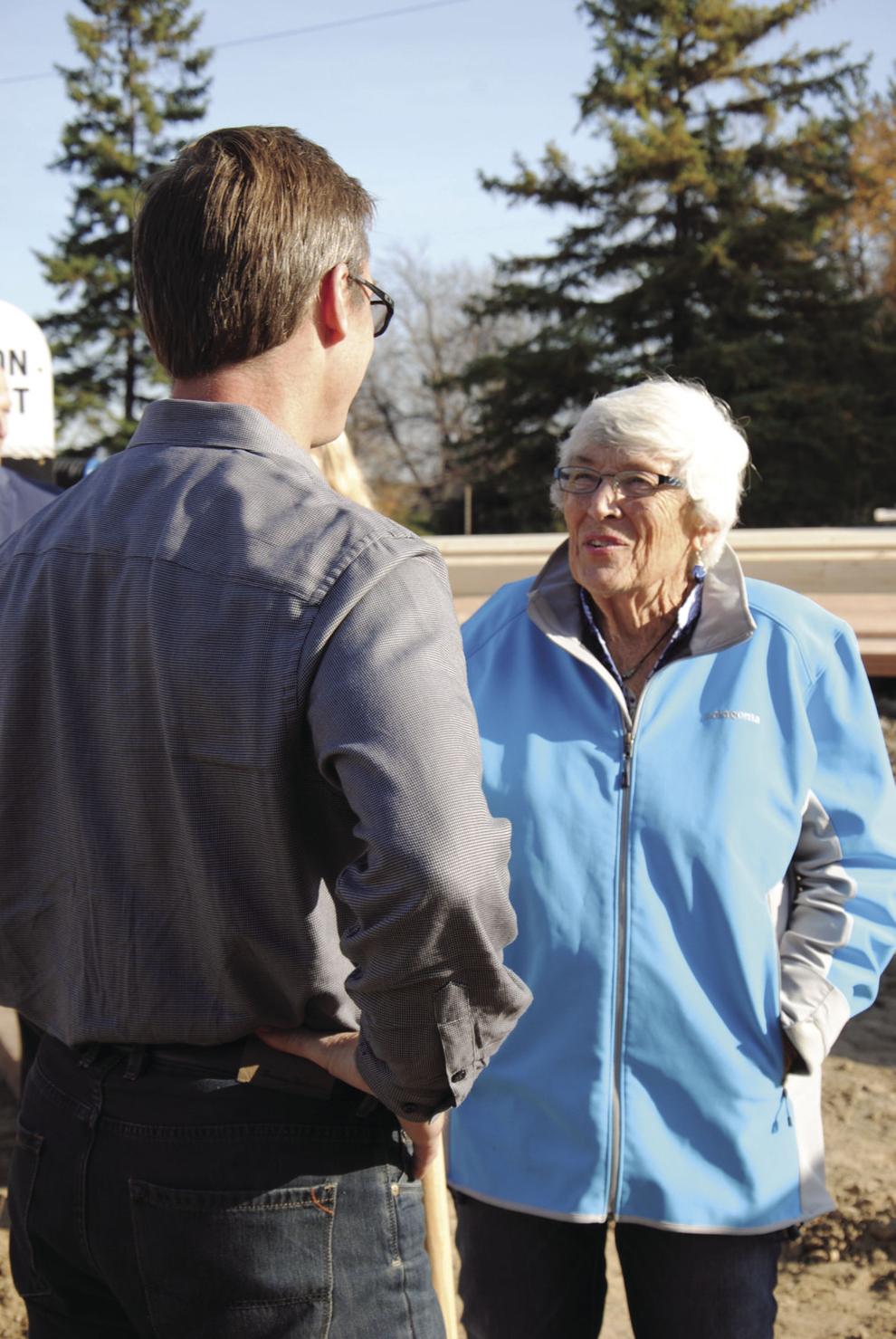 "Excelsior is a wonderful town that you can't replicate and it has a intangible location with a historical feel," said Lynn Carlson, chief executive officer. "It's a great utilization of the site and it's provide a space for a lot for residents to stay in their community and stay close."
The organization battled for over two years to come to Excelsior.
Many residents supported the project because senior housing is scarce in the area. 
"I want to stay in Excelsior and be apart of my community," said Rhoda Brooks, whose lived 50 years in Excelsior. She was the first to sign a lease on a apartment.
"This what I really consider my hometown and I wanted to live here, but it had the least amount of options for senior living and this project was long awaited by myself and others," said Trish Herbert from Minnetonka.
"I love Excelsior," added Gretchen Fogel, of Minnetonka. "I'm very interested in living here in the future. I've looked at a lot of other places but I really wanted to be in Excelsior."
Currently, the community's senior housing options are the smaller BeeHive Homes of Excelsior and the Golden LivingCenter. Last year, Shorewood approved plans for the 105-unit Oppidan Shorewood Senior Living project on Chaska Road and Highway 7. The facility is opening this fall. 
"The Waters of Excelsior is a positive addition to the community," said Lau, a Hotvet Excelsior-Lake Minnetonka Chamber of Commerce executive director. "It's a place where residents can age in place and for new residents to come enjoy our wonderful South Lake area."
The facility is being built 1.8 acres of land. The project required that City of Excelsior to annex 1.3 acres of land from Shorewood, where the former Excelsior Restaurant was located. That annexation was approved last year. The rest of the property was a 1960s-vintage apartment complex owned by the city. That was demolished earlier this month.
In exchange for the annexation, the cities of agreed that Shorewood would receive 60 percent of tax revenue, and Excelsior would receive 40 percent. Excelsior's portion would be an estimated $27,000.
The Waters Senior Living agreed to provide $633,000 in park dedication fees and tax increment funds that will go toward improving safety at the Water and Oak streets intersection.
Many residents and Excelsior City Council members expressed concern that the overall design plan for the project did not compliment the overall city.
The council fought against the four-story building and requested it be reduced. Ultimately, the proposal was approved, in exchange for affordable housing, minor design changes to the building and road improvements along Water and Oak streets intersection. 
"The work was well worth it," said Jay Jensen, The Waters vice president of development. "This wouldn't have been able to happen without Excelsior's partnership. It truly was a public-private partnership."
Gaylord added, "The Waters development will provide much needed improvements to the intersection of Oak Street and Water Street, and allow residents of the College Lake neighborhood a convenient and safe way to access our city's commercial district."