Senior sprinter wants 'Big Dogs' to eat healthy
Joe Fahnbulleh's amazing talent as a track sprinter is bolstered by his insistence that a team-oriented approach makes everyone better.
He loves challenging his teammates to be the best, and he loves to compete against the best, which is usually Lake Conference rival Wayzata.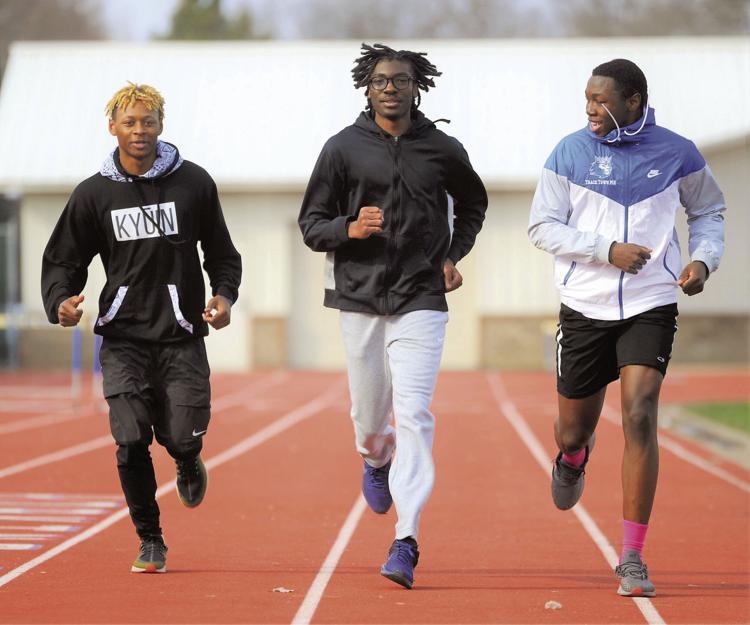 "Wayzata has won six state True Team championships in a row," Fahnbulleh said after a workout last week on the Hopkins track. "But I think that streak is going to stay at six. Wayzata has some very strong runners, but our sprinters are the Big Dogs."
It is hard to argue with Fahnbulleh's assessment. Hopkins returns three of its four athletes from the state-champion 4x200-meter relay. In addition to Fahnbulleh, they are seniors Sam Leervig and Jaylen Champion. Add junior Tyrone Bennett, who ran on Hopkins' second-in-state 4x100-meter relay last year, and it's easy to see why these "Big Dogs" are ready to eat.
Fahnbulleh is a dedicated year-round track athlete. In Greensboro, North Carolina last summer, he won the national championship in the 200-meter dash with a time of 20.69 seconds.
Champion also competed at a high level in summer track and won a bronze medal with a Minnesota 4x100-meter relay team.
"All of us are ready to do four events - whatever it takes in True Team," Fahnbulleh said.
"We are multitalented," Bennett said. "We are sprinters and jumpers."
"Our team brings back a lot of points from section and state," Hopkins head coach Nick Lovas pointed out. "We could use a little bit more depth in the jumps."
Asked to comment on Fahnbulleh, Lovas said, "We have had a lot of great track athletes here. He could be the finest sprinter in Minnesota."
Lovas compared Fahnbulleh's performance and work ethic to that of Joe Klecker, who is an All-American collegiate distance runner for Colorado.
In addition to the sprinters and Jackson and state discus champion Yakob Ekoue, the Royals have senior James Klecker in the hurdles, sprints and throws and All-State cross country runner Eli Hoeft in the distance events.
"We have the smallest enrollment of any Lake Conference school," Lovas said. "But our kids are dedicated to the culture. Between the boys and the girls, we had 30 to 40 working on track all winter. Our athletes know that embracing the pain of hard work is part of the fun."