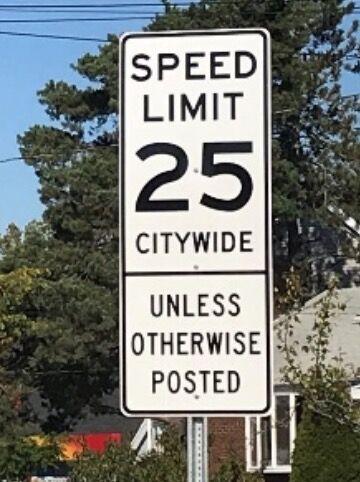 The Excelsior City Council discussed speed limits and made no formal action at the Feb. 16 meeting. A 2019 legislative change allows for city government to have more control over setting speed limits within their city boundaries. Cities such as Minneapolis and St. Paul have already lowered their speed limits and St. Louis Park is considering lowering limits on city streets.
There are a few ways Excelsior could approach lowering speed limits, City Engineer Morgan Dawley told the council. The city could adopt a lower speed limit citywide, in which there is an overall speed limit unless a sign is posted. Signs would be posted as motorists come into the city, he said. The city could also take a more specific approach and lower the speed limits on selected streets.
Dawley noted that the speed limit on Water Street is already posted at 20 miles per hour, which is a historic statutory setting that dates back to the 1970s, Dawley said.
There is data that highlights lower traffic speeds being highly beneficial in a crash between a car and a pedestrian, Dawley said. If a person is hit at 35 miles per hour, the crash is three times as likely to be a fatal accident than if someone hit at 25 miles per hour. A 5 mph reduction in speed increases the stopping sight distance by over 50 feet. The slower vehicles go in general, there are safety benefits for vehicles and pedestrians, he said.
The cost in terms of additional signage isn't significant, Dawley said. The cost would depend on the approach the city takes, but it's likely less than $1,000 to $1,500.
South Lake Minnetonka Police Department Chief Mike Meehan said the concept of lowering speed limits to 25 miles per hour is new. He is in favor of people driving slower but doesn't think speed limits always dictate how fast people drive. It's more to do with engineering, sightlines and how familiar people are with the area, he said.
Meehan said his biggest concern about lowering speed limits is that Excelsior might experience a surge of traffic and speed complaints. He is concerned that the police department isn't in a position to address all the complaints if there was a surge.
Councilmember Dale Kurschner questioned whether there is a big need for speed reduction in Excelsior and why it's being discussed now.
Dawley said that it is an option to consider and is borne out of past council conversations and concerns that city staff have heard from the community.
Councilmember Lou Dierking said she wouldn't expect long-term effects as people become accustomed to the new speed limit. If Excelsior is committed to enabling safety, this change seems like an easy decision, she said.
Mayor Todd Carlson asked if the city had to lower the limit to 25 miles per hour, or if the limit could be lowered to 23 or 27 miles per hour, similar to other tourist cities. Dawley said there is no restriction that he's aware of, but he hasn't seen it in Minnesota.
City Attorney Kevin Staunton said there are signage standards that suggest every five miles an hour. There might be an argument that it would catch people's attention, he said.
Carlson said that he heard majority support for at least a city-wide limit of 25 miles per hour. He asked the council that if they considered a different number, to bring it back to a special session for additional discussion.